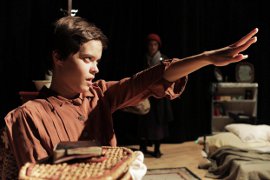 When a play stirs emotions in a way that invites a change in one's perspectives on life or the world, that's true theatre magic. Such is the case with the QC Theatre Workshop's My Sister, which, after it ended, left me wanting to just be quiet and alone for a while, in order to digest what I'd observed and learned during Saturday's performance.
Directed by Maria Vorhis, author Janet Schlapkohl presents a tale of twin sisters Matilde and Magda (played by real-life identical twins Elizabeth and Emily Hinckler) living and struggling in 1934 Berlin, and the play is stunning for its intelligent humor and gut-wrenching sadness. There were moments when I almost couldn't stomach the anguish wrought by the plot, as the sisters - Magda a cabaret performer, and Matilde a sharp, disabled woman who writes smart, funny jokes for her sister's show - observe the changing Germany as Hitler comes into power.
Schlapkohl impressively handles the exposition in her piece, weaving pieces of it here and there throughout the story, yet always at natural points in conversation, rather than in pointed, patronizing ways. And while I didn't know much about Berlin life during the Hitler era, I didn't feel at all lost in My Sister's setting, as Schlapkohl, rather than reporting, provides sufficient information in a manner that includes the audience in the observation.
It's through Matilde's eyes - through her unique perspective as a person with physical handicaps - that we see what's becoming of Germany. As Magda comes home from her hospital day job, talking of how money spent on the "incurables" could be better used to feed hungry children, it is Matilde with whom we sympathize and experience the real impact of Hitler's vision. Although Magda doesn't see Matilde as an "incurable," Matilde is well aware that her sister is unwittingly falling under the spell of the burgeoning Nazi leader. As Magda complains of emptying hospital bedpans, Matilde confronts her, asking how she is any different from the patients Magda sees at work, and tries to open Magda's eyes to what's unfolding - a political tide that will likely overtake Matilde.
Fortunately, Schlapkohl's entire play is not this oppressively (albeit beautifully) sad. In truth, most of it is quite funny. Matilde, confined to her apartment, attempts to make a difference in the darkening world through the bits she writes for Magda's act. Magda, however, presses her sister to drop the political jokes in favor of folksy ones, poking fun at the gender traits of men and women, rather than the changing political landscape. (One of Matilde's scenes features Magda speaking with a propaganda chief who asks her, "What do you think?", to which Magda replies, "Only what you tell me." Magda would prefer jokes about what menstrual pads would be called if men menstruated.)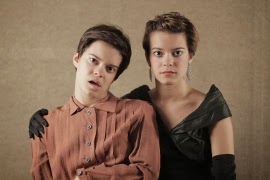 Beyond Shlapkohl's writing, there's also Elizabeth Hinckler's performance to celebrate. While Emily gets to entertain as the vivacious, bright-eyed, optimistic sister, Elizabeth must perform in the physical guise of a person with cerebral palsy. She accomplishes this with a lisp, a hand held crooked against her chest with fingers jutting out in assorted directions, legs and ankles that twist when she walks, and an open-mouthed, teeth-bared guffaw of a laugh. Her depiction of Matilde's malady is so spot-on that, had she not taken her curtain-call bow out of character, I would've asked someone if Elizabeth was, indeed, afflicted with a disability.
Her Matilde, however, is not pitiable, for her mind is sharp, and her understanding of the world clearer than that of many. She is able to see Hitler's actions for what they truly are, and tries to use her written "voice" to wake others to the growing atrocities; Matilde's blend of physical handicaps and astuteness of mind render Matilde a captivating character. While Emily Hinckler is engaging to watch as she re-enacts her cabaret for Matilde's benefit, Elizabeth stole my attention with her sparkle-eyed wonder and enjoyment of seeing her writing performed. Matilde even mouths some of the words, trying to perform along with Magda, and suggesting that her true dream is to be the actor rather than the writer. Moments such as these are exquisitely happy and sad all at once.
While My Sister was originally slated for one weekend of performances, the QC Theatre Workshop has added another show for this coming Saturday, which is a blessing for those able to attend the play. This is one not to be missed, as Schlapkohl's piece is, to me, theatre at its finest, the perfect blend of escapism, entertainment, and perspective-changing emotion.
My Sister will be performed at the QC Theatre Workshop (1730 Wilkes Avenue, Davenport) at 7:30 p.m. on January 25, and more information and tickets are available by calling (563)650-2396 or visiting QCTheatreWorkshop.org.