I am mad about The Madwoman of Chaillot, particularly because I once, over 30 years ago, played the title role myself, and it was one of the highlights of my performing career. So it was with real anticipation that I went to the Augustana College production on Friday night – and I'm glad to report that this show, under the direction of Jeff Coussens, was a happy re-visitation for me.
Written by French playwright Jean Giraudoux in 1943 during the Nazi occupation of France, The Madwoman of Chaillot probes issues of greed and avarice and how they have corrupted humanity. But don't be mislead by this. This play is also full of delightful, witty dialogue, as well as romance and charm.
The wonderful sets (designed by Andy Gutshall) deserve a special mention, as Act I opens on a colorful Parisian scene at a charming street-corner café replete with many characters. Among them are the sweet waitress Irma (a charming Katie Griswold), The Street Singer (the lovely Shannon Rees, who also plays guitar), The Juggler (Brandon Smith, with wonderfully expressive eyes), and The Ragpicker (Keenan Odenkirk, who shines in yet another terrific performance).
It's difficult to do justice to all of this show's performers, considering Madwoman involves 39 characters. Thirty-nine characters means 39 costumes, and here, once again, the ever-impressive designer Ellen Dixon uses her wonderfully creative eye and expert thimble to add more wonderful (ahem) material to the show's visual treat.
In addition to its regulars, bad guys are also at the café laying their plans. Austin Albert adds just the right degree of youthful arrogance as The President seeking to engage The Baron (Jack Harris, with a perfect tone of world-weary insouciance) as a member of his board of directors. They are soon joined by The Broker (a snappy Jonathan Meir) and The Prospector (the funny Jake Pecaut), the latter a character who possesses both a smarmy attitude and a long nose which enables him to detect oil under the streets of Paris.
As we are beginning to understand how these men and their greed threaten her beautiful city, the Countess Aurelia (MJ Mason), the "Madwoman of Chaillot" herself, enters, asking for the usual bag of bones she uses to feed the stray cats that she finds along her way. She is also seeking her long-lost feather boa, and when she espies The President, she recognizes the man as evil, and suspects that he is the fellow who has stolen it.
As soon as the Countess speaks in Coussens' production, the play is elevated to a new and higher realm entirely. This is, in part, due to the character as written, for the Madwoman sees into the heart of humanity and into the soul of life with the depth and perception of no ordinary human being. This is such a wonderfully endearing and funny role and, not least of all, a very demanding one, and I initially wondered how someone so young would manage it. But from the moment she first spoke, MJ Mason was in complete mastery of her character, and I was smitten.
The Madwoman's costume, unlike most of the characters' 1940s-style dress, was of the late-19th Century, and although Mason is a college junior, she was transformed – not really into an old woman, but rather into a character that seemed timeless and larger than life. Mason never missed an opportunity to accentuate her speech with mannerisms that fit perfectly and naturally with her character, lending great humor and depth to the part. This Countess was a fully-realized creation whose words and actions were true in every moment, and Mason gave one of the best performances I've seen in ages. Brava!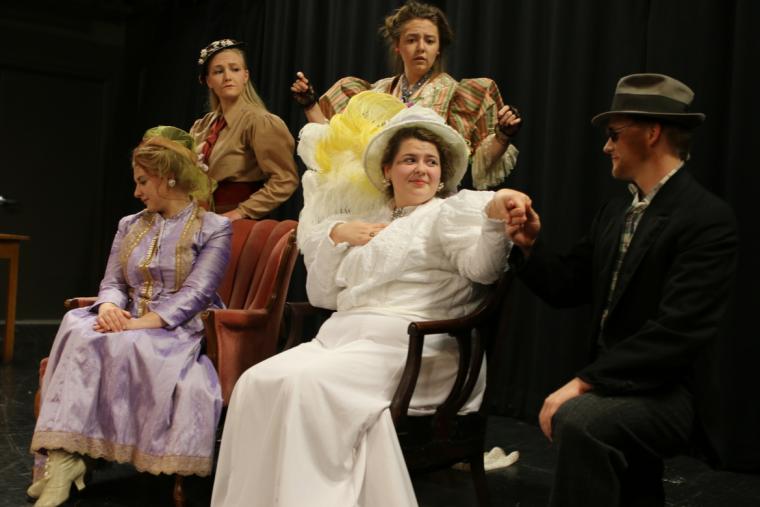 Act II opens with another magnificent set: the Madwoman's sewer home, where she will realize her plan to do all of the bad guys in. Here we are treated to Tristan Odenkirk's incredibly funny portrayal of The Sewer Man – would that this scene had lasted at least four times longer than it did! In addition, I would've liked to have seen more of the act's Katie Kleve, who provided a charming portrayal of Mme. Gabrielle, another "mad" woman of Paris.
I had issues with the scene wherein the Countess, resting on her sofa half-dreaming and half-asleep, is conversing with her imaginary, long-lost lover. The scene did at least give us the opportunity to watch the reactions of Pierre (the sensitive Jaryd Whitmore), to whom she was speaking. However, instead of having her head propped up so the audience could see her face, the Countess was lying flat, and from where I was sitting, all I could see were her skirts. As a result of the staging, the emotional impact of that scene was diminished for me.
But that problematic element of staging aside, it was evident that all of the student performers were heavily invested in this Madwoman of Chaillot. And if for no other reason, this is a show very much worth seeing for the "madness" of its title character alone.
The Madwoman of Chaillot runs at Augustana College's Brunner Theatre Center (3750 Seventh Avenue, Rock Island) through October 22, and more information and tickets are available by calling (309)794-7306 or visiting Augustana.edu.