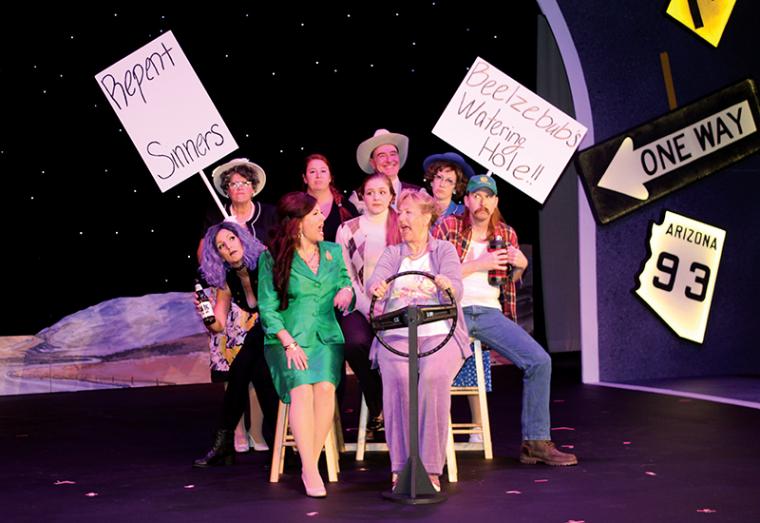 Wednesday, September 19, through Saturday, November 3
Circa '21 Dinner Playhouse, 1828 Third Avenue, Rock Island IL
Having enjoyed a sold-out sensation with its production of the ABBA musical Mamma Mia!, the Circa '21 Dinner Playhouse wraps up its 2017-18 season, from September 19 through November 3, with another stage hit boasting a mother in the title: Mama Won't Fly, a delightful road-trip comedy by the playwriting team of Jessie Jones, Nicholas Hope, and Jamie Wooten that Broadway World decreed "moves quickly and never lets up on the laughs."
In Mama Won't Fly, an outrageously hilarious race against the clock begins when Savannah Sprunt Fairchild Honeycutt agrees to get her feisty mother all the way from Alabama to California in time for her brother's wedding. But Savannah has a problem: Mama won't fly. With only four days to make it to the ceremony, this determined daughter has no choice but to drive cross-country with her equally willful mother Norleen in a vintage sedan. But as Savannah steels herself for this hastily conceived road trip, another outrageous complication arises when the bubbly, over-eager bride-to-be Hayley Quinn unexpectedly arrives, convinced that travelling together to her wedding is the perfect way for the three women to bond. With the eventual comic mishaps including the theft of the women's car and clothes, a near-fatal encounter at an underwear museum, and the accidental homicide of an ancient Texas relative, this family-friendly Jones/Hope/Wooten comedy has entertained crowds nationwide – another hit for the popular authors of The Dixie Swim Club, Dearly Beloved, and Doublewide, Texas.
Directing Mama Won't Fly for Circa '21 is venue veteran Warner Crocker, whose previous area productions have included Southern Crossroads, Boeing-Boeing, Always a Bridesmaid, and the recent musical hit The Bridges of Madison County. And along with debuting Circa '21 performer Kimberly Camacho, the cast features a septet of acting talents making return appearances at the Rock Island dinner theatre: Don Denton (The Music Man), Erin Churchill (Irving Berlin's White Christmas), Kay Francis (Sister Act), Miranda Jane (Always a Bridesmaid), Deborah Kennedy (Freaky Friday), Autumn O'Ryan (The Bridges of Madison County), and Tom Walljasper (Mamma Mia!).
In addition to its preview performances on September 19 and 20, Mama Won't Fly will be performed Fridays, Saturdays, and Wednesdays at 7:45 p.m.; Sundays at 5:45 p.m.; and Wednesday afternoons at 1:30 p.m. All shows will be preceded by meals and pre-show entertainment by the theatre's performing wait staff of Circa '21 Bootleggers, and more information and tickets are available by calling (309)786-7733 extension 2 or visiting Circa21.com.