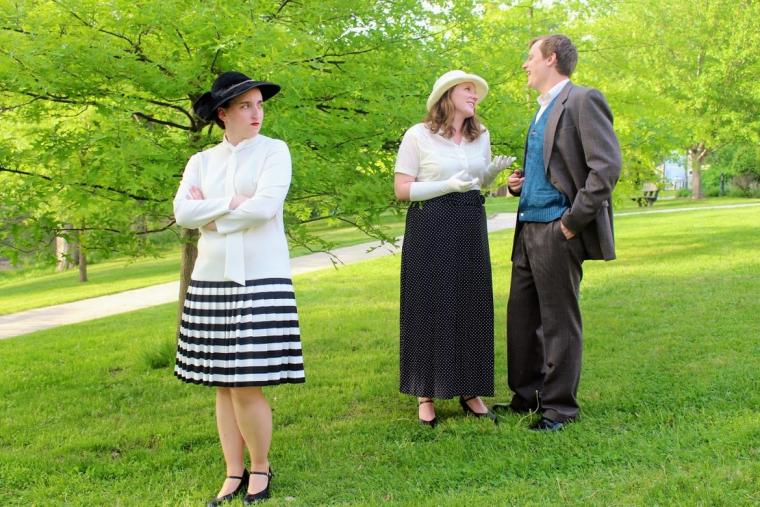 Friday, July 8, through Sunday, July 17
Prospect Park Auditorium, 1584 34th Avenue, Moline IL
One of the most legendary musicals by one of American theatre's most legendary composers arrives in Quad City Music Guild's Golden Age production of the Tony-winning Mame, a June 8 through 17 run that will treat family audiences to Jerry Herman's unforgettable score, memorable songs, sure-to-be-stunning costumes, and a leading role that made Angela Lansbury a Broadway star.
Mame follows the madcap life of eccentric Mame Dennis, whose life with her chic, bohemian clique is disrupted forever when her deceased brother's 10-year-old son Patrick is entrusted to her care. Rather than bow to convention, Mame introduces the boy to her free-wheeling lifestyle, instilling in him her favorite credo: "Life is a banquet, and most poor sons of bitches are starving to death." Also figuring in the storyline are Mame's personal secretary Agnes Gooch, her boozy best friend Vera Charles, Southern aristocrat Beauregard Jackson Pickett Burnside, and the loss of Mame's fortune in the 1929 Wall Street crash, which leads to her attempting a number of odd jobs with comically disastrous results.
Boasting iconic show tunes such as "We Need a Little Christmas," "Bosom Buddies," "My Best Girl," and the timeless title song, Mame's original Broadway production ran for more than 1,500 performances and received eight 1966 Tony Award nominations, including Best Musical and Best Composer/Lyricist for Herman. The show also won Mame portrayer Lansbury the first of her five Tonys to date, and led to the performer becoming a legitimate musical-comedy legend with Broadway runs in (and Tony wins for) Dear World, Gypsy, and Sweeney Todd.
Directing Quad City Music Guild's Mame is Troy Stark, who appeared in 2016's Children of Eden for the organization, with Mame played by Julie Funk, adored by Music Guild audiences for her turn as the evil Miss Hannigan in last season's production of Annie. Katie Casey appears as Agnes Gooch, Rachel Vickers as Vera Charles, Kevin Pieper as Mame's wealthy amour Beauregard, and Brennan Hampton portrays nephew Patrick.
More than 29 additional local talents, meanwhile, complete Mame's cast: Roger Akers, Mary Baril, Jill Cirivello, Christianna Crosby, Chelsea Crumbleholme, John Erb, Joey Fiems, Susan Granet, Colin Hepner, Lauren Hoffman, Ali Knollenberg, Lauren Larson, Breanna Maddelein, Megan Marchese, Margie Martel, Xavier McClure, Terri Nelson, Martha Sue O'Connell, Kevin Pieper, Erin Platt, Will Sammons, Christine Scott, Andy Sederquist, Trenton Smith, George Swift, Alexis Syverson, Gage Tittle, Steve Touvelle, and Steve Trainor.
Mame will be performed Thursdays through Saturdays at 7:30 p.m. and Sundays at 2 p.m., tickets are $11-16, and more information and reservations are available by calling (309)762-6610 or visiting QCMusicGuild.com.