"God bless us, everyone!" is the heartwarming wish from the cast of writer/director Tristan Tapscott's and Countryside Community Theatre's A Christmas Carol musical, now playing at Princeton's charming Boll's Community Center along the banks of the Mississippi River. This delightful production is a pure and humble presentation of the classic tale of Ebenezer Scrooge (Doug Kutzli) and his struggle to find purpose and love in his life, and Saturday's show was full of both joy and sadness. But most of all it felt cozy. From the scrumptious desserts by Susan Burda, carefully displayed in a small booth at the rear of the theatre, to members of the cast greeting patrons before the show in full character and costume, the atmosphere was exceptionally festive.
In the opening numbers, the company sang from both the stage and behind the audience, which added a surround-sound effect that was quite lovely. For the most part, however, I thought the music and lyrics by Danny White were a bit too complicated and challenging for even the most seasoned vocalists, as there were times in which the songs were pitchy and somewhat dissonant-sounding. There were also moments, however, in which the music really came together. It just depended on the strength of the actor or actress who was singing.
In this Christmas Carol, Papa (Jim Schneider) narrates Dickens' story by reading from a book to Claire (Payton Haack), who attentively listens to his every word while situated in a stage-left nook. The set design by Kutzli, who also acted as the show's master carpenter, was made up of frosted windows, bricks, and a snowcapped building, and although it was a simple set, it was pleasant and effective. There was also a small curtain hanging on the stage from which Scrooge occasionally peeked out, making for an innovative use of space.
As an actor, Kutzli, overall, did a wonderful job, but I felt he was slightly melodramatic in his deliveries in a kind of oddly sarcastic way that left me feeling disconnected from his Scrooge. He did seem to connect better with his emotions toward the end of the production, though, especially when Scrooge had his final epiphany about the true meaning of Christmas. Meanwhile, Justin Tegeler shined as Ebenezer Scrooge's nephew Fred, but on Saturday, came across as nervous and unsure of his lyrics in his secondary role as the young Scrooge.
Sara Diericx played several roles, both male and female, and displayed her versatility as an actress. My favorite character of hers was the Ghost of Christmas Present, although Diericx's enthusiasm and bubbly personality really added attractive appeal to each role she played. Sara Kutzli's Ghost of Christmas Past, with her disapproving glares, came across a bit like a scolding mother, but Analisa Percuoco's Ghost of Christmas Yet to Come was creatively imagined, with the actress completely cloaked, head to foot, in a black garment by costume designer Jessica Tapscott.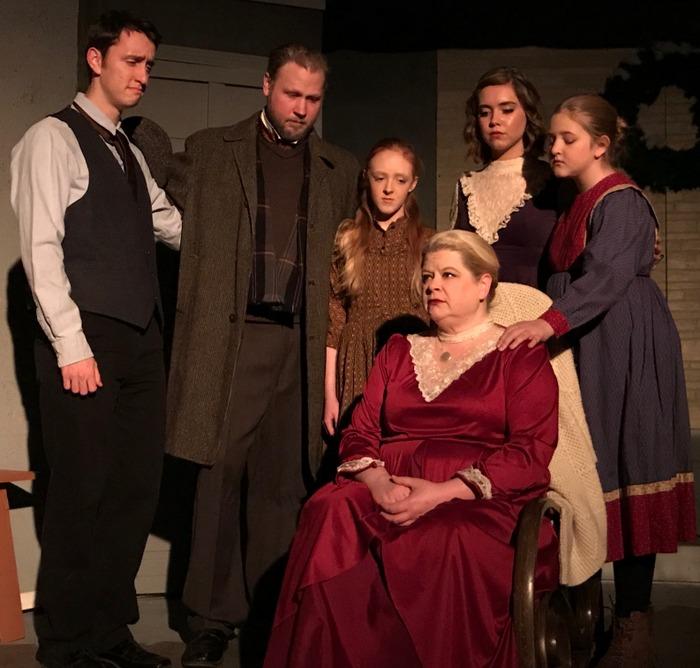 Yet the two performers who most stood out for me were Joshua Malone, who portrayed Bob Cratchit, and Wendy Czekalski, who enacted Mrs. Cratchit. Malone's soft voice and gentle countenance made for a very lovable character, while Czekalski was stunning in her solo "Keep Moving On," a tribute to her young son Tiny Tim who had just passed away. Czekalski brilliantly connected her emotions with the lyrics and genuinely pulled on my heartstrings. Emily Stutting's Tiny Tim, meanwhile, was precious and convincing with her small stature, sweet smile, and lovely singing voice; she simply won me over. Perched on Malone's shoulder, Stutting was balanced and calm as they entered and exited the stage's platform.
Scrooge's former business partner Jacob Marley (Patrick D. Gimm), the first to haunt the miserly man, first enters the theatre from behind the audience while dragging chains wrapped around his body. Gimm's performance lacked the necessary scariness and, in my opinion, needed a much more dramatic accompanying effect – perhaps some moans and groans, or the dragging of a leg. But Michael Byrne, who played Young Marley (and also Peter Cratchit), did a fine job with his facial animation and personality. Although the actor had very few lines, I found my attention drawn to him scene after scene simply because he exuded enthusiasm, at times, judging by his facial expressions, almost seeming to be in conversation with himself.
Taken as a whole, Countryside's A Christmas Carol was a wholesome production with a timeless message of brotherly love and thankfulness. It may not have been the most polished performance I saw this year, but it was definitely an enjoyable evening just the same.
A Christmas Carol runs at Boll's Community Center (428 South River Drive, Princeton) through December 22, and more information and tickets are available by visiting CCTOnStage.com.