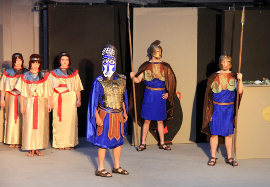 This year, Genesius Guild's annual Greek tragedy is a double-feature, as the local theatrical organization presents Aeschylus' The Suppliants and The Persians - two plays for the price of one (which is still free). With each piece running less than an hour, the entire evening's entertainment, even with intermission, falls just short of two hours, giving audiences one partial hour of what frequent Guild patrons expect from the group's Greek tragedies, and one partial hour of some very welcome, though relatively minor, changes.
The evening begins with The Suppliants, the story of a group of Egyptian women who flee Egypt to escape forced marriages to their cousins. (As they plea to the gods, "Do not waste my youth in rude, forced incest.") Director Dorian Foster maintains the familiar presentational style of the Guild's Greek tragedies, with the vocally dynamic chorus members placed in various lines and other formations, holding their stances rigidly until they move to their next formation. Even this tragedy's lead actors, wearing beautiful masks designed by Earl Strupp, make little movement once in place, with the exception of Pat Flaherty's King Pelasgos, the leader of Argos whom the women entreat for protection and sanctuary. Flaherty, using his powerful voice to pull meaning from Pelasgos' every word, paces the stage or advances to new positions whenever his character appears compelled to do so.
Even though Greek tragedies rely heavily on monologues describing action rather than depictions of dynamic scenes, there isn't much visual interest to The Suppliants beyond Flaherty and designer Ellen Dixon's costumes. But those costumes, as always with Dixon, are impressive, as the designer avoids the usual white togas in favor of various colors. The chorus women are seen in gold, floor-length dresses with short gold capes about the neck and rounded collars trimmed in red. (They also wear wigs that look like they're made of yarn and styled in a layered variation of Cleopatra bob.) And each of the main characters are decked out in distinct colors that Strupp incorporates into their masks. Flaherty wears a stunning blue tunic under a gold breastplate, while Bob Hanske's Danaos - the father of the Egyptian women - is dressed in scarlet. Gary Adkins, with his effectively booming, fear-inducing voice, wears maroon as the Egyptian herald who comes to claim the women. Sue Staley, portraying an Argive woman, is the only actor sporting white the entire evening, and she also delivers a sultry "desire and persuasion" address to the chorus members, adding sensual flourishes with her wrists on the delivery of each noun.
Yet while The Suppliants has a mostly expected presentation, director Don Wooten breaks out of the mold a bit when it comes to The Persians. He sets his male chorus of elderly men, as they await news of their military's fate, in less perfect lines and formations; they stand in looser groups, often resting against their staffs while listening to a main character drone on, and sometimes taking a few appropriate steps as they deliver their lines. There's a fluidity about their delivery and Wooten's staging that renders the conversations as more realistic, more natural, than traditional Greek tragedy, even though singular sentences are still broken up into parts delivered by different actors.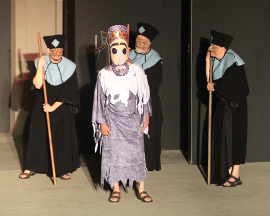 Dixon continues her presentation of colorful costumes in The Persians, with the chorus adorned in black robes with light-blue collars and Cossack hats - though Cossack hats wider at the top than the bottom, and not made of fur. They also wear masks that cover their foreheads, noses, and cheeks in a bronze color, and wrinkles to show their intended ages. While the masked principals are in different colors, two of Dixon's outfits for them particularly stand out. Melanie Radkiewicz's Atossa, the mother of the Persian hero Xerxes (Pat Flaherty), is stunningly clothed in various shades of copper. And as Darius, Atossa's dead husband summoned from the grave for his advice, John Donald O'Shea is decked out in black and white, with the most interesting bit of his costume being the material Dixon chose for his robes. It's covered in swirling wavy lines that almost create the optical illusion of movement.
As a friend of mine pointed out at the end of Saturday's performance, Justin Grubbs' Messenger has quite a substantial part for an unnamed character, with more lines and stage time than Xerxes has. But that's a good thing here, as Grubbs is up to the task of acting without the benefit of his face, and compensates for the limitations of a mask with his voice and countenance.
I will admit that, for me, two Greek tragedies - works that are essentially radio dramas with costumes, given their lack-of-action nature - were a bit much. Yet while my mind tended to drift during the second play, I chalk that up to my entertainment preferences being more visual that aural, and not to the lack of talent on display, or behind the scenes, in Genesius Guild's The Suppliants and The Persians.
The Suppliants and The Persians run at Lincoln Park (11th Avenue and 38th Street, Rock Island) through July 6, donations to the free performances are encouraged, and more information is available by visiting Genesius.org.