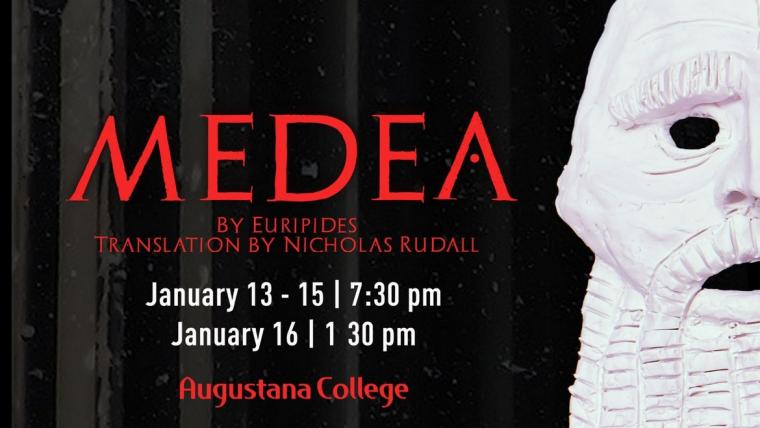 Thursday, January 13, through Sunday, January 16
Augustana College's Heidi Honkamp Myhre Black Box Theatre, 3750 Seventh Avenue, Rock Island IL
One of the most enduring and harrowing of all classical Greek tragedies, Euripides' Medea serves as Augustana College's first student-directed production of 2022, the title character described, in the New York Times, as "one of the huge, ravenous roles of dramatic literature … it will take everything a performer can give, then ask for more."
In Medea's continuation of the stories of Jason and the Argonauts, the titular foreign princess and sorceress has murdered her own father to help Jason win the Golden Fleece and the kingdom of Thessaly. They have married and have two sons, but now, in ancient Corinth, Medea is told that Jason will be marrying the Corinthian princess. The King of Corinth, anticipating the woman's wrath, consequently sends her into exile, where Medea plans revenge against Jason and negotiates safe haven with the naïve King of Athens. What follows involves supernatural sorcery, a devastating series of murders, and perhaps world drama's most horrific climactic act of vengeance as Medea resonates with audiences through emotionally charged characters placed in impossible circumstances, constrained by their social, political, gender, and familial roles. Euripides' tragedy from 431 BC experienced renewed interest during the feminist movement of the late 20th century, being interpreted as a nuanced and sympathetic portrayal of Medea's struggle to take charge of her own life in a male-dominated world. The play also holds the Tony Award record for most wins for the same female lead character, with Judith Anderson winning in 1948, Zoe Caldwell in 1982, and Diana Rigg in 1994.
Directing Medea is Augustana senior Rebecca Casad, a castmate in the college's The Curious Incident of the Dog in the Night-time and Flemming: An American Thriller who also recently appeared in the Spotlight Theatre's musical Little Shop of Horrors. Casad's student cast features Allie McPeak as Medea and Benedict Wood as Jason, with the ensemble composed of Haley Chellberg, Lauren Clarke, John Flannery, Alyssa Frazier, Titus John Jilderda, Maxwell Johnson, Riva Kanasakar, and Stephanie White. And with Jacqueline Isaacson and Faith Rund serving as stage managers, additional members of Medea's creative team include movement coordinator Camryn MacLean, lighting designer Noah Hill, Sound designer and composer Ryan J. Hurdle, props manager Zachary Misner, mask designer James Casad, and costume designer Olivia Ruffatto.
Medea will be staged in Augustana College's Heidi Honkamp Myhre Black Box Theatre located in the Brunner Theatre Center, and the January 13 through 16 performances are at 7:30 p.m. Thursday through Saturday and 1:30 p.m. on Sunday. Admission is $5-15, and more information and tickets are available by calling (309)794-7306 and visiting Augustana.edu/tickets.