Life is full of many different highs and lows that make up the human experience. We may have trials and tribulations, unexpected loss, unforeseen disappointment, and sadness, but we also have happiness, joy, and love. Memories are stored in our brains that, over time, can fade or become distorted. Now what would it be like if we downloaded those memories into a computerized holograph? So goes this science-fiction play by Jordan Harrison, called Marjorie Prime.
Directed by Chris Jansen, Friday's opening-night performance by New Ground Theatre was a thought-provoking look at a futuristic technology service called Prime, which creates holographic projections of loved ones who have passed away. These artificially intelligent characters are brought back to "life" to comfort those still living with the pain of loss or, in Marjorie's case, losing her memories to Alzheimer's.
Marjorie Prime abruptly begins with Marjorie herself (Rae Mary) speaking with a younger version of her late husband Walter (Jordan Smith), who is actually a holograph known as Walter Prime. Marjorie's son-in-law Jon (Matt Moody) has programmed Walter by talking to it about the life that Marjorie once shared with her husband. Tess (Jamie Em Johnson), meanwhile, is not at all happy about her mother communicating with a machine, let alone a much younger version of her father.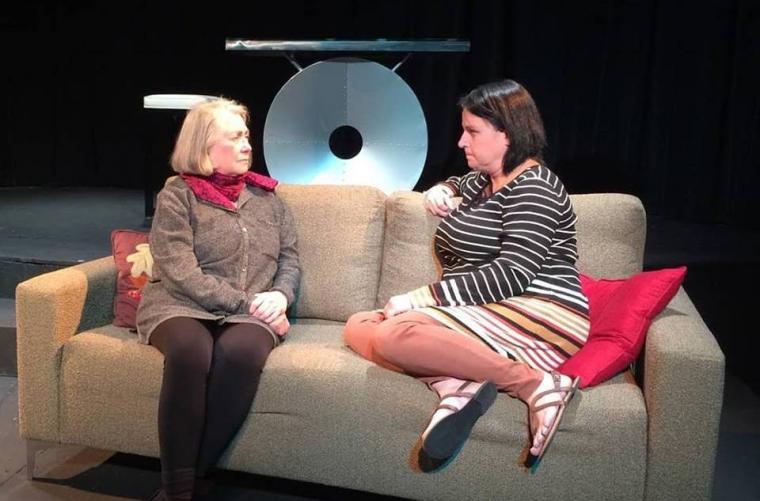 Harrison's play is set in a living room furnished by Jansen with a worn-out looking chair and sofa. There was also an ambiguous humming coming through the sound system, which at first was slightly annoying, and I wasn't sure if it was feedback or a sound-effect design by Jacque Cohoon. Eventually, I concluded it must have been a sound effect representing the presence of a holograph, but the lighting design by Jacob Sikorski was similarly distracting, consisting of both green and red lights that made the actors' faces appear washed out at times. (I suppose the idea here may have been to make the characters who were portraying holographs look more digitized and robotic.)
In her role as Marjorie, though, Mary helped me to feel the sadness the character was feeling as she shed real tears, which I imagine is extremely difficult to do in a live production. As the holograph Walter Prime, Smith did a great job remaining emotionless, eerily calm, and hollow; he remained in character even when, much of the time, he had to sit quietly stage-right while not speaking.
Portraying Marjorie's daughter Tess, Johnson delivered her lines in a very conversational way with appropriate inflections and impressive comedic timing; her natural dialogue deliveries made me feel as if I was sitting outside the scene looking through a window into someone else's house. And as her husband Jon, Moody, for the majority of the play, seemed somewhat disconnected to his scenes, as if he was just trying to remember lines. But by the end of the play, as he was reflecting upon one particularly terrible memory, he really opened up and displayed some raw emotions.
If you aren't familiar with this play, I would highly recommend researching it before you go, because otherwise it may be difficult to follow the storyline. (It features one of those plots in which you really need to pay close attention to what every character is saying at every moment.) But I did find the futuristic subject matter interesting, and the production did make me wonder whether holographs would actually, eventually, be used in a manner similar to the one depicted here. Marjorie Prime certainly does invoke thought about how we as human beings are constantly trying to figure out ways to divert our pain and overcome life's trials and tribulations.
With no intermission, New Ground's presentation is very short, but it did leave a lasting impression and gave me much food for thought. (Even if, at times, my thoughts were about how nervous I was during scene changes, considering there was so little light for the actors to navigate about and most of the set was painted black.) Overall, I felt that Harrison's message of struggling to genuinely love somebody resounded true within the storyline, and the performers did a fine job portraying that. Remembering Walter, Marjorie says, "How nice that I could love somebody." But you get the feeling that that is what this play is all about: our struggle to love and accept each other no matter what happens. Our inability to control what happens in our lives makes Marjorie Prime seem more realistic than futuristic. And in my opinion, the story demonstrates our futile attempts to control humanity and marginalize the power of love, which I don't think is so much a memory as it is a strong emotion from our soul that can live on even after loved ones have passed away – and without the help of artificial intelligence.
Marjorie Prime runs at the Village Theatre (2113 East 11th Street, Davenport) through November 18, and more information and tickets are available by calling (563)326-7529 or visiting New Ground Theatre's Facebook page.