Having been a librarian at elementary and middle schools, one might think my most challenging students were the middle-schoolers. Not so! My fears arose before visits from the littler kids, as I, alone, would have to keep them quiet and attentive for 40 minutes. (Ever herded kittens?) So when I attended April 20's Big Nate: The Musical at the Circa '21 Dinner Playhouse and saw school buses unloading first- and second-graders, kindergarteners, and preschoolers, I thought, "This will be interesting!" – especially since the Big Nate books are for readers 8 to 12 years old. I wondered if the story would hold the attention of this young an audience … and happily, the answer was "Yes!"
Based on the comic strip and hugely popular children's books by Lincoln Pierce, Big Nate: The Musical finds Nate Wright a wisecracking sixth-grader whose life is one disaster after another involving unrequited love, bullies, an annoying older sister, homework, and other stuff that could befall a rebellious underachiever. Director/choreographer Brad Hauskins and his Circa '21 crew, meanwhile, bring this beloved character to life with enthusiasm and fun.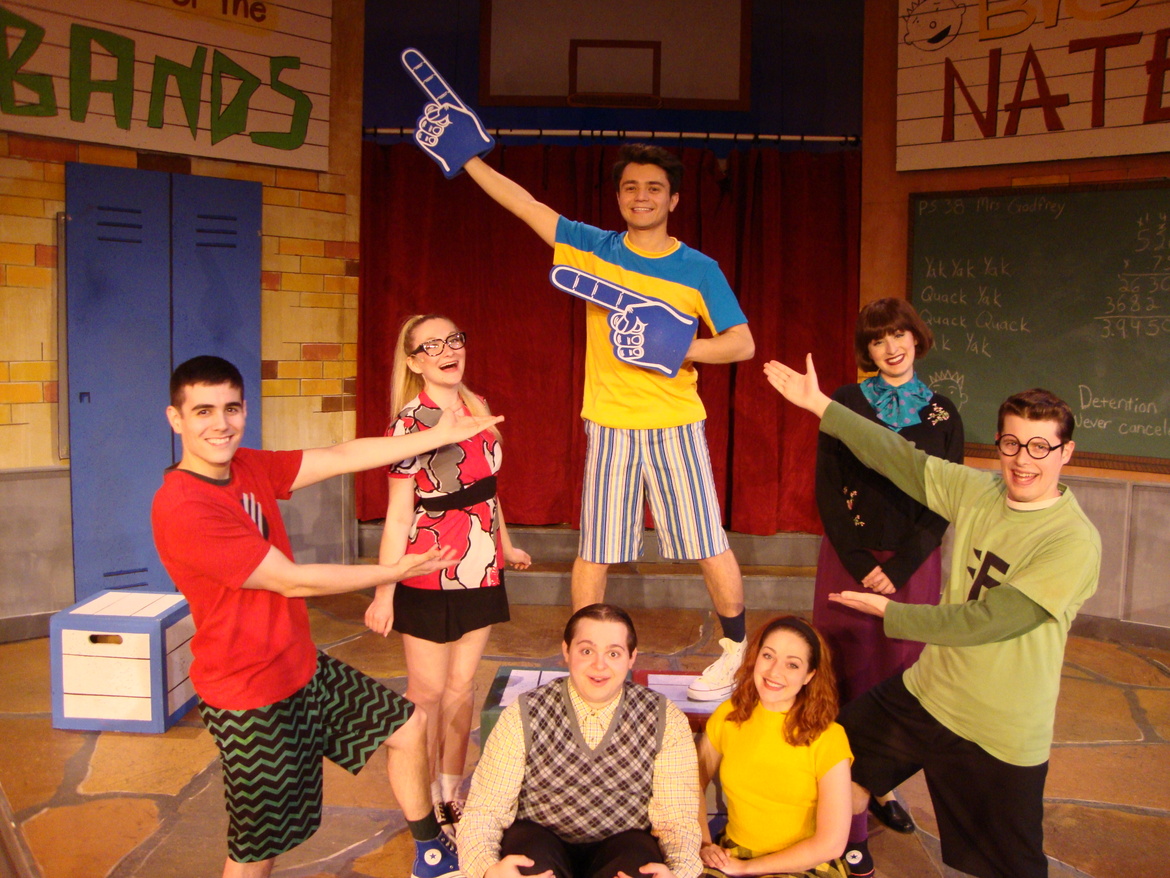 Written by Pierce and Jason Loewith, with music and lyrics by Loewith and Chris Youstra, this 70-minute musical features such catchy songs as "Love Is a Four-Letter Word" and "Year-Old Cheese Doodles Are Better than Love," and the opening number shows Nate having a nightmare that all his teachers are giving him detention … which isn't too far from reality. Having amassed 22 detentions, Nate must not get another three over the next week or his band Enslave the Mollusk will be unable to compete in the Battle of the Bands. Nik Kmiecik, as Nate, has energy, musicality, charm, and likability, and he, Chris Galván, and Derrick Bertram – the latter playing Nate's best friends Teddy Ortiz and Francis Butthurst Pope – shared a stage chemistry that depicted true friendship among 11-year-olds with trust, support, and an occasional wedgie. All three actors were totally believable as middle-schoolers, even while flawlessly singing and dancing.
Helping achieve Big Nate's middle-school look was costume designer Gregory Hiatt, who dressed the cast in outfits with a colorful, comic-book punch. Designer Clay Becker's set, meanwhile, boasted different levels, backdrops, and school-room scenery and props that allowed the audience to follow Nate as he went back and forth between home, school, garage, and band-battle stage. An area with lockers, a blackboard, and a basketball backboard – where most of the action takes place – also adds to the middle-school feel, and is where we meet Mrs. Godfrey, Nate's dreaded teacher. Realistically played by Anna Segatti, she just wants Nate to do his work, but in Nate's eyes, she's Queen Kong (one of his many names for her).
Segatti also does well in the minor role of Nate's perfect sister Ellen, and another double-cast actor is Brett Mutter, who was at his best playing Nate's clueless yet caring father Marty. (His solo reminiscing about when he was young was strong and insightful.) Mutter's other role was as exchange student Artur Pashkov, who has not quite mastered English and says things such as "Seeing you laters." The performer's "Russian" accent made some of his lines hard to understand, but there was no language barrier in understanding that he was Nate's rival for the affections of love interest Jenny, portayed by a sweet and understated Erika Peckhardt.
In contrast to Peckhardt's sweetness was Brooke Schelly's depiction of brown-nosing teacher's pet Gina Hemphill-Toms. As Nate's arch-nemesis, Schelly played her part with just the right amount of Mean Girl for April 20's young audience, and when Gina challenged Nate in the Battle of the Bands with her own band Rainbows & Ponies, she sang her pop tune with great spunk (and, true to character, gave no credit to her two bandmates). My personal favorite band was The Galvinators, who were dressed in lab coats and goggles while rapping science terms accompanied by accordion, wood sticks, and some kind of raspy percussion. But when Kmiecik, Galván, and Bertram hit the stage as Enslave the Mollusk with their song "Rock Star," the kids in the crowd started clapping and bobbing in their seats.
With its message of a flawed hero trying to understand life while never giving up his dream, the delightful family show Big Nate: The Musical would likely appeal to almost any age. After the performance, I asked a preschooler which part was her favorite, and she said, "I loved it all!" Another said, emphatically, "I'm gonna be a rock star!" 'Nuff said.
Big Nate: The Musical runs at the Circa '21 Dinner Playhouse (1828 Third Avenue, Rock Island) through May 13, and more information and tickets are available by calling (309)786-7733 extension 2 or visiting Circa21.com.