We all know that dying is a part of life, but most of us don't like to think about it. Being a cancer survivor myself, I know all too well what it's like to face death, and whether you're young or old, death does not discriminate. So when I went to see Saturday night's Tuesdays with Morrie – playwright Jeffrey Hatcher's adaptation of Mitch Albom's bestselling memoir – at the Clinton Area Showboat Theatre, I knew, based on its subject matter, that I was in for an emotional roller-coaster ride that would once again make me face the reality of my mortality.
This was my first time seeing this play, so I came with an open mind and a humble heart to experience whatever it was that this true story had to offer. Directed by Jami Witt, Tuesdays with Morrie is narrated by Mitch Albom (Ben Cherington), a college student who becomes good friends with his favorite professor, sociologist Morrie Schwartz (Carl Beery Moore), only to spend 16 years away from him, breaking his promise to keep in touch.
Albom has become a successful newspaper sports columnist and is living his dream of having lots of money – but he's not happy. He happens, however, to see an interview on Ted Koppel's Nightline featuring his old professor, and discovers that his friend has been diagnosed with Lou Gehrig's disease. Mitch and Morrie consequently reconnect, and set up a time every week in which they can discuss the process of dying as well as thoughts about living. Every Tuesday, Mitch visits Morrie with a list of questions and interviews his old friend about what he's going through, and once again the professor becomes the teacher, this time teaching Mitch about the nuances of life.
Moore was outstanding as Morrie, and was very boisterous and dramatic in his introduction as he danced about the stage. Moore's acting employed his whole body and face, really helping me feel and understand Morrie's personality and what he was going through, and he had moments of great anguish and gentle serenity in his expressions. Obviously, this leading man was no stranger to the stage, as Moore exuded comfort in this physically difficult role that required a myriad of emotions.
Cherington, meanwhile, always kept my attention during Mitch's narration, expressing himself in a very natural and conversational way while making marvelous eye contact with the audience. However, I felt as though some of Cherington's line deliveries during his scenes with Moore were a little bit emotionless. I couldn't figure out if he was purposely trying to be incredibly reserved – portraying Mitch as someone who holds in his true feelings – or if the actor was just trying to remember his next line.
There was some witty dialogue throughout the show, but Hatcher's dry, somewhat sarcastic sense of humor just didn't make me laugh, although there were plenty of other people chuckling in the audience. That being said, I realize the cynicism only reflected the personalities of the characters involved, and wasn't reflective of the production itself. I look at Hatcher's Tuesdays with Morrie as kind of a dark comedy making light of a very difficult situation that, at the same time, reminds viewers of what is really important in life – namely love, relationships, and forgiveness.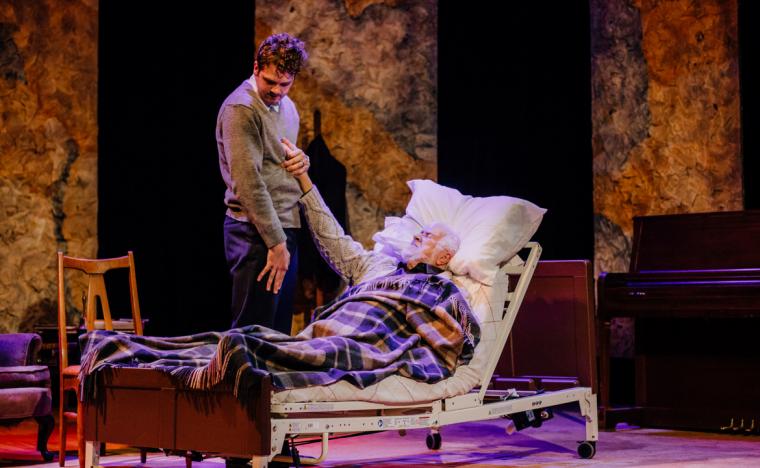 At one point, Morrie says, "We must love one another or die." He also coaches Mitch and reminds him to go after life and embrace it, and life will embrace him back. I find that these words of wisdom prove true whether facing a traumatic event or just going about our daily lives. The Showboat's playbill also included a photograph of the real Morrie Schwartz dancing about with his arms up and his eyes closed, which was really quite impactful and brought a deeper meaning to what I was watching on stage.
Although I didn't break down and cry, there were times in which I felt deeply moved by Morrie's situation and the love that had developed between these two men – reminders of how fragile life can be and the importance of living life to the fullest. Cherington and Moore had great stage chemistry and I found Witt's production contemplative and simple, and while I won't spoil Tuesdays with Morrie's ending, it was a very touching conclusion that left me feeling hopeful, not hopeless.
Tuesdays with Morrie runs at the Clinton Area Showboat Theatre (311 Riverview Drive, Clinton) through August 18, and more information and tickets are available by calling (563)242-6760 or visiting ClintonShowboat.org.