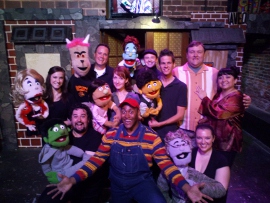 Avenue Q is one of a few musicals that I thought should maybe only be staged by Broadway professionals. However, it didn't take long during Friday's performance at the District Theatre for director Marc Ciemiewicz and his cast to prove they can handle Avenue Q, and handle it well.
With music and lyrics by Robert Lopez and Jeff Marx and a book by Jeff Whitty, Avenue Q is set in a New York City neighborhood located way, way on the other side of the tracks. Its central figure is Princeton (Bryan Tank), a recent college graduate with a BA in English who, while seeking his purpose in life, moves into a low-rent apartment on Avenue Q, and becomes the neighbor to a motley crew of low-income characters. The thing is, though, most of these characters are puppets (designed here by Erika Friesth), and the musical's humor comes from Avenue Q looking like a children's show - Sesame Street, specifically - but dealing with adult material involving strippers, alcohol, Gary Coleman, and puppet sex. (Parents: Do not take the kids to this one.)
There's an intrinsic challenge in any production of this piece considering not everyone has a talent for puppetry - a fact that is confirmed here. The female actors actually fare well in bringing lifeless configurations of cloth and plastic eyes to life, with Erin Churchill and Kelly Lohrenz proving especially gifted at animating their Kate Monster (Princeton's love interest) and Lucy the Slut (Princeton's distraction), respectively. The male actors, however, don't. While every performer moves the mouths of his or her puppets correctly, the men aren't as good at turning their puppets' heads or, to varying degrees, using their puppets' arms. I got over this issue, however, by simply focusing on the actors themselves, who are working their puppets in plain sight, and proved much more interesting to watch than the puppets' mouths.
Churchill, however, is interesting to watch on two levels. Her Kate Monster is so animated and varied that I fully believed in the puppet. The performer herself, though, is so vivid that I wanted to watch her, too, and was consequently forced to routinely switch my focus between the puppet and the person. Churchill's characterization, in truth, is so endearing that I sort of fell in love with her Kate Monster, and while I did not fall in love with Lohrenz's Lucy the Slut, I was equally in awe of the characterization. Thanks to the actor's ability to move her puppet in sync with her own movements, Lohrenz and Lucy turn their heads the same way, walk sultrily with swaying hips, and are wonderfully expressive (or, in Lucy's case, as expressive as a puppet face can be).
Tank's Princeton is both a charmer and a prototypical, sexual, slobby male, and Andrew Cole, though he sometimes struggles with proper pitch, amuses as a cheery-faced Gary Coleman, the apartment building's superintendent. I would've liked to see more of Mike Kelly's pervert tenant Trekkie Monster, as Kelly's gravelly vocals and hilarious puppetry - quivering and fainting with sexual anticipation prior to Lucy the Slut's stage performance - never failed to make me laugh. Tracy Pelzer-Timm couldn't be more crowd-pleasingly prudish as Kate Monster's high-strung boss Mrs. Thistletwat, and she and Lohrenz provide consistent laughs as the Bad Idea Bears, who together serve as Princeton's (bad-influence) conscience.
Being a fan of his quirky, energetic humor, I figured that Joe Maubach would steal the show with his characterization of the puppet tenant Nicky. Unfortunately, while his rendition of "If You Were Gay" was a show highlight, Maubach is overly subdued in his role, and as Nicky's roommate Rod, Tristan Layne Tapscott sometimes forgot to move his puppet's mouth altogether during Friday's performance. Still, the actor employed a consistent, nasally voice for his closeted, Republican investment banker, and he brought a quick pace to his character's uptight line deliveries.
Meanwhile, portraying non-puppet characters, James Fairchild and Cindy Ramos-Parmley shine as engaged tenants Brian and Christmas Eve. Fairchild's struggling stand-up comic is so lighthearted and jovial (reminding me of Larry David's agent Jeff on HBO's Curb Your Enthusiasm) that he's easy to like, and Ramos-Parmley is hysterical whenever Christmas Eve alters her soft-spoken, Asian-accented voice - especially when ordering Brian to get a job - to a deep yell.
Scenic designer Tapscott's set is the largest, most intricate one I've yet seen in the performance space, boasting two stories of (painted) brick walls and junk smartly strewn in strategic places. And the District Theatre's production of Avenue Q feels equally grand, full of hearty laughs and a cast that seems to be having so much fun that it's hard not to have fun along with them.
Avenue Q runs at the District Theatre (1611 Second Avenue, Rock Island) through October 21, and information and tickets are available by calling (309)235-1654 or visiting DistrictTheatre.com.