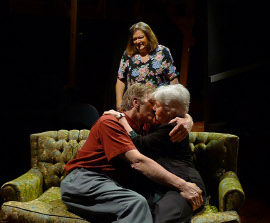 The Richmond Hill Barn Theatre's The Last Romance is, for the most part, a refreshingly lighthearted romantic comedy. Watching Friday's performance, I was delighted not only with much of playwright Joe DiPietro's script, but also with the tempo of director Tom Morrow's production. The characters' conversations are quickly paced, though not unnaturally so, and maintain the piece's joyful energy, but Morrow also gives his cast moments to breathe when appropriate, allowing the play's emotions and humor to sink in before the fast-talking exchanges continue.
Most of The Last Romance takes place in a dog park, where Tom Naab's Ralph (who doesn't own a dog) waits for a chance to meet Stephanie Naab's Carol, a woman he saw when he altered his routine and took a different path while on his daily walk. Therein lies the heart of DiPietro's play, with the author insisting that changing norms can open people up to new possibilities - in this case, the possibility of romance for those in their 60s resigned to dull and/or sad lives.
As Ralph, Tom Naab gets to display this theme best. Prior to Carol's arrival, Ralph is pestered by his overprotective sister, Rose, portrayed by Jackie Skiles in one of her best performances. (As Rose attempts to entice Ralph to come home for dinner, she says, "I made roast beef," a line Skiles delivers with a slight hope that it might tempt Ralph, but also a resignation suggesting it probably won't.) And while talking with his sister, Ralph carries a defeated demeanor. Yet once Carol enters the picture, he perks up with a new, youthful energy in his step and a twinkle in his eye, as though Carol has lit up his entire life.
The play continues with these dog-park flirtations between Ralph and Carol as he works to woo her, and there's a charm in Tom's playfulness, and in Ralph's forwardness and confidence, hinting that Carol will succumb to him. Stephanie Naab, meanwhile, walks a fine line between aloofness and interest as her Carol initially holds Ralph's advances at arm's length - but holds them there, in part, to keep them coming. (At one point, she says to Ralph, "You're coming on to me" with condescending moral superiority, but then follows it with a meek, almost pleading, "Aren't you?")
The relationship between these actors is ticklish fun, and the satisfying growth of Carol's and Ralph's romance would be enough to drive the plot. However, DiPietro falls into a couple of playwriting traps that are unfortunate. He ends his first act with a cliffhanger as Carol's dog escapes from the dog park and the audience is left wondering if Ralph and Carol will find the pooch, and this problem, for me, seemed contrived and distracted from my interest in the blossoming relationship. Personally, I would've wanted to return after intermission just to see if Carol and Ralph finally found love.
Thankfully, the beginning of Act II brings Carol and the acerbic Rose together for what I found to be the funniest scene in the play, in which Rose - beginning to accept her brother's new romantic interest - talks with Carol in the park. (With a dry delivery, Rose tells Carol, "Ralph is quite a catch," and when Carol asks how so, Rose says, "He can still drive at night.") And the story continues with Ralph and Carol getting to really know each other, building to a beautiful moment in which Carol presents the opera-loving, opera-star wannabe Ralph with a surprise gift, one that seals the direction of their relationship and creates a pleasing ending that allows the audience to imagine this couple's life together. Except that's not where DiPietro ends the play.
While the contrived cliffhanger ending is mildly annoying, it's nothing compared to what happens in the second half of Act II, when DiPietro gets ensnared in his second playwriting trap: the need to include a life lesson in an otherwise lighthearted comedy. After Carol announces her gift to Ralph, the play takes a heavy, dour turn as circumstances that may prevent Ralph and Carol from moving forward in their relationship are revealed. The almost ever-present humor of the piece's previous three-quarters are dropped entirely at this point so that DiPietro can make a comparison with opera, with Ralph explaining that, in opera, characters want to be in love, "but life always gets in the way." I will not deny the poignancy of this pair's troubled lives, but I do resent DiPietro for attempting to turn his buoyant romantic comedy into a heavy-handed tragedy.
Excluding these sour scenes, however, the Richmond Hill Players' A Last Romance cheered my heart with its sincere performances, operatic interludes sung by Jeff Utsinger as the younger Ralph, and the play's amusing, smile-inducing story.
The Last Romance runs at the Richmond Hill Barn Theatre (600 Robinson Drive, Geneseo) through May 4, and more information and tickets are available by calling (309)944-2244 or visiting RHPlayers.com.