Shakespeare provided us with tales of tragedy, comedy, and history. The Prenzie Players, meanwhile, have been performing Shakespeare's plays for many years and still exhibit a deep passion for his words and stories, as evidenced by their new production of Coriolanus. I attended the March 23 preview in which the cast and crew delivered an exciting performance, especially in light of one of the actors losing his voice. (More on that later.) Jeremy Mahr directed a talented troupe of performers while his design crew set the tone, with Matt Elliott providing a sparse set suggesting white marble, designer Tyson Danner supplying simple yet stark white lighting, and sound designer Bret Churchill employing ambiance that thrums with tension. It all added up to something cool and edgy.
Set in ancient Rome, the drama finds General Caius Martius (later renamed Coriolanus) returning victorious from battle. Having saved the city, he is entreated by a grateful Senate to become Rome's leader. But the citizens, spurred on by two tribunes, are in revolt, wanting more food, more voice in their government, and Coriolanus dead. Unfortunately, our hero does nothing to ingratiate himself to the people, whom he perceives as scum. Having been raised by a calculating mother who instilled in him a giant ego, he is unable to connect with them on any level, and after his eventual banishment, Coriolanus vows revenge against Rome.
Mahr's take on Shakespeare's story begins with citizens (Andy Curtiss, Mischa Hooker, Payton Brasher, and Liz Sager) entering wielding a variety of weapons – and taking seats in the audience – while delivering their lines with effective anger. Imploring us to join the fray, they immediately drew the audience into the action, even getting us to shout as if part of a mob.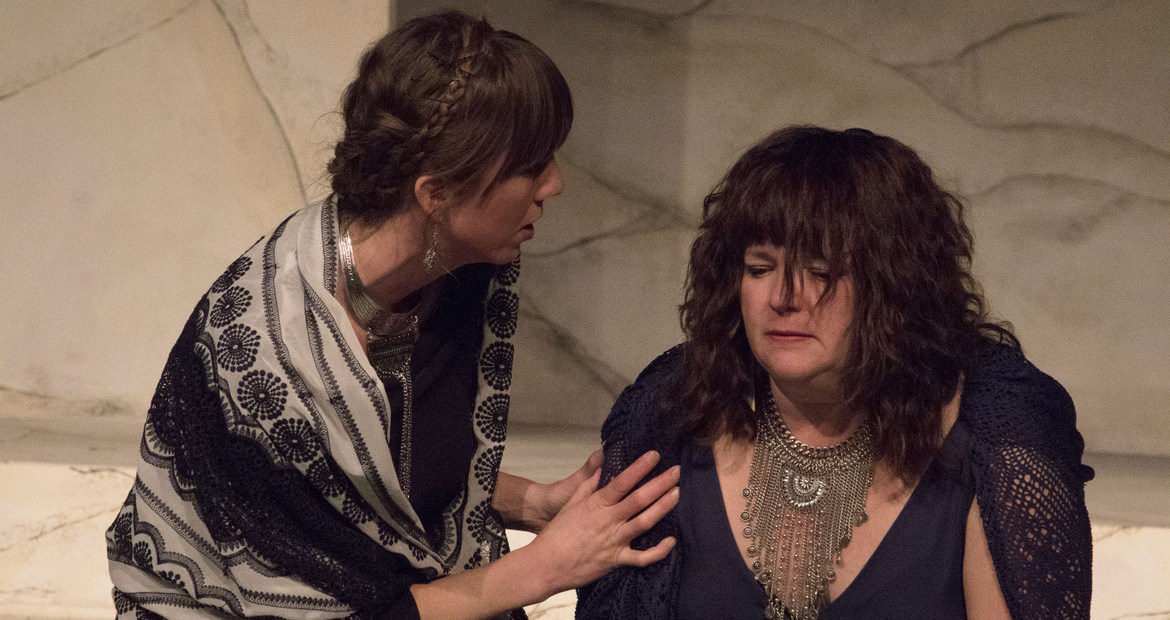 Calming the unruly citizens is Menenius (Adam Michael Lewis), and before the start of Thursday's preview, it was explained that Lewis had lost his voice; although the actor would be on stage, Mahr would be reading Menenius' lines from the audience. Have you ever seen someone give a speech alongside someone signing that speech for the hearing-impaired, and realize you can't take your eyes off the translator because of his or her expressions and gestures? That is what this was like. Lewis must have mime training in his past, because on-stage, his expressions and body language matched the dialogue so perfectly that I soon grew accustomed to the evening's unanticipated, quirky idiosyncrasy.
Coriolanus, here, appears incapable of empathy, and Jarrod DeRooi plays the part with a not-so-brutish subtlety, at his best when delivering some of his more fiery dialogue with intense precision. As his mother Volumnia, Denise Yoder had the formidable task of presenting a toxic combo of dominance, iciness, ruthlessness, and creepy obsession with her son. Despite a few stuttered lines early on, Yoder soon gained focus to deliver an adroit performance, making Beth Woolley's Virgilia – Coriolanus' quiet, loyal wife – almost fade, appropriately, into the background.
Tracy Skaggs and Jake Walker have great chemistry as rabble-rousing tribunes Sicinius and Brutus, the actors' portrayals making these secondary characters important and memorable. Jesse Mohr's Cominius, a soldier loyal to Coriolanus, retains his hardened-by-battle look and demeanor throughout, but eventually shows genuine heartbreak when rejected by him. And I was intrigued when the program listed that the enemy general Aufidia was being played by Maggie Woolley. I thought: Score one for feminists! Until she made her entrance.
While all the other soldiers were in tunics and ankle-length pants, Wooley appeared in a short tunic with laced-to-the-knee sandals, showgirl makeup, and a lot of leg showing, looking like an ancient-Roman Wonder Woman wannabe. During the post-show Q&A, costume designer Catherine Bodenbender explained that because of some acrobatic moves in a fight scene, the outfit worked better sans pants. But I found it distracting to what was an otherwise confident and competent performance by Woolley, although thanks to choreographers Yoder, Brasher, and Aaron Sullivan, the fight scenes are skillfully executed.
Coriolanus is a play that begins with tension and never lets up, and it has many themes: economic inequality, power and politics, the consequences of changing loyalties, determined mothers, self-destructive heroes. As performed by the Prenzie Players, this 400-year-old work drew me in and brought poetry and drama to life. And, oh, did I mention? There will be blood!
Coriolanus runs at the QC Theatre Workshop (1730 Wilkes Avenue, Davenport) through April 1, and more information and tickets are available by calling (563)484-4210 or visiting PrenziePlayers.com.