A mobile Army surgical hospital (MASH) is a nomadic troop of doctors, nurses, and equipment. And while nomads the world over have packed up all of their belongings and disappeared quickly and stealthily into the night, playwright Tim Kelly's M*A*S*H, currently in production at the Playcrafters Barn Theatre, is not a vehicle that travels well.
Director Rae Mary certainly had many challenges and obstacles to overcome with this script based on Richard Hooker's book and the film and TV series of the same name. Unfortunately, Kelly wrote a cumbersome show that's inherently less travel-worthy by being populated with 25 characters. What's more, his script provides little to no character development or development of relationships. Kelly's rudderless conveyance is, to my mind, nothing more than a conglomeration of skits that metaphorically reminded me of a U-Haul my son and I rented a few years ago – one that, filled with my possessions, wouldn't go any faster than 40 mph as we struggled to get across Illinois.
I did find some irony in a play about a nomadic troop of doctors containing so many set pieces, as the playing area was full. Upper-middle-stage, there were two picnic-style tables with four benches and a serving table, with a coffee pot (representing the canteen) wedged in between the four women's bunks that were far upstage, and the four men's bunks and footlockers that took up the downstage space. But a much more strategic approach needed to be taken; this was a set that not even a nomad could love. The number of set pieces could've been severely reduced to give a suggestion of locale that would've made much more room for the actors. There were scenes here in which action was taking place on all parts of the stage, and because no specific spaces were clearly delineated, I thought those scenes were unfocused. And when the four bunks remained unnecessarily in-place downstage for M*A*S*H's entire second half, only used by characters who laid on them quietly for a few minutes while action took place elsewhere, I was nearly beside myself with frustration. That was prime theatrical real estate – those bunks should've been moved out at intermission to let actors have some room to play on.
And speaking of moving, there was a lot of it going on during Friday's performance. After I counted approximately 10 scene changes (including one whose sole purpose was the placing of two folded blankets at the foot of two beds) in the first half, I spent the second half counting scene changes on my fingers. If I counted correctly, there were another 10, and for this show to work, it needed to be presented like a series of Laugh-In skits – fast and furious, with a sock-in-the-gut punch. Unfortunately, the play's individual segments were not delivered in such a fashion, and even if they had been, the set changes still would've slowed everything down.
Although the action is set in Korea during the Korean War (which seemed more like WWII Europe due to the 1940s-music soundtrack), Kelly's script does not provide the horrors of blood, gore, and combat. And because I didn't have a sense of being in a dangerous war zone, the antics of Hawkeye (Jordan Smith) and his cohorts seemed more of the annoying frat-house variety, rather than those of doctors trying to humorously alleviate intense pressure.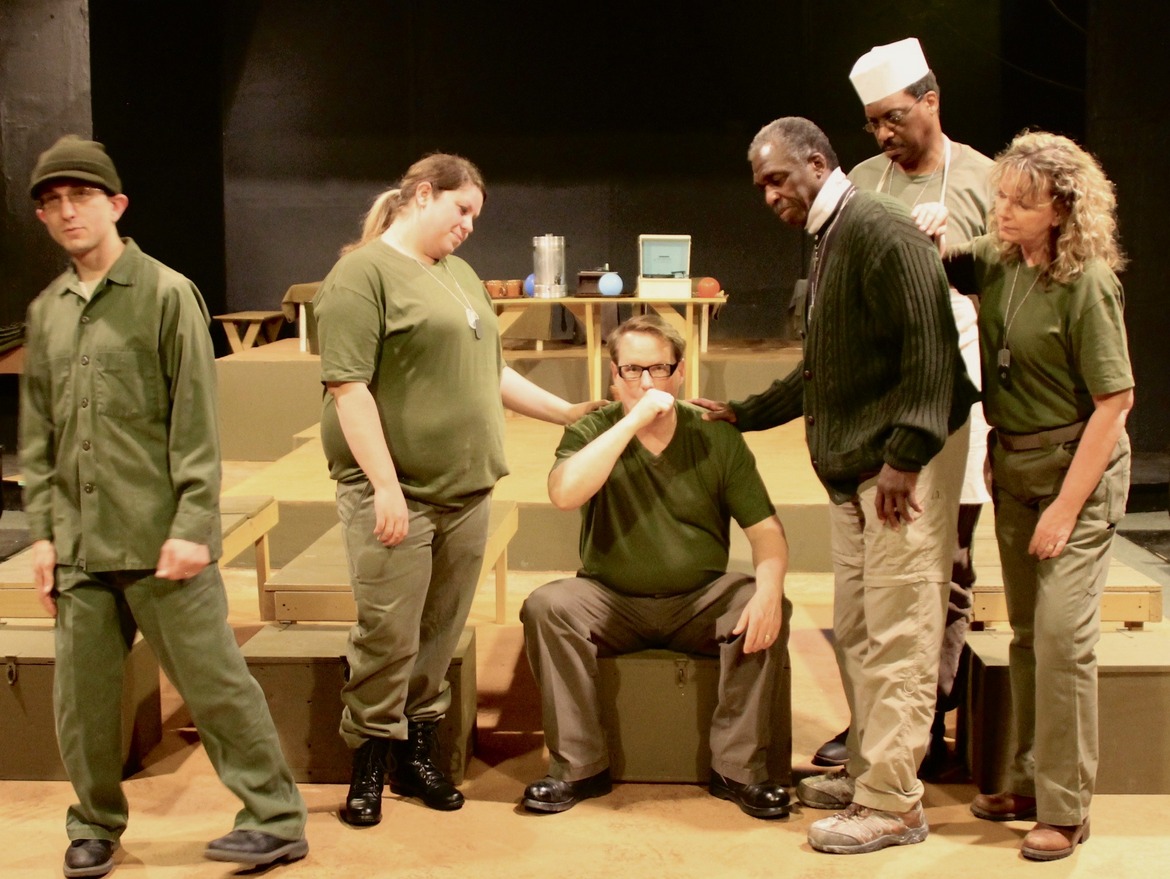 Judging by audience responses, Playcrafters' latest was a much bigger hit with others than it was with me, but there were bits that I thought definitely worked well, and a few actors who stood out. The one subplot that contained some personal interest was the troop's attempts to raise money to help Korean soldier Ho-Jon (Phillip Cathoir) realize his aspirations of going to medical school. And although the script doesn't give her a lot to work with, the wonderful Stephanie Moeller does well as Margaret ("Hot Lips"), while Gregory Braid does a really nice job in the role of Colonel Blake, trying to uphold some type of Army standard while also trying to meet the needs of his doctors and nurses.
But Friday's standout, acting-wise, was Ralph Baechle. In this, his first-ever stage role, he had great presence and command as General Hammond, and the opening scene between him and Braid held quite a lot of promise. That was, for me, the highlight of the show. Unfortunately, this M*A*S*H didn't really go anywhere from there, and knowing what I know now, I would've preferred to have rolled up my tent and stolen silently into the night.
M*A*S*H runs at the Playcrafters Barn Theatre (4950 35th Avenue, Moline) through May 21, and more information and tickets are available by calling (309)762-0330 or visiting Playcrafters.com.