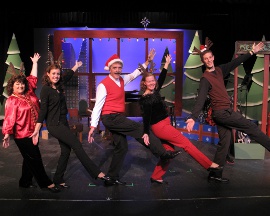 Sitting down with director John Weigandt, assistant director Jaci Weigandt (John's wife), and cast members Faith Hardacre and Jennifer Sondgeroth prior to a Tuesday-night rehearsal for Quad City Music Guild's A Christmas Survival Guide, I mention that this forthcoming show seemed like a rather unusual choice for the organization's wintertime slot.
"What?" asks Hardacre with mock surprise. "We don't normally have drunken dances on stage?"
Not normally, no. Nor does Music Guild normally produce holiday shows with casts composed solely of six performers. Nor holiday shows referencing therapy sessions and 12-step programs. Nor, to be frank, holiday shows with titles that patrons don't instantly recognize.
"I've been asked many times, 'What is this?'" says Hardacre. "People are like, 'Is this a new show? Is this something that was at the Tonys?' And I'm like, 'It's just this really cool compilation revue.' It's not really a musical with lines [of dialogue] and a set plot, but it's a very intense hour and a half. I mean, we're dancing in almost every single scene."
And probably, more often than not, making us laugh. "I think it's definitely appropriate for kids," says Sondgeroth, "but there are definitely some double entendres and more adult pieces of humor that will, thankfully, go right over the little ones' heads."
"What I like about the writing," adds John Weigandt, "is that some of that double-entendre stuff goes by so quickly that you, as an audience member, sit there saying, 'Did I just hear that? Did they really say that?'"
Laughs Sondgeroth, "Did that just happen?"
Created by James Hindman, Ray Roderick, and John Glaudini, and running December 5 through 8 at Moline's Prospect Park Auditorium, A Christmas Survival Guide is, as Hardacre says, a holiday-themed musical revue almost wholly devoid of dialogue, and one that has played regional and community theatres nationwide since its 2000 debut. The show has also earned some pretty stellar reviews, with Louisville's Courier-Journal describing it as "brimming with enjoyment" and the New York Press deeming it "the funniest Christmas revue around."
Yet given its lack of immediate title recognition, A Christmas Survival Guide is still an unexpected choice for Music Guild's December slot, considering the organization's offerings over the past eight years have included A Christmas Carol, Miracle on 34th Street, White Christmas, Babes in Toyland, and It's a Wonderful Life - twice.
Says Sondgeroth, "What we've found with the 'Christmas classics,' if you will, is that people are kind of starting to make them part of their holiday traditions. We're starting to get calls for tickets from big numbers of people early on, because 'Oh, we've been doing this every year! We all go out to dinner and see the Christmas Music Guild show!' But there are only so many 'Christmas classics' that there are musical versions of."
Referencing the holiday production currently running at the Circa '21 Dinner Playhouse, John adds, "We would've loved to have gotten our hands on A Christmas Story, bu-u-ut ... ."
"So we were kind of looking for other things," says Sondgeroth. "But we did want to stay holiday-themed because of this ... I don't know ... phenomenon of people wanting something they could make part of their Christmas tradition."
With its narrative through-line of shoppers seen busily preparing for the season, and its score a blend of original tunes and standards such as "Silent Night," "Silver Bells," and "O Holy Night," A Christmas Survival Guide certainly fulfills the "holiday-themed" requirement. But initially, before the show received the final thumbs-up from Music Guild's play-selection committee, the size of its cast was a concern.
"When it was first done in New York," says John, "it was done with one man and two women, and they eventually made it bigger, to where it was two men and three women. And so there was some talk among us of 'Okay, do we expand this into more people and divvy up the parts?'
"But we really liked the continuity of the core players on stage, so that it wouldn't be 'Oh, there's another new face, there's another new face ... .' So we made the decision early on that we were gonna keep it a tighter show, even though we did take the additional step of making the Dr. Ted character - who was originally just a voice-over - a real person. You know, with that small a cast, the more people we get involved ... ."
Jaci Weigandt, herself a veteran of several Music Guild productions, adds, "I think there might've been some disappointment that there wasn't a chorus in this, because there are a lot of people, myself included, who only feel comfortable doing chorus numbers."
"But thankfully," says John, "here at Guild, people dive right in to other spots. Jamie [Bauschka], who's doing our props, came through auditions, and she's a wonderful performer, but we had to tell her 'no' this time. And she jumped right in and said, 'Yeah, I'll do props!'"
According to performers Sondgeroth and Hardacre, both of whom boast numerous credits in large-scale Music Guild endeavors, this more intimate stage experience is proving quite a memorable one.
"There's something about being on stage with 30 other people that's really great," says Sondgeroth. "But then there's something about making a moment happen with only five other people. You really have to rely on each other in a different way."
"Some of the harmonies are crazy," adds Hardacre of A Christmas Survival Guide's frequent five-part musical arrangements. "Rehearsing them, you want to pull out your hair at times. But it's a really good, fun challenge. You have to really know your stuff, and you have to be on cue, and it's led to lots of ... I don't know, a lot more bonding between us."
"And there's some fantastic music in this," says Jaci, "and a number of songs that everybody's gonna recognize. Although maybe not quite like this."
She isn't kidding. A Christmas Survival Guide's song list does, for instance, boast the holiday perennial "12 Days of Christmas." In this version, however, it's titled "12 Steps of Christmas," with its singer looking forward to receiving "the serenity to accept the things I cannot change, the courage to change the things I can, and the wisdom to know the difference," "a session with my therapist Ted," and, from her sponsor, "fi-i-ive smoki-i-ing pa-a-atches!"
And while the traditionally mellow "Silver Bells" may start much like you remember it, the song, here, quickly morphs into a far more manic serenade to holiday-shopping madness.
"All of a sudden," says John, "it becomes about the sounds and sights and smells that are literally assaulting you all at once during the holiday season." Chuckling, he adds, "Yeah, 'Silver Bells' kind of goes off the tracks."
"I really like John's premise," says Sondgeroth of A Christmas Survival Guide, "in that it's like one of those old-school 'The Julie Andrews Christmas Hour' things where it's kind of song, song, song, but then there are these fun little vignettes added in. And even though it's not a known classic, there are definitely things in it both funny and touching. Anybody that has experienced the holidays is going to be able to relate to it, in many ways."
Quad City Music Guild's A Christmas Survival Guide runs December 5 through 8 at the Prospect Park Auditorium (1584 34th Avenue, Moline), with Thursday through Saturday performances at 7:30 p.m. and Sunday's performance at 2 p.m. For more information and tickets, call (309)762-6610 or visit QCMusicGuild.com.