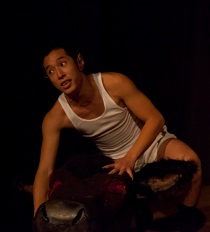 It was with eager anticipation that I sat down to watch Friday's performance of the QC Theatre Workshop's Bat Boy: The Musical, especially knowing that Calvin Vo would be portraying the title role.
I was first introduced to Vo's talents when he played the same part for Augustana College's Bat Boy two years ago, a production in which he was the highlight. Knowing his capability, I had high expectations for his second run as the human-bat hybrid, and Vo easily met them with his character's endearing sincerity and notable growth from a wild child with puppy-like curiosity to a poised, polite, intelligent young man-bat. (This transition is aided by designer Ashela Meyer's smart costume choices, which range from loincloth-like shorts to a t-shirt to a bow-tie-and-sweater-vest combo.) It also didn't hurt that, with the help of fangs and prosthetic ears, Vo managed to look like the notorious tabloid creature and still look handsome, and he delivered his numbers with a smooth, pitch-perfect singing voice.
What I didn't expect was to see (Reader employee) Mike Schulz almost stealing the show. I've seen enough of Schulz's performances to have an idea of what to expect from his acting. But while I've known him to be funny, I was surprised at just how funny he is as Dr. Parker, the veterinarian tasked with putting down the Bat Boy - who's eventually named Edgar - after he's first discovered and bites a young girl. When, after Edgar is assimilated into the Parker family, Dr. Parker realizes his wife Meredith (Jenny Winn) is giving the boy the loving affection she denies her husband, Schulz's barely veiled evil actions are hysterical; his Dr. Parker makes no attempt to hide the insincerity in his voice when he encourages Edgar to kill a rabbit, or when he "apologizes" for killing a child he was supposedly attempting to save.
Like director James Fairchild, choreographer Katie Ross, and the rest of the cast, Schulz understands that this play is filled with dark humor best delivered with a sense of self-awareness and a touch of melodrama. Bat Boy's transition into a society that hates him - a story developed by book authors Keythe Farley and Brian Flemming and composer Laurence O'Keefe - plays as a shiny, peppy musical with darker themes, and Fairchild embraces all of its qualities, even throwing in bits with a concerted effort not to hide the stage "magic." That includes the sequence in which bats chase after a woman while the actor holding the stick that's dangling the bats runs behind her, and the scene in which one of the characters is killed, with that actor re-entering the stage moments later as a completely different townsperson. It's this acceptance of the musical's silly nature that buoys QCTW's production to not-to-be-missed status.
With Meredith possessing an earnestly over-dramatic nature, Winn may embody that silliness most, playing her family matron with larger-than-life emotions to great comedic effect. Just as delightful are her duets with Becca Meumann Johnson (playing the Parkers' daughter Shelley), as the performers' voices blend beautifully. Yet Bat Boy's entire ensemble of supporting actors contributes wholeheartedly to the fun with their sometimes (and appropriately) rough-around-the-edges portrayals of the townsfolk, with several of the actors taking on multiple, occasionally opposite-gender roles. Aaron Lord's prudish Lorraine is a standout, as is Keenen Wilson's Mrs. Taylor, both of them for not attempting to hide that they're men playing women using affected-falsetto voices.
My only disappointment with the show, at least at first, was designer Tyson Danner's relatively minimalist set, which looks like it's built out of boards from wooden pallets and includes a large screen in the center (one used to fantastic effect to tell Bat Boy's origin story in silhouette). But that disappointment, which sat with me prior to the performance's start, quickly dissolved. Once the metaphorical curtain opened, I realized the design made the rural-town setting clear, allowed the performances to shine without background distraction from the scenery, and - with the set's hidden doors, compartments, and pull-out sections - proved much more multi-functional than it first appeared. (Danner's impressive lighting design is even more intricate than his scenery.)
With that potential letdown alleviated, I thoroughly enjoyed the QC Theatre Workshop's production of Bat Boy: The Musical, including its welcome inclusion of a live, three-person band. I laughed and laughed throughout the piece, along with the rest of the audience, and found this staging loads of fun.
Bat Boy: The Musical runs at the QC Theatre Workshop (1730 Wilkes Avenue, Davenport) through November 9, and more information and tickets are available by calling (563)650-2396 or visiting QCTheatreWorkshop.org.