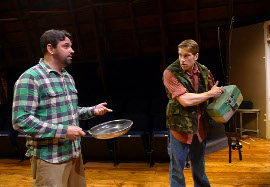 The title The Melville Boys implies that the two men in this four-character play are at the crux of its plot. For me, though, the highlight of the Richmond Hill Barn Theatre's production of Norm Foster's script was watching Dianna McKune provide the performance's heart and soul. As Mary, the character whose home neighbors the family cabin that the Melville brothers are using for the weekend, McKune brings a centered warmth to the proceedings, and is responsible for the play's biggest laughs and most heartfelt moments.
Given the actor's penchant for overacting - which suited her as Lina Lamont in Countryside Community Theatre's Singin' in the Rain two years ago, but which, for me, sometimes breaks the theatrical illusion - it's clear that either McKune's talents are improving, or that Melville director Eugenia Giebel inspired one of McKune's best performances to date. Either way, the actor is a delight to watch, not only for her subtle, nuanced line deliveries, but for her employment of non-verbal communication when reacting to the other characters' comments. During these moments, McKune can be seen in the background disapprovingly rolling her eyes, scowling, or eying another character. Yet despite the over-dramatic nature of these facial expressions, McKune employs them with sincerity. She's constantly in the moment here, with thoughts registering in her eyes and expressions every minute she's on stage.
The performer is at her best when Nathan Johnson's Lee - one of the titular boys - tells her that he's dying. McKune's tear-filled reaction approaches being over-the-top, but thankfully never reaches it, effectively eliciting laughter as her Mary scolds Lee for slipping the phrase "I'm dying" into their conversation without warning. She's comical without being clownish in her crying. And moments later, as the tension settles, McKune's tears - accompanied by her almost whispered vocal deliveries - led to what was, for me, the tenderest moment in Friday's production.
Up to this point in the plot, The Melville Boys' conflicts have to do with whether Lee and Mary will hook up, given that each of them is already married, and with Lee's younger brother (Victor Angelo's happy-go-lucky brother Owen) inviting Mary and her sister (Jo Vasquez's free-spirited, sexually energized Loretta) to visit after spotting them in a boat. The four end up attending a local potluck supper and dance - with Owen and Loretta clearly on a date and Mary and Lee accompanying each other for their siblings' sake - and while it's clear that Mary's marital status isn't so cut-and-dried, it's equally obvious that Mary is cautiously interested in Lee. This is where Johnson's portrayal is strongest, as Lee has a true chemistry with Mary, but also no interest in getting to know her beyond sharing a casual friendship. Yet despite my distaste for infidelity off- and on-stage, I still hoped for happiness for McKune's Mary and Johnson's Lee because of their quite-touching characterizations, each with its undertones of brokenness.
Unfortunately, though, Johnson's most emotional scene is, in my opinion, Foster's weakest; with Owen finally talking about his brother's impending death, the playwright wraps up his amusing comedy with a heavy hand. Johnson and Angelo offer commendable performances and chemistry, but the scene includes too much exposition - especially as the final scene of the play - and drags on with unnecessary dialogue. While this confrontation and emotional connection between the boys is inevitable, it doesn't match the tone of the rest of Foster's work. Nor does the scene's writing do justice to Richmond Hill's otherwise well-paced, charming take on The Melville Boys.
The Melville Boys runs at the Richmond Hill Barn Theatre (600 Robinson Drive, Geneseo) through June 15, and more information and tickets are available by calling (309)944-2244 or visiting RHPlayers.com.