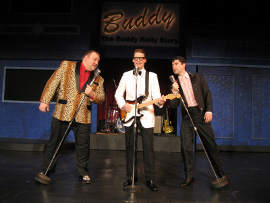 Friday's performance of Buddy: The Buddy Holly Story at the Circa '21 Dinner Playhouse left me wanting more - specifically, more of Kiarri Andrews' and Nina Waters' Apollo singers and Collin O'Connor's Ritchie Valens. Andrews and Waters brought some much-needed energy to the first act, adding attention-worthy moxie and a whole lot of fun to their one scene. (Waters' character also sparkles, literally, with the help of costume designer Gregory Hiatt's gorgeous pink column gown with watteau train.) Meanwhile, O'Connor, with his suave demeanor and smooth pelvic gyrations, whet my appetite for a Ritchie Valens musical, if for no other reason than to see the actor enjoy more stage moments as the singer.
Sadly, though, these three characters have limited time in playwrights Alan Janes' and Rob Bettinson's presentation. Even sadder is that the parts featuring Andrews, Waters, and O'Connor are more interesting than the rest of the show. A significant part of the problem with the piece is that Janes and Bettinson fail to find an appropriate balance between biographical story and musical revue. Both acts detail Buddy's life story, taking us from the young rocker rebelliously performing rock & roll on his local country-music station to Buddy's death in an airplane accident. However, while both acts begin with a bit of Buddy's story, they also descend into a string of Buddy's hit songs without much storyline included. This flow, or lack thereof, renders the musical incongruous and, for me, boring. I believe Buddy would be significantly better if Janes and Bettinson found a way to weave the artist's songs together with his life story, rather than switching back and forth from biography to revue. (However, this show's Buddy & the Crickets do perform the songs well.)
There are also pacing problems in director Ann Neimann's take on the tale, particularly those in Buddy's initial, all-night recording session that launched his hit career. The play calls for the depiction of several specific moments during the night, in order to leave the impressions of passing time and the growing exhaustion of Buddy's band members, Joe and Jerry (John Hays and Tristan Layne Tapscott). Neimann accomplishes this, alongside lighting designer Jonathan Allender-Zivic, with fades to black while actual Buddy Holly records play over the theatre's sound system. Yet these transitions, which are repeated several times, last a bit too long - ruining the effect of our "dropping in" on the lengthy session here and there - and are a bit slowly paced and monotonous. Also, while the band members' exhaustion is quite clear in the pacing, Buddy's excitement does not permeate the scene in any way. After all, as this is his story, his drive should be what drives the scene, shouldn't it?
Another significant issue is Buddy himself. Dalen Gunn plays up the dorkier side of Buddy's personality in the first act with impressive commitment to the characterization. His Buddy also evolves, with clear growth in confidence and ego throughout the play; whether or not Gunn manages to act and sound like the real Buddy Holly, his Buddy is believable as a fully realized character. However, particularly during Buddy's dorkier period, Gunn's slower deliveries break up the tempo of the musical, rendering this production disjointed and seemingly in need of more rehearsal time to nail the pacing issues. Gunn's portrayal is both fine and, seemingly, the reason the production falters.
There are, at least, some entertaining and even poignant moments. Aidan Sank is fun to watch as his engineer character records Buddy & the Crickets after the band's lead refuses to play any more country songs, despite being under contract. Sank bops around and sings along as if he's just learning the lyrics, all from his sound booth on the second level of designer Phillip Hickox's blue, multi-functional set, which features pivoting panels for quick scene changes. Tom Walljasper employs his dependable brand of humor as Hipockets Duncan, the radio-station announcer who serves as Buddy's first manager. James Fairchild, reprising his Big Bopper role from Circa '21's 2008 production of this musical, delivers an infectiously toe-tapping performance of "Chantilly Lace." And Nieman and Allender-Zivic handle the deaths of Buddy, the Big Bopper, and Valens beautifully, with no stage lighting other than overhead spotlights on each character, which are turned off as each death is announced.
Still, none of this is quite enough to save Buddy: The Buddy Holly Story. While an effective biographical musical usually leaves me singing some of the songs days later, I'm not humming any Buddy Holly tunes after this one.
Buddy: The Buddy Holly Story runs at the Circa '21 Dinner Playhouse (1828 Third Avenue, Rock Island) through March 8, and more information and tickets are available by calling (309)786-7733 extension 2 or visiting Circa21.com.