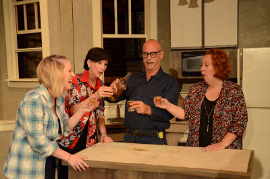 Another year of area stage productions has come and gone, and wanting to try something different this December, Reader theatre reviewer Thom White and I thought we'd bypass our traditional, end-of-year postmortem in favor of an alternate approach: requesting 100-words-or-fewer submissions from our readers on what people found particularly memorable about the 2013 stage scene. "It'll be something new!" we thought. "It'll be exciting! It'll be filled with fresh voices that aren't ours!" And, I must admit, we were dazzled with the overall response.
Well, "dazzled" may be overstating it.
Hmmm ... what's the word I'm looking for ... ?
"Mortified," maybe ... ?
Sadly, despite the call for entry being published online on November 20 - and in print a week later - our "Year in Theatre 2013: Community Project" wound up amassing all of three submissions ... two of which, I should add, came on the day of the project's announcement. (You can imagine how initially jazzed I was. "Man, even if we only get two per day until the December 16 deadline, that'll mean 54 entries! Sweet!") Theories can certainly be made about why our proposed project failed so epically, but regardless, we at the Reader were then faced with a couple of options: (1) Ditch the article entirely, or (2) Run the three submissions alongside re-e-e-eally big photos.
Or, as we eventually decided, stick with the 100-words-or-fewer idea, but make Thom and Mike do it!
So the two of us met for our annual breakfast, and the pieces that follow - until the final four - are edited-for-the-word-count takes on Thom's thoughts, one per venue/company: shows or performances or mere moments that helped make our area's 2013 theatrical output as vital as it was.
Augustana College
"In The Bock Eye, Calvin Vo was Bacchus, the god of wine and chaos, and he played it in drag. And it was so exciting to watch because he's such a talent, and I like to see people in a surprising context. The way he formed the character based upon what he was wearing ...  it was very sensual - Calvin enjoying the sexuality of the character's androgyny, in a way - and really marvelous to see even more of his range. It's just a piece of theatre magic to see an actor completely transform based on the look."
Ballet Quad Cities
"I'm more into modern dance than I am into the classical, proper technique, and I like to see the visualization of emotions and moods. And that's very much what Love Stories: Love on the Run was: the embodiment of emotional tones. So in particular, I think of the pas de deux between Margaret Huling and Jacob Lyon. How that was just full of exploration of love and romance, but at the same time, it had this wonderful combination of strength and fluidity. There was such a fluid beauty when he lifted her that it that seemed effortless."
Circa '21 Dinner Playhouse
"There's a scene in A Christmas Story: The Musical where Grover Dill and his lackey are bullying the kids, and the children's ensemble sings this song about being a nerd - 'When You're a Wimp.' It's this great anthem, like Shrek's 'Let Your Freak Flag Fly,' and it's all about the kids celebrating their weakness in the face of Grover Dill. Like, 'We're all in this together.' And there was just this beautiful connection between them. They had such energy and chemistry, and were a really cohesive unit. It was kind of like the children's cast was its own character."
Countryside Community Theatre
"With Les Misérables, I failed to mention Elise Castro, who played Éponine, in my review, just because I was overwhelmed with the number of cast members. Totally my mistake. But I think she served that role really well. She had that vocal choke of tears that came through in her singing without ruining her singing - her death scene was emotional and stirring - and she seemed to enjoy the softness of the role. Even though there's a tomboyish-ness to Éponine, there's still this romantic heart that beats through, and I think that really came through in her characterization."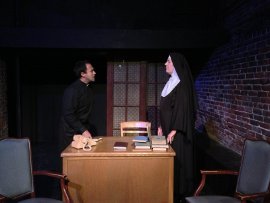 District Theatre
"I love it in theatre when you're in a large crowd and they're just silent, because everyone's so captivated that there's no reason to rustle. That happened a lot in Doubt, but mostly in the scenes between Jason Platt and Susan Perrin-Sallak. In their final face-off, when he's defending himself and she reveals 'I have this against you ... ,' the absolute believability and sincerity of it created this tension that filled the entire theatre. Even though I knew they're good friends off-stage, it was just dripping with vile hatred. I would've seen that play over and over."
Genesius Guild
"Seeing someone who's normally backstage taking a step on-stage is always fun, and that happened in The Acharnians with Melita Tunnicliff. From word-of-mouth I know that she's a very passionate and vocal supporter of Genesius Guild, and so seeing her in that show, knowing how much she cares behind-the-scenes, really tickled me pink. Melita was playing this entertaining and fairly ridiculous robot - making robotic movements and doing these weird little dance things - and knowing about her backstage relationship to the group, it really elevated her on-stage presence for me. She was so exciting to watch."
New Ground Theatre
"I really like surprising moments of chaos, and there's a moment in Other Desert Cities when Tracy Pelzer-Timm's character finally breaks, and she has her manuscript in her hands, and she just throws it up in the air and it all falls. It's a tense, serious scene, but there was also something very comical and mood-lightening about seeing these papers flying everywhere and landing. Tracy was very effective in not losing the emotion of the moment, but some part of me was also really amused by it, thinking, 'Who's gonna clean that up before tomorrow night's show?'"
Playcrafters Barn Theatre
"Seeing characterizations that could easily be obvious stereotypes but aren't stereotypes is something I value. And in Blues for an Alabama Sky, Vincent Briley played a gay man who was subtly flamboyant. The moment he entered the stage, his sexuality wasn't obvious, but seeing him in this pristine, fitted suit, I was guessing the character was gay. And then to hear him start speaking, and to realize Briley was going to be realistic and respectful, was very moving. It was a beautiful performance, and I thought, 'Thank God he's not a caricature. He's not Jack from Will & Grace.'"
Prenzie Players
"It's not uncommon for the Prenzies to pull audience members into their plays, and when I saw Two Gentlemen of Verona, the 'volunteer' was a pretty, college-aged woman. She was chomping gum with this too-cool-for-school air, and during the scene - while Adam Lewis was talking to her - she kept eying her friend across the stage. She was so not in the moment that it was kind of ridiculous, and watching Adam and Stephanie Moeller play the scene while this woman broke the whole feel of it actually embellished the humor. It was jolting in a good way."
QC Theatre Workshop
"When I think of the Workshop this year, I immediately think of Angela Elliott's laugh in boom. Because it's one thing to convey emotion through inflection in words. It's entirely different to do the same thing with just a sound. And in her case, there was one scene where I think she went through three emotions with just laughter - 'I'm amused,' 'This is awkward,' and finally, 'I'm embarrassed.' This combination, along with the increasing insanity that she was releasing, was truly remarkable and so funny. I couldn't help but burst out laughing because Angela was laughing." [Note from Mike: I served as boom's stage manager and assistant director. And yes, in my opinion, Angela was that hilarious.]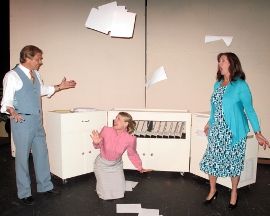 Quad City Music Guild
"9 to 5: The Musical was my favorite summer production in terms of infectiously fun entertainment. I was just smiling from ear to ear, beginning to end. Erin Churchill choreographed this particularly beautiful scene where Jenny Winn's character first comes into the bustle of the office. There were three groups of office workers all doing these distinct, percussive movements - some with typewriters - and moving their heads in unison, but not on obvious downbeats. And watching so much variance going on, and watching it all blend so cohesively, made the number feel even bigger than the stage itself."
Richmond Hill Barn Theatre
"The Curse of an Aching Heart is a melodrama, and in his pre-performance announcements, Tom Morrow, the director, invited the audience to boo the villain and applaud the heroes, which added this fun sense of community. But at one point, one person, in a moment of silence, did this 'Oh-h-h-h...!' - like, 'Oh no she didn't ...!' - and then immediately backed off, like, 'What did I just say ...?' And the audience busted out laughing. It was just so out of the blue and fitting. We enjoyed the production but were crying with laughter just from that."
Scott Community College
"I really enjoy locally written plays, and I think you can see a different energy and pride in them. You notice, in the actors, this sense of connection with the material - that they're serving the creativity of somebody they know. Scott's John Turner wrote Blue Sky Merchants, which was a commentary on the banality of television, and what it called for was for these students to play eccentric, larger-than-life producers pitching shows. And you could just tell that the kids were having so much fun - that, because it was original, there were no rules to their portrayals."
Thom unfortunately didn't get a chance to attend any of the year's one-weekend runs for St. Ambrose University performances. I, however, happily did. So if you'll indulge me on a fewer-than-100-words entry of my own ... .
St. Ambrose University
"If you attend collegiate theatre with regularity, there's something really bittersweet about watching senior students in their final shows before spring commencement, as you're frequently torn between feelings of 'Look at the amazing progress you've made!' and 'Why do you have to leave now?!' And in St. Ambrose's Chicago, the gifted actors/dancers/vocalists Kelsey Francis (an adorably vicious Roxie), Stephanie Seward (a piss-and-vinegar-fueled Velma), and Tim Stompanato (a joyously blithe Billy Flynn) made saying goodbye, scholastically speaking, all the tougher. Thank you for your terrific performances, guys, best wishes on continued success, and congratulations on graduating. Damn it."
We'd also like to extend a huge "Thank you!" to those three willing participants in our intended community project, and it wouldn't feel right to deprive you of their contributions.
The first, a submission from Lucie VanHecke, concerned an individual area production, and one that wound up having a truly unexpected effect: "One show - Hair, at the District Theatre - stands out. I knew little going in and was confused yet amused by the first act. The storyline was nonsensical and the time period, the 1960s, wasn't something I could identify with. However, by the time the finale rolled around, I was sobbing uncontrollably! The music, story, and Chris Causer playing Berger moved me in such a surprising way that I simply couldn't hold back my tears. I had written it off at intermission as something I just wouldn't understand but was blown away by the end. What an experience!"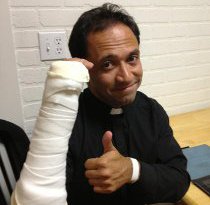 The second, submitted to us by Patti Flaherty, provided a reminder that no matter how unusual stage drama can get, real-life drama (and comedy) generally finds a way to trump it: "So many performances were so good, but I have to relate a story. At a dress rehearsal for the District Theatre's Doubt, Jason Platt slammed his hand down on a pile of books and broke it. Susan Perrin-Sallak rushed him to the hospital in her '60s nun habit, and Jason in full priest regalia. Many stares ensued in the waiting room, especially when Jason's fiancée, Erin Lounsberry, arrived and began to offer comfort to 'Father Platt.' Susan played along and acted very upset when Erin smooched a priest. Wacky theater experiences happen off stage as well as on!"
And the third, sent to us by Sarah Wallace, managed to sneak a trio of titles into the word count while simultaneously wrapping the theatre year up with a bow: "I usually find something humorous in any show, but I was absolutely rolling with laughter during Things My Mother Taught Me at Circa '21. The climactic scene where the fathers give advice to the son after drinking too much was laced with flawless comedic timing and delivery. On the dramatic side, Death of a Salesman at Richmond Hill and The Miracle Worker at Playcrafters were so realistic and moving, it was hard to leave the theatre without embracing a completely different perspective on life. These and many other venues make theatre in the Quad Cities so exceptional."
Amen, Sarah.