There's an oft-repeated piece of advice given to fledgling writers: Write what you know. So, for his first original play, Christopher Morgan - a group psychotherapist living in the Ealing Broadway suburb of west London - did exactly that, fashioning the tragic-comic one-act Going Underground out of his own experiences and acquaintanceships. And it only took 6,875 hours of research to complete it.
Going Underground, which Black Hawk College's theatre department presents beginning November 10, focuses on seven characters traveling on England's subway system (referred to as "the tube," or "the underground"). Recently performed at Scotland's 61st-annual Edinburgh Fringe Festival, the 50-minute 2005 work finds four men and three women sharing stories, histories, and philosophies with the audience, but not with each other; though we come to learn a great deal about the characters, they remain strangers to one another. Which, states the playwright, is a reflection of Going Underground's theme.
"That's the reality," Morgan says during a recent phone interview. "People don't speak unless they go on the tube with someone. And the theme of the play isn't actually stated, even indirectly, but it's about the way it is - it's about the isolation, the alienation, the fact that they're seven very rich people with a potential experience to share, and they never do."
Fittingly, Morgan found his inspiration for the project through his own reality: commuting to and from work on London's underground. "I sat people-watching, which is one of my favorite pastimes on the tube, and sitting directly opposite me, seven people sat in a row. Very different people. And I was thinking, 'I wonder what they're like? What are their stories? Where are they traveling? What are they thinking?'
"And I had a 'Eureka' moment," he says. "'That'd be a really good idea for a play!'"
Though he's been involved with theatre for more than 20 years, Morgan admits that his beginnings in the art were purely accidental, as he planned - and still continues - a career in psychotherapy. "When I left school in the mid-'70s, I did psychiatric nursing first," he says, "and I didn't really like it. In the old days, it was very much the large asylums, and nursing was very much One Flew Over the Cuckoo's Nest-type stuff. And I was hopeless at that."
He switched to occupational therapy, training as a nurse in Salisbury, Wiltshire, and then as an occupational therapist in Oxford, specializing in art and drama. "So I'm an all-around creative therapist," Morgan says with a laugh.
It was in 1985, when Morgan was working in a small seaside town near Bristol, that he received a fortuitous - and unusual - offer.
"It's rather strange," he says. "I went to a local pub, and this rather eccentric gentleman came up to me and said, in a very theatrically English voice, 'I'm looking for men.' And I said, 'Oh, yes ... ?' And it turns out he was putting on a production of Chekhov's The Cherry Orchard, which is very female-dominated, but he was looking for men to play also. And I was, 'Well, I'll have a go.'
"And that was really the audition," says Morgan. "'Are you willing?' 'Yes.' 'You're in.'"
He wound up playing the revolutionary student Peter Trophimov, and states that from that moment on, "I never really looked back. I have a fantasy that if that gentleman had come in and said, 'I'm looking for men to do hang-gliding,' I wouldn't be here now. I'd be some hang-gliding person."
Since his Cherry Orchard debut, Morgan has continued to act in local productions, particularly in what he calls "cameo roles or moderate-sized roles where I steal the show, I am told." (He adds with a laugh, "It's less effort, because I waft on, sort of looking impressive, and I'm the one they remember.") He has also directed several works and even written adaptations of Charles Dickens' A Christmas Carol and John Bunyon's The Pilgrim's Progress. "But I'd never done anything completely original," he says.
Morgan remembers the moment he came up with the idea for Going Underground. "It was in 1995," he says. "I lived in Ealing and I worked locally, but then I changed jobs to a hospital in north London. And I don't drive, so for the first time I had to commute, and every day I was spending two and a half hours - and still do on a normal working day - traveling on the underground."
Seeing those seven aforementioned travelers was the genesis for what Morgan saw as "a monologue piece." But after nearly 10 years of commuting - and what the playwright only half-jokingly refers to as 6,875 hours of people-watching research - his work schedule and other theatrical commitments kept Going Underground from being written.
"I never really got 'round to it," he says. "I was always just thinking about it. In a way it's a bit like an Agatha Christie murder mystery, in that I had the motivation but not the opportunity."
That opportunity, though, finally presented itself in 2004, when Morgan was working with West Ealing's theatrical group, the Beaufort Players.
"Suddenly we had an influx of younger people," he says. "Usually it'd been middle-aged people and a few younger people, but there was a large influx between the ages of 18 and 25, and we were looking for plays where they could develop their skills. And there are very few plays with good, meaty parts for younger people - they usually have to play maids for many years - so I thought, 'I'll write it!' I had this idea for 10 years, and now I had the opportunity."
Given six months to complete the piece, Morgan already had his play's locale and central conceit - monologues featuring seven tube passengers - and he had his themes, those being how alienation and missed connections are affecting us in the early 21st Century. He also knew that he wanted to keep those themes abstract.
"I like ambiguity," says Morgan. "I like to think, like to concentrate, like to mull. I don't think we need things on a plate all the time. I like subtlety, and I don't want to be sledge-hammered [at the theatre]. I want to be drawn in and intrigued, rather than have a sort of blow-by-blow account - being bludgeoned into understanding."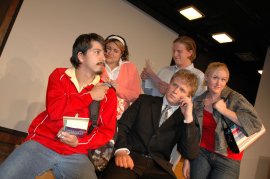 What most of Morgan's six months were spent on, then, were Going Underground's seven passengers, characters who, says Morgan with a laugh, "are bits and pieces of almost everyone I've ever met, to some degree."
Some were inspired by real life, such as Dottie, a friendly, slightly odd senior citizen fanatically devoted with The Wizard of Oz. The role, says Morgan, was partly based "on a psychiatric nurse who I knew - the character and the warmth and the personality is her.
"But the actual eccentricity," he continues, "is based on an older lady I occasionally see on the central line. She's in a world of her own. When she comes on, she's really happy, and she looks at people, and you know that when you're in her carriage, this is her living room. She makes sure you're all okay. So the image is from one person, and the actual character is from another."
Other roles found their inspiration in 21st Century issues that Morgan wanted to explore. The young Australian, Sebastian, is revealed to be fixated - dangerously so - on a girl he meets online. "Around that time, there was a lot of concern over chat-life on the Internet," says Morgan. "And I thought, 'Well, a person who's lonely in London could get very obsessed with that.'"
And still others found their origin via Morgan's background in psychotherapy, such as the perfectionist businessman George, who convinced himself that a youthful indiscretion caused his father to abandon the family, and who continues to seek his dad's approval well into middle age. (Says George in the script: "Intellectually, I knew that it wasn't true, but it felt like it was.")
"That character," Morgan says, "is, in a way, informed by my practice, in the psychotherapeutic sense. How one event can change someone's belief about themselves, but they don't change it. Even though it's irrational, George has lived with that belief for so many years, and then awful things happen because of his perfectionism."
What all the characters share, though, is the determination to simply make it through 21st Century life, even if it means withdrawing from the rest of the world through imagination or isolation - evidenced by the passengers' refusal (or, perhaps, inability) to connect with others.
"They build their own space with briefcases and umbrellas and papers, you know?" says Morgan. "And a number of characters are in denial, or are living in a fantasy world. But I think that's a valid option. So long as you're not harming anyone else, you can be as eccentric as you like. If it helps you survive the 21st Century, go for it."
But don't expect Morgan, in Going Underground, to offer answers to the communication problems plaguing the 21st Century. "I don't know what the solution is," he says with a laugh. "I'm just posing the question, I suppose. And it's up to you to decide."
Going Underground will be produced at Black Hawk College on November 10, 12, 13, and 15 at 7 p.m. Performances are in Building 1, auditorium room 306, and information is available by calling (309) 796-5419.