Missed sound cues, incorrect light cues, and a play within a play – so goes the Playcrafters Barn Theatre's schizophrenic comedy (a work in progress), whose opening-night performance was quirky and full of mayhem. Anyone who has ever been involved in the art of theatre knows the process can become a crazy one, and this presentation gives audiences a firsthand view of what happens behind the scenes with a close look at rehearsals, a diversity of actor personalities, and an infamous, erratically temperamental director.
In (a work in progress), a failing theatre company called the New Dreadful Players decides to put on one last show – a work titled Bad People – in an effort to save itself. Yet from its first rehearsals on, everything falls apart in the most chaotic of ways, with the troupe even losing the play's lead actress five days before opening. Consequently, Bad People's director Samwell Foxtrot is slowly losing his mind as he frantically tries to pull together the cast and crew for the big night, and Nicholas Waldbusser is hilarious as he embodies this high-strung figure who seems fed up with the whole deal, screaming out directions and then calmly asking, "Questions, comments, or concerns?"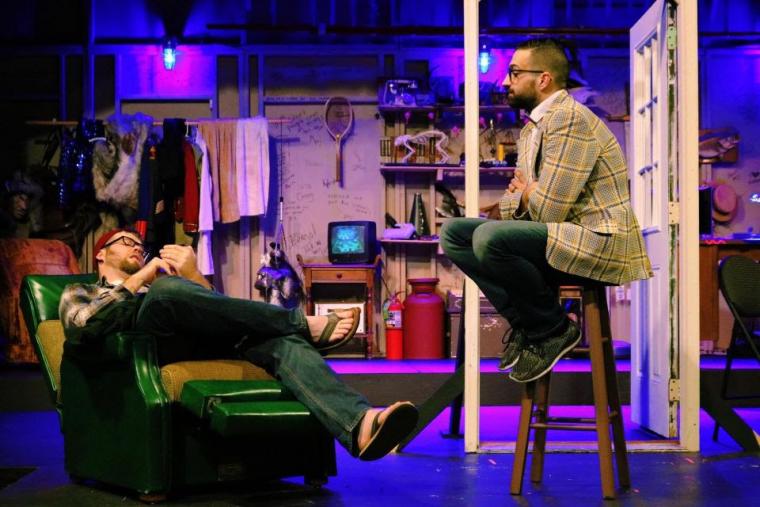 Playcrafters' season-opener is an original work by Quad Cities playwright Alexander Richardson, who also directed the production, and the results are quite good and finely executed, with the well-cast actors building layer upon layer of fun. At times, the comedy is a bit juvenile and slightly raunchy, but very funny just the same.
The convincing, very talented Tori House plays Foxtrot's stage manager, and her comedic timing really complemented Waldbusser's eccentric personality, and vice versa. Jesse Mohr plays a list of characters that includes the town gossip, the town lawyer, the town drunk, and an elderly grandma, all of which he pulls off brilliantly. Jo Vasquez portrays the optimistic, one-person "stage crew" Elliot Freeman with a lovable innocence that really came across and was extremely funny.
Micah Bernas, meanwhile, showed off his ability to speak in an adorable New York accent, and sporting an oversized suit jacket by costume designer Andromeda Jane (along with an intentionally poor makeup job), the performer really nailed his thespian character. Rounding out the cast are the lovely Lauren VanSpeybroeck, who plays the demure rising starlet Allison; Elizabeth Melville as the spoiled diva Clare; Zach Hunter, whose character Chris spends most of his time on crutches; and Dave Moreland, who portrays the bullying producer Scott Dills.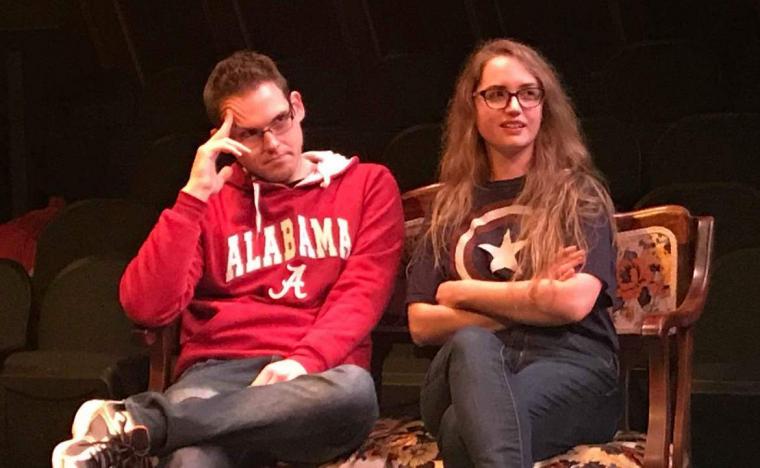 At intermission, Friday's audience was also roughed up a little bit by Dills as we were told, "Give us your money!", and for much of the play, I didn't realize how the show's overall, uncomfortable badness was actually part of the experience. And I don't think I was alone. A lot of patrons were laughing, including myself, but judging by the looks on some of the audience members' faces, I'm guessing that not everybody was "getting it." If you aren't paying close attention, you can easily lose track of what's going on with the play-within-a-play storyline, and there was further confusion when Vasquez, at intermission, distributed a second playbill, this one for the New District Theatre's production of Katie Newport's Bad People. (Vasquez was charming, though, when clumsily dragging a table off stage and behind patrons' seats while smiling and saying, "Sorry, everyone, sorry.")
As someone who's been involved in theatre as both performer and writer, I could relate to much of the show's content, and appreciated the colorful characters and their struggle to put on the best possible production. (a work in progress) reminded me that the struggle is real and the demands of putting on a theatrical piece can be overwhelming. But it also reminded me how truly meaningful the experience can be, gathering a family of actors, crew members, and more in freedom of expression and the chance to truly – at least to the best of everyone's ability – create art.
(a work in progress) runs at the Playcrafters Barn Theatre (4950 35th Avenue, Moline IL) through January 20, and more information and tickets are available by calling (309)762-0330 or visiting Playcrafters.com.