There's a common misconception that, once the musical- and comedy-filled summer season is over, our area's theatrical output becomes a lot more demanding. But that's absolutely not true. For example, this autumn brings with it the Western charmer Make Me a Cowboy. And the showtune pastiche Give My Regards! And the fairy-tale spoof Honk! And ... .
Hmm. "Make Me"? "Give My"? "Honk"? That all sounds pretty demanding.
In any event, while there will be dramas among the (as of this writing) five-dozen area-theatre productions scheduled to open over the next 99 days, audiences seeking lighthearted fare won't go wanting. Nor will those seeking lightly randy fare, judging by the title of the October 20 through 30 season-closer at Geneseo's Richmond Hill Barn Theatre: Sex, Please, We're Sixty. (See how much less demanding a show sounds with a "please" attached?)
With similarly farcical antics on display in the Circa '21 Dinner Playhouse's current Nana's Naughty Knickers (running through September 24), the Rock Island venue will wrap up 2011 with three additionally cheerful productions: the '50s-girl-group revue The Marvelous Wonderettes (September 28 through November 5) and the tune-filled, holiday-themed sequels Nuncrackers (November 9 through December 30) and Junie B. in Jingle Bells, Batman Smells (November 25 through December 31). Moline's Quad City Music Guild, meanwhile, gets into the Christmas spirit - or rather, Christmas spirits - with the delightful Charles Dickens adaptation Scrooge (December 1 through 4), while a more traditional take on the tale comes via Theatre Cedar Rapids and its presentation of A Christmas Carol (November 25 through December 25).
Yet there's also plenty of variety planned for the Cedar Rapids venue this fall, courtesy of the laughs of Pulitzer Prize-winner Tracy Letts' Superior Donuts (September 23 through October 15), the Fosse-plays-ball thrill of Damn Yankees (October 7 through 29), and the debuting works, in all genres, of the Underground Theatre Festival (November 3 through 13). Another premiere is on hand with the University of Iowa's staging of Katherine Sherman's Christopher Marlowe's Chloroform Dreams (October 27 through 30), which joins five other titles scheduled for the Iowa City school's autumn: The Cherry Orchard (October 7 through 16), Lysistrata (October 20 through 23), Lady from the Sea (November 3 through 6), Stick Fly (November 10 through 19), and Hamlet (December 1 through 10). That puts University of Iowa MFA candidate Sherman in the company, this fall, of the likes of Shakespeare, Chekhov, Ibsen, and Aristophanes. Damn, but that graduate program's gotta be intense.
Elsewhere on the educational-theatre front, Davenport's St. Ambrose University stages composer/lyricist William Finn's musical A New Brain (October 7 through 9), a student-directed drama in Val Zawada's Touch (September 8 through 10), and a student-written family musical in Aaron Randolph's Dakota Jones & the Search for Atlantis (December 3 and 4). Across the river, Rock Island's Augustana College attempts to show why, at least in a beauty-pageant comedy, Real Girls Can't Win (October 14 through 23), while stage protagonist Mary, Queen of Scots faces a much harsher fate over at Galesburg's Knox College, in the historical drama Mary Stuart (November 2 through 5).
A fall comedy, title to be determined, is planned for Riverdale's Scott Community College (October 20 through 29), while a well-known title - the biblical musical Children of Eden (November 3 through 6) - is scheduled for Cedar Rapids' Kirkwood Community College. Younger student actors, meanwhile, will be furthering their stage educations in Davenport Junior Theatre's fall production of the eternal family favorite The Wizard of Oz (October 22 through 30) and the Clinton-based Young Footliters' presentation of Peter Pan (October 14 through 16), with Rock Island's The Center for Living performers offering a Peter Pan of their own - albeit one set amongst the greenery of the Quad City Botanical Center (September 9 and 10).
The Center for Living's home venue will also house productions, on the third Saturday of each month, of the only-slightly-abridged musical Rent: School Edition, while the Quad Cities' interactive comedy troupe It's a Mystery will deliver five performances of its latest, as-yet-untitled farce between September 23 and November 18. More laughs are sure to come through the Iowa City Community Theatre presentations of the satiric Ugly Duckling musical Honk! (September 9 through 18) and the Neil Simon slapstick Last of the Red Hot Lovers (October 21 through 30), with additional comedy found in the city's Dreamwell Theatre staging of John Patrick's The Curious Savage (November 11 through 19). The other show on the company's fall-theatre docket? Arthur Miller's Salem-witch-trials classic The Crucible (September 30 through October 8). Needless to say, not a lot of giggles there.
Like Dreamwell, Iowa City's Riverside Theatre will go for both rib-tickling and thought-provoking, with the holiday sweetness of Small Miracles (November 25 through 27), the bleak humor of Martin McDonagh's The Cripple of Inishmaan (October 28 through November 13), and the latest one-woman show by Megan Gogerty, intriguingly named Feet First in the Water with a Baby in My Teeth (September 9 through October 2). An equally unusual title is scheduled for Anamosa's Starlighters Theatre, when the venue presents Only Drunks & Children Tell the Truth (September 16 through 25), a production that precedes the late-fall debut of the far more familiar Little Women (December 2 through 11). And when it comes to recognizable titles, it would be hard to top those of the two touring productions hitting Davenport's Adler Theatre this autumn: Lerner & Loewe's timeless My Fair Lady (October 20), and Mel Brooks' musical comedy Young Frankenstein - or, going by its official moniker, The New Mel Brooks Musical Young Frankenstein (November 13). Guess that "new" can apply for at least a few more years, huh?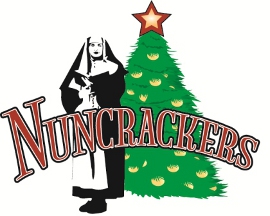 Other modern treatments of cherished classics will be staged in Maquoketa, when the Ohnward Fine Arts Center presents It's a Wonderful Life: A Live Radio Play (November 18 through 20) and an interactive version of Snow White & the Seven Dwarfs (October 1). One of Snow's fairy-tale companions graces the Old Creamery Theatre in Pinocchio (October 1 through 15), as the family offering joins a quartet of additional fall titles at the Amana venue: the Tony Award-winning farce Boeing-Boeing (September 15 through October 16), Agatha Christie's legendary mystery The Mousetrap (October 20 through November 13), the musical follow-up A Don't Hug Me Christmas Carol (November 17 through December 18), and the holiday heart-tugger Wooden Snowflakes (December 1 through 18). Hearts, meanwhile, aren't tugged so much as shattered in two shows set for Princeton, Illinois' Festival 56: the 9/11/01-themed drama The Guys (September 8 through 11), and the poignant stage memoir Tuesdays with Morrie (November 11 through 19). Thank God for Princeton's November 25 through December 3 stagings of the literary slapstick All the Great Books (Abridged), or the Festival 56 handkerchief concession would be freakin' empty.
Similarly recent comedies are scheduled for Amana's Iowa Theatre Artists Company, which will stage the laugh-getters The Kitchen Witches (October 14 through November 6) and A Southern Exposure (November 11 through 27) after the Broadway-favorites revue Give My Regards! (September 9 through 18). Oodles of other familiar showtunes will be heard in the City Circle Acting Company of Coralville's presentations of the musical smashes Hairspray (September 9 through 18) and The Rocky Horror Show (October 28 through 30). Plus, if it's fall, it must be time to again "Time Warp" with the Harrison Hilltop Theatre, which will stage Richard O'Brien's beloved cult hit The Rocky Horror Show (October 21 through 31) in tandem with the razzmatazz of Bob Fosse's Chicago (October 14 through 30), and close the Rock Island-based company's season with the two-man farce of Tuna Christmas (November 25 through December 10).
In neighboring Moline, the Playcrafters Barn Theatre will finish its own season with the toe-tappin', Western-music fun of Make Me a Cowboy (September 9 through 18), followed by the tender family drama of Leaving Iowa (November 11 through 20), a collaboration with theatre participants at Moline's Black Hawk College. Biting comedy - really biting comedy - comes to us in New Ground Theatre's production of Yasmina Reza's God of Carnage (October 6 through 16), arriving at the Village Theatre mere months before the release of Roman Polanski's eagerly awaited film adaptation. And just a few weeks prior, the same theatre - if not the same theatrical organization - will house the Curtainbox Theatre Company's Time Stands Still (September 15 through 25), Pulitzer Prize winner Donald Margulies's 2010 drama that stars Kim Furness, Eddie Staver III, Jessica Denney, and a certain Reader journalist who shall remain nameless. The show better be good; that guy didn't grow a beard during the hottest summer in memory for nothin'!
For more information on the area's fall-theatre offerings, visit RCReader.com/y/theatre.