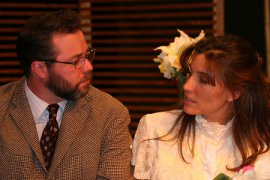 Directed by David Bonde, the Curtainbox Theatre Company's Hedda Gabler starts off on a happy, frivolous tone. As George Tesman (Reader employee Mike Schulz) tells his Aunt Julie (Corinne Johnson) about the honeymoon from which he's just returned, they share smiles and hopeful, knowing glances. Yet several minutes into this, during Tuesday night's performance, I was a bit bored, wondering why the Curtainbox - which had consistently produced weighty, thoughtful material - was suddenly producing a script filled with such lighthearted but fundamentally pointless drivel.
And then Kimberly Furness made her entrance.
As Henrik Ibsen's titular character, Furness has a way of destroying the happiness in a room, as if she were an emotional black hole. Taking her first position on stage, Furness glared at nothing specific and everything in the room at the same time, and with a condescending, angry, and annoyed look, the tension she created on stage was palpable throughout the entire theatre.

That tension carried through into Furness' interactions with Schulz, as if the two had been fighting off-stage and brought that hostility onto it, negatively affecting their chemistry. However, it progressively became clear that this was an appropriate chemistry for Hedda and George, as the honeymoon was over before it was literally over. Hedda, a former (and pistol-loving) wild child, has decided to settle down and marry a passive man she doesn't really love, and for unclear reasons - it could be that she's pregnant, or that she wants fine living and a chance to entertain the best of society, or something else entirely. There seems to be no method to this neurotic woman's madness beyond what she understands in her head; for reasons known only to her, Hedda has decided to lock herself up in marriage, like a bird in a cage.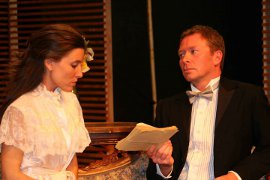 This metaphor is clear in scenic designer Kris Eitrheim's set. The entire play takes place in the drawing room of Dr. and Mrs. Tesman's new home, and for its walls, Eitrheim has used horizontal slats spaced an inch or so apart and connected between the studs, running from floor to ceiling. You can therefore see through them to the backdrop that resembles Norwegian artist Edvard Munch's painting The Scream, while the larger effect is that of a birdcage, a home that symbolically traps Hedda.

There are plenty of diversions for her, however, in the form of the visitors impressively played by Bonde's supporting cast. Patrick DuLaney is a dynamic Judge Brack, exuding charm with smarmy undertones, and commanding the audience's attention with his charismatic portrayal. Adam Clough, with a rich baritone voice, plays Eilert Lovborg more subtly, suggesting a broken man who takes great care to avoid reminding anyone of his wild past. Clough also manages to carry a sorrow in his eyes, as though his Lovborg were silently begging for forgiveness.

Lovborg could perhaps find acceptance in Mrs. Elvsted, who is played, charmingly, by Erin Churchill. Arguably the most endearing member of the cast, Churchill lends sweet earnestness to every line she speaks, mixing hope and fearfulness in her portrayal of a woman who leaves her husband after falling for Lovborg. While Churchill's Mrs. Elvsted is precious, Schulz's George is pitiable. Maintaining a smile throughout much of the play, George is a dull but innocent man caught up in Hedda's snare. Only once during the play does he (appropriately) lose his calm, otherwise hiding any emotions he may be feeling behind a pleasant demeanor and unassuming air.


Corinne Johnson uses a similar approach to her Aunt Julie, but mixes in an ever-so-slight condescension befitting the matriarch of a family. Denise Yoder's Berta, though, is less delicate in her disdain for Hedda. Portraying the Tesmans' maid, Yoder clearly depicts a happy willingness to serve George, and a disapproval of Hedda while carrying out her commands.

All the actors are exquisitely adorned in Greg Hiatt's costumes, with Churchill wearing the most impressive of the period clothing: a lavish gold gown with a short, bubble-sleeved jacket. That dress, like all of the costumes, has been designed with great detail; it seems like something bought straight off an 1890s clothing-store rack, rather than a costume quickly created for a play. And wig designer Dianne Dye's work is equally impressive, with Churchill's wig so well-made and -styled that it took me a while to determine that it was a wig, and not Churchill's own hair.

The Curtainbox Theatre Company's Hedda Gabler is an equally gorgeous affair, impeccably put together under Bonde's clearly meticulous eye. It makes Furness' ability to squelch all joy in the midst of such breathtaking adornment and compelling portrayals all the more impressive.

 
For more information and tickets, call (563)322-8504 or visit TheCurtainbox.com.