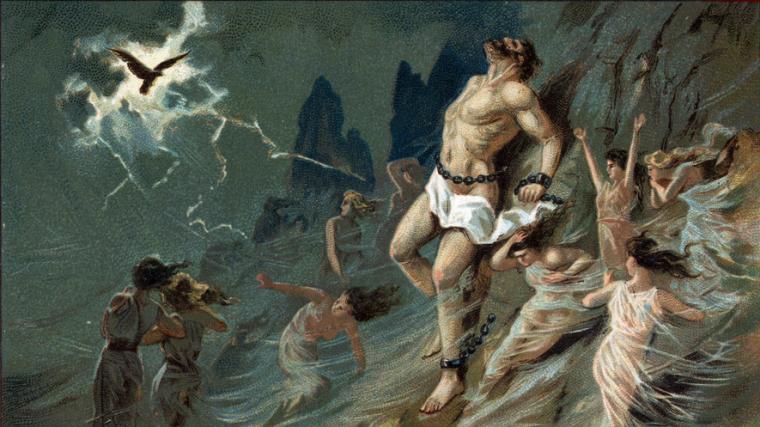 Saturday, June 30, through Sunday, July 8
Lincoln Park, 11th Avenue and 38th Street, Rock Island IL
A classic stage work that, according to the New York Times, is "rich in poetic imagery" while demonstrating that "even for the Greek gods, what goes around comes around," Aeschylus' Greek tragedy Prometheus Bound serves as the latest production in Gensius Guild's 2018 season, its June 30 through July 8 presentation enacted by a cast of 16 and with its chief characters performing in period-appropriate masks.
Based on the myth of Prometheus, a Titan who defied the gods and gave fire to mankind – acts for which he was subjected to perpetual punishment – Prometheus Bound was the first work in a trilogy that also included the plays Prometheus Unbound and Prometheus the Fire-Bearer, neither of which has survived. Exploring the conflict between force and justice, Aeschylus' work finds its title character chained to a rock for divulging to the humans the secrets of dire against the orders of Zeus – here portrayed as an Olympian upstart who, with Prometheus' aid, seized dictatorial power in a coup. After being crossed by the Titan, however, Zeus vintictively orders his damnation. But Prometheus, who can divine the future, holds a trump card in that he knows that Zeus will be overthrown by one of his own sons, and Zeus is desperate to know which one.
With the remainder of the play featuring visitors who commiserate, offer advice, and attempt to negotiate deals, Prometheus Bound remains an insightful and contemporary tragedy. As the New York Times stated in a 2007 production of the piece, "The fifth-century B.C. lessons about the abuse of power by an autocratic ruler who runs roughshod over anyone who disagrees with him are not lost on a 21st Century audience. Just plug in names from today's headlines for any of the characters."
Directing Prometheus Bound is Genesius Guild veteran Michael Callahan, an on-stage presence in such presentations as Antigone, Twelfth Night, and Measure for Measure who also appeared in Opera Quad Cities' recent production of The Marriage of Figaro. In Callahan's directing debut for Guild, Prometheus is portrayed by Marc Nelson, with Guild veteran Kathy Calder (The Trojan Women, Henry V) serving as the chorus head Choragos, and 14 performers round out the cast: Andrew Calder, Daityn Duffy, Nathan Elgatian, Zoe Grabow, Emily Graham, Bob Hanske, Mischa Hooker, Katie Phillips, Liz Sager, Anna Marie Schreiber, Sue Staley, Sarah Willie, John Wright, and Adrick Woodruff.
Prometheus Bound will be performed in Lincoln Park on Saturdays at Sundays at 8 p.m., and admission to the June 30 through July 8 run is free, though donations are encouraged. For more information, visit Genesius.org.