I found the Circa '21 Dinner Playhouse's The Marvelous Wonderettes to be sweet, well-sung, and, frankly, borderline annoying.
In the first act of the show, playwright Roger Bean presents a selection of smile-inducing '50s and '60s pop songs set against the backdrop of a high-school "songleader" squad performing at their senior prom. In the second act, more period favorites are sung during the girls' 10-year reunion. And on Friday night, I found it hard not to bop my head along to the happy music, with its titles including "Mr. Sandman," "Lollipop, Lollipop," and "It's in His Kiss (The Shoop Shoop Song)." Were the show simply a concert of 34 songs (if I counted correctly), it would be hard to find fault with the production and its quartet of actresses.
As the feisty Betty Jean, the boyfriend-stealing Cindy Lou, the disciplined Missy, and the excitable Suzy, Shannon McMillan, Adrienne Griffiths, Kirsten Sparks, and Megan Wheeler, respectively, are full of playing-to-the-balcony energy - and are more than easy on the ears - as they croon, belt, and harmonize their way through the musical's tunes. It's an absolute pleasure to hear them sing, whether in solos or quartets. And thanks to Gregory Hiatt's brightly colorful, era-appropriate costumes that flow beautifully with director/choreographer Barbara Hartwig's dance steps, it's a pleasure to watch, too.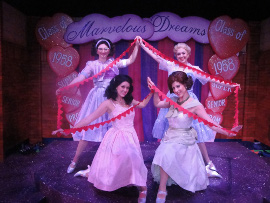 However, The Marvelous Wonderettes isn't simply a concert performance of popular ditties. Bean gives each character here a backstory and attempts to weave the songs together by crafting plotlines around them that make narrative use of the numbers' lyrics. Each girl is interested in a boy (or man), confesses her love, and then either demands his love in return or tells a tale of love lost, and the results are often somewhat clunky - particularly in the second act, as each girl's storyline switches quickly simply because of which songs she's singing.

Hartwig tackles the material by forsaking all subtlety, which is why the show borders on irritating. The production hovers on the line between amusingly silly and intolerably overdone - not quite crossing over into the latter, but coming close - because Hartwig appears to have directed her adult actresses to play 17-year-old girls by actually having them play 10-year-old girls. I think this is an attempt at suggesting the nostalgic innocence of the 1950s, a motivation I understand. As performed, though, it does require some suspension of disbelief to buy that the Wonderettes are months away from graduating high school. (Playing their parts so youthfully does, at least, help make the 10-year gap between Acts I and II unmistakably clear, with the actresses managing much more believable, age-appropriate performances in the show's second half.)


This is rather nitpick-y, though, because The Marvelous Wonderettes isn't meant to be merely about the romantic trials and tribulations of high-school girls, even though those plot points were obviously conceived as platforms for the included music. In this jukebox musical, the "drama" weaving the songs together isn't supposed to be the focus so much as is the music itself, a celebration of pop hits of the '50s and '60s with added interest supplied by the girls' personalities. And McMillan, Griffiths, Sparks, and Wheeler certainly aren't without personality, effectively adding character-appropriate inflections to their vocalizations of each musical number.
For tickets and information, call (309)786-7733 extension 2 or visit Circa21.com.