In the words of Oscar Hammerstein, "A song's not a song 'til you sing it" – and sing they did at Tuesday's dress rehearsal for Quad City Music Guild's musical revue A Grand Night for Singing.
A company of 20-plus took the stage with poise and professionalism while making it look easy, delivering an array of Rodgers and Hammerstein show tunes in the most calming and charming way. As a singer myself, I know how much work goes into honing the craft, and with much respect, I have to say it was simply a lovely evening filled with soothing voices and wonderful songs. The directing team of Bill Marsoun, Tom Morrow, and Michael Schmidt should be proud of their great work, and music director Deb Swift clearly polished this production into a fine working machine.
Harold Truitt – one of my dear Circa '21 Bootlegger friends and co-workers from days gone by – really shined with his vocals as he went from a cowboy character in his rendition of "The Surrey with the Fringe on Top" from Oklahoma! to "Shall We Dance?" from The King & I; it's easy to recognize that Truitt, who radiates happiness on stage, thoroughly enjoys performing. And with exuberance, great animation, and excellent stage presence, Kailey Ackerman and Kat Jecklin were extremely entertaining as they belted out "Stepsisters' Lament" from Cinderella. But what I noticed about A Grand Night for Singing was that every singer appeared to be well-trained and demonstrated outstanding vocal technique, with nobody over-singing or having trouble with breath control. (While some cast members were absent on Tuesday, it was fun to witness those present working around that obstacle – mainly by pretending that their partners were actually there.)
Music Guild's orchestra and sound were also exceptionally good. The orchestra pit crew was made up of Jennifer Krogmeier on reed, Mark McGinn on bass, Marcia Renaud, Nancy Schwegler, and Brenda Turnbull on keyboards, and Aaron Deneckere and Pete Philhower on percussion, and the singers and accompanying music made just the right blend, neither overpowering the other.
One of the night's more effervescent personalities, one that really stood out for me, was Laila Haley. She had a wonderful country accent as she warbled Oklahoma!'s memorable "I Cain't Say No," delivering the tune with a unique, kind-of-raspy voice that I found most entertaining. Yet there were so many fantastic songs in this production that it made the evening fly by. Christina Myatt's interpretation of The Sound of Music's "Maria" was simply outstanding, while Gregory Graf and Mark Swessinger provided a standout duet from the Broadway show Pipe Dream titled "All At Once You Love Her." Swessinger also wowed me with his solo performance of "This Nearly Was Mine" from South Pacific, which was showed off by his opera-style pipes; his voice was rich, powerful, full of control, and delivered a lovely crescendo and decrescendo.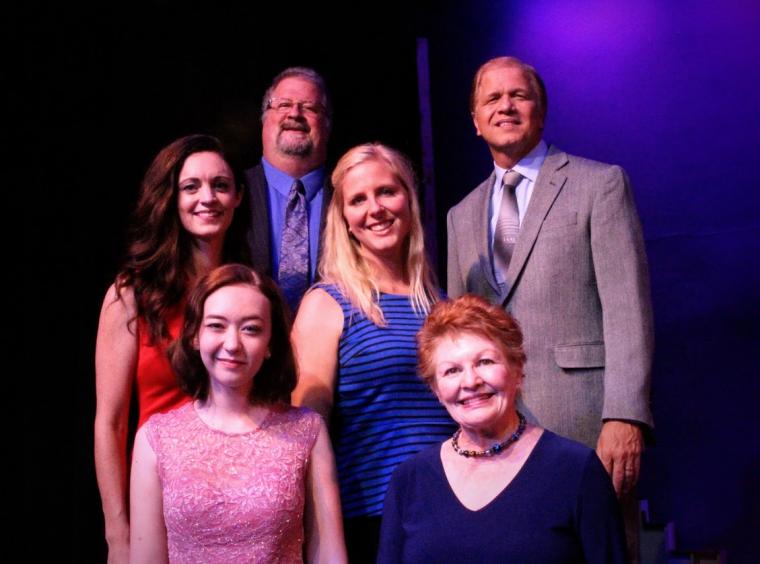 Constructed by Marsoun and Schmidt, the set consisted of a beautiful glowing city in the background surrounded by lush trees on each side, and designer Robert Crist's lighting, with its warm blue and red hues, really set the mood for each song. (The timing and placement of spotlight effects on the singers, on Tuesday, still needed a little fine-tuning, but as this was a rehearsal, the lack of polish was understandable.) Cathy Marsoun's costume designs, meanwhile, entailed beautifully colored gowns and dresses for the ladies that were well-made and well-fitted, and the gentlemen's costumes were just as delightful and obviously made with great attention to detail.
If you're looking for a refreshing two hours of music and laughter, then A Grand Night for Singing may be your cup of tea. I know I thoroughly enjoyed the show's simplicity and lightheartedness, as well as the outstanding performances and professionalism – even at a rehearsal – of its company of exceptionally talented singers. Well done, Music Guild. Well done.
A Grand Night for Singing runs at the Prospect Park Auditorium (1584 34th Avenue, Moline) October 6 at 7:30 p.m. and October 7 at 2 p.m. For more information and tickets, call (309)762-6610 or visit QCMusicGuild.com.