"Literally thousands of people have come through this building to perform on our stage," says Craig Michaels, past president of the Playcrafters Barn Theatre's board of directors. "But without demeaning or belittling any of the work that's been done here over the years, I was finding that I didn't feel the entire community was properly represented within our building, both on our stage and behind the scenes."
With its forthcoming production of A Raisin in the Sun - directed by Playcrafters veteran Fred Harris Jr. and running July 10 through 19 - the venerable community theatre is taking steps to rectifying that. This acclaimed work by playwright Lorraine Hansberry marks the inaugural production in Playcrafters' three-year Diversity Initiative, a project conceived and shepherded by Michaels (who is white), and designed to attract both racial minorities and those who might be unfamiliar with the Moline-based organization.
Given that 10 of the play's 11 roles were written for African Americans, and that its themes continue to resonate with audiences, Michaels says that Hansberry's play seemed an ideal choice for the Diversity Initiative's debut presentation, "and to see whether there would actually be a good response," both from audiences, and from Playcrafters' current - and hopefully future - participants.
An active Playcrafters volunteer and frequent actor/director over the past 10 years, Michaels says the Diversity Initiative was "something I had thought about for a year or two. But in '08, I was president of our board of directors, and so I had an opportunity to kind of take on a leadership role, and bring it to the board, and sell it to them as a concept."
His plan was for Playcrafters to produce a trio of works - one per season over three seasons - that specifically addressed issues of particular interest to racial minorities, beginning with a production on African-American themes. And the idea, says Michaels, was met with "enthusiastic response across the board" as both an outreach initiative and a means to bring new participants to the Barn.
"There's so much going on now," he says, "so many demands for volunteers for all kinds of worthy causes, that it has, over the last few years, become harder and harder for us to find [new] people to work on our shows, and be in our shows."
As Hansberry's play is perhaps theatre's most iconic and beloved African-American drama - its 1961 film version starred Sidney Poitier, Ruby Dee, and Louis Gossett Jr. - Michaels says the decision to produce A Raisin in the Sun was a relatively easy one.
Currently celebrating the 50th anniversary of its publication, Hansberry's drama concerns the aspirations and struggles of the Youngers, a lower-middle-class African-American family living on Chicago's south side. Led by matriarch Lena Younger, the Youngers plan a move from their cramped urban apartment to a spacious home in Chicago's suburbs, only to find their dreams threatened by the prejudices of their potential neighbors and the financial irresponsibility of Lena's son, Walter Lee.
Yet while it explores the plight of a family in turmoil, Hansberry's play is as hopeful and empowering as it is painful - reviewing its Broadway debut, the New York Times' Brooks Atkinson wrote, "A Raisin in the Sun has vigor as well as veracity, and is likely to destroy the complacency of anyone who sees it" - and the drama has been considered not only a touchstone in African-American theatre, but in American theatre, for all of its 50 years.
"We wanted to choose something that obviously hit on important African-American themes," he says, "but at the same time, something that was going to be accessible to contemporary audiences." (With Raisin recently being revived in Broadway and television productions starring Sean "Diddy" Combs, Michaels adds, "We were hoping there'd be some recognition factor there, too.")
And while the directors for Playcrafters productions are generally chosen through a submission process, Michaels says that for the Diversity Initiative's debut offering, "We actually went out and sought a[n African-American] director. To ensure the best chance of success the first time around, we sought out somebody who we had a relationship with already, and who we knew, and who we were comfortable with."
Veteran Playcrafters actor Reggie Jarrell was initially slated to direct yet had to bow out after deciding to relocate to California. There was little difficulty, though, in securing a replacement. "When we found out that Reggie wasn't going to be available," says Michaels, "the first name that came to mind was Fred's."
A longtime Playcrafters presence himself, Harris appeared in his first Barn Theatre in the early '90s, and had performed - under Michaels' direction - in the venue's two-man comedy Rounding Third in 2006. "I knew he had a really good work ethic," Michaels states, "and he had good connections in the African-American community, and he had the necessary experience to make sure that this could be as successful as possible.
"And Reggie had actually talked about working with Fred almost hand-in-hand when we initially spoke to him," Michaels adds, "because they had done that in the past. So it was just natural to pick up the phone and say, 'Fred, can you take on the big hat?'"
Agreeing to the offer was, Harris says, a no-brainer. "It was one of those things I had thought about doing as an individual anyway," says Raisin's director, who initiated and ran his own Quad Cities-based stage troupe - the Three Lites Theatre Company - throughout the '80s and '90s.
"All of the shows we did for Three Lites I either wrote or directed, or both," says Harris, "and as a matter of fact, we did a short version of Raisin in the Sun for our church about 10 years ago. So this was sort of like, 'Well, you don't have to think about it anymore. You've got to do it.'
"So my answer was immediately 'yes.' But I knew that to get the community to wrap their hands and arms around this - that was the challenge."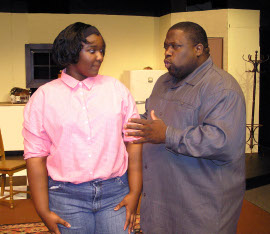 He specifies, however, that the challenge didn't necessarily lie in getting audiences to attend A Raisin in the Sun. ("It's a great vehicle," says Harris. "It's an easy sell.") Rather, the potential difficulty lay in building sufficient interest in the production prior to its staging. And as far as casting is concerned, it's a difficulty that Michaels says is ongoing in the area regardless of race.
"I'll be honest," he says. "Right now it's a fear for a lot of directors in this community to find anybody for their shows. Because while it might be a blessing that we have so much theatre going on, it seems that, at the same time, there aren't enough warm bodies to go around. You tend to have the same number of people who are interested in doing theatre, but so many more theatre positions that need to be filled, both out front and backstage.
"So in the months since Christmas," Michaels continues, "Fred and I have been out there in the community trying to talk this show up, and trying to lay the groundwork so we would have a successful turnout at auditions."
One of the first things he did, says Michaels, was get on the phone. "I saw a few articles in the newspaper about fundraising initiatives that were being done for an African-American museum here in the Quad Cities. So I wrote down the names of the people I saw in the newspaper articles, I called the reporter who did the story, and I got contact information. And then I called those people and said, 'Here's what we're doing ... .'"
Yet Michaels also recognized that for word of the project to successfully spread, a more direct approach was required. "What we've tended to do in the past," he says, "is you put out your audition announcement, it goes in the paper, and then you sit back and hope that people show up. And I was adamant that, in this particular case, we needed to be more proactive, and make the invitation in person, and make it more personal."
In the months leading up to Raisin's May auditions, says Harris, "We went to churches, we went to all the social-services agencies - we went to anybody that would put us anywhere." And through their meetings with African-American community groups, personalized e-mail invitations, and the requisite audition announcements in newspapers and on local Web sites, Playcrafters wound up with more than two dozen performers in contention for the production's 11 roles, a turnout that Michaels was more than happy with.
"Sometimes you come up with ideas to try and increase the volunteer base," he says, "and to just open up new doors, and sometimes they succeed, and sometimes they don't. And more often than not, they don't succeed. So I was really, really surprised and gratified to see the strength of the response to this."
Harris, too, was heartened by the numbers, though he admits it made for "a tough audition. It was not an easy pick. But I wouldn't have changed a thing. The best shone through, and I thank God for it."
With a cast led by Shellie Moore Guy - recently seen in the Green Room Theatre's Doubt, and host of the Friday-morning radio program Ebony Expressions (heard on KALA 88.5 and 105.5 FM) - Harris says he is thrilled to have so many African-American talents on hand for Raisin, and talents that extend off-stage, as well; participants include Doris Seawright, Renae Wyatt, and DeAuna Ivy coordinating costumes, hair, and makeup, and noted dance instructor Dorian Byrd choreographing a number for the character of Beneatha.
"They're all your babies as a director," says Harris. "You want to see them do well and you ache for them if they don't, and you sweat probably more than they do. So with this show, I'm just saying, 'All right, Lord, you gave us this blessing, and I know you're going to take care of it, so I'm going to quit worrying about it and I'm gonna enjoy this experience.'
"And you hope and pray that more opportunities like this are going to come down the pike," he adds, "and that more kids will get involved. As I explained to the folks at auditions, 'If you don't get a part in this play, audition for the next play.' What we're aiming for here is to get more people involved. I mean, there's a lot of stuff to do." He laughs. "We have a ton of theatre around here."
A Diversity Initiative title hasn't yet been decided for Playcrafters' 2011 season, but the theatre has already chosen its offering for 2010 - August Wilson's Pulitzer Prize- and Tony Award-winning drama Fences, scheduled for May. Like A Raisin in the Sun, Wilson's play also concerns African-American themes, although Michaels says that for Playcrafters' 2011 offering, "Obviously we'd like to reach out to other minority groups in the community. Perhaps make connections with the Hispanic community or the Asian community. But the onus for that is on us."
By next spring, the organization will have had the opportunity to gauge whether the Diversity Initiative should continue beyond the 2011 season. "It's not a matter of 'Do we want to do another three years?'" says Michaels. "I, personally, think we should do one every year, from here on out. But can we do it? Are the people there who are going to be interested? It's up to us to get out there in the community, and to knock on doors, and to let people know that our doors are open.
"All the theatre groups in the Quad Cities need to be much more proactive about getting into the community. It's not the community's job to seek us out. It's our job to get out into the community and get people involved."
Show dates for the Playcrafters Barn Theatre's A Raisin in the Sun are July 10 through 12 and 17 through 19; Friday and Saturday performances are at 7:30 p.m., and Sunday performances are at 3 p.m. Admission is $10, and tickets are available by calling (309)762-0330 or visiting Playcrafters.com.