Arriving for the 10 a.m. production of St. Ambrose University's Junie B. in Jingle Bells, Batman Smells on December 3, what first caught my eye were the big yellow school buses parked outside, and I realized, "Ah, yes, I'm going back to elementary school today." (This was a scheduled school performance not open to the general public.) Inside the Galvin Fine Arts Center, I was transported into a first-grade "classroom" that consisted of Junie B. Jones and her friends on stage and the elementary students who filled the large auditorium to capacity. The juxtaposition of the joyous, high energy in this "classroom" and my feelings roused from recent world and national tragedies made me think about the world we have made for these children, wherein their innocence will be lost all too soon, and the more that laughter rang in the room, the more poignant my feelings became.
But don't let my maudlin thoughts mislead you. Allison Gregory's script (based on Barbara Park's popular book series) is very smart and witty and not overly sentimental. It is not sentimental at all, in fact, as everyone involved with the production clearly understands. Director Kimberly Kurtenbach Furness (a St. Ambrose alum) has infused this production with an enthusiasm and primary-color vibrancy that produces an infectious, happy feeling. Everything works, from the technical aspects that include designer Dianne Dye's marvelous costumes and the lovely, quickly-changed sets - the audience actually "Oo-o-h"-ed upon seeing a large Christmas-toy backdrop coming into place - to the actors with their high-impact, aerobic-like high jinks. I was in awe watching their energetic, believably child-like movements, and, by the end of the performance, was just a bit exhausted by the noise and feel of being in a mic-ed first-grade classroom. Let's hear it for the teachers who put up with this kind of thing every day!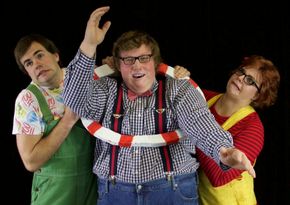 The story involving Junie B. Jones has a moral. However, it makes its points without any moralizing, and is highly entertaining all the way through. It takes place in the first-grade classroom of Mr. Scary (Nick Pearce), where Junie (a lively Helene DeVine) is portrayed as a flawed little girl who has some lessons to learn in how to get along with her arch-rival May (a lovable brat played by Amelia Fischer). The entire first grade (all six characters) is very excited about the upcoming Secret Santa gift exchange, and the prize gift - the gag that kept on giving, much to the delight of the audience - was the "squeeze-a-burp" (a device that was effectively created through the magic of sound effects). A moral dilemma is posed when Junie draws May's name and she prepares to teach May a lesson by giving her a lump of coal. What will Junie do?!
Another first-grader, Lucille (Kayla Lansing), has some very funny lines that are usually about being rich. In an early flashback scene to a Columbus Day skit, the Lucille character, as Isabella, hands Columbus some money to help him discover the New World, and tells him to bring her back the change. The entire skit disintegrates into a disastrous mess that's blamed on Junie B.
Another one of Junie B's classmates is Sheldon, a very watchable and entertaining Jonathan "J.J." Johnson, who won the audience over several times, especially in the scene in which he wears a bag on his head. (But of course!) The remaining two first-graders, Herb and Jose, are played by Jordan Webster-Moore and Simon Khoury, respectively; and Rebecca Moews, Max Moline, and Becca Brazel, round out the effective cast.
There are so many things right about St. Ambrose University's annual Christmas presentations. Like other productions, they're learning labs for theatre students who, in addition to acting, participate in all technical aspects of the production. In these days of cuts in arts programs, what a great opportunity for the university kids: to give the gift of laughter to elementary-school students in the audience, inspiring, perhaps, the dreams of some future performers-to-be. Junie B.'s auditorium full of children was (mostly) quiet when appropriate, sometimes interactive (mostly when it was appropriate), and, from all appearances, happy, involved, and entertained. Keep it up, St. Ambrose! What the world needs is more opportunities to laugh and to dream, especially for our children. When I asked a little boy in the lobby after the show what he liked about the play, he opened his arms wide and said with a smile, "Everything!" I agree. Everything indeed.
Junie B. in Jingle Bells, Batman Smells runs at St. Ambrose University's Galvin Fine Arts Center (2101 North Gaines Street, Davenport) December 5 and 6 at 3 p.m., and more information and tickets are available by calling (563)333-6251 or visiting SAU.edu/theatre.