Playcrafters Barn Theatre's Blues for an Alabama Sky manages to be an adjective I've come to love regarding theatrical productions: surprising. Playwright Pearl Cleage takes her story in directions I did not expect from the outset of Saturday's performance, as her play moves from the plight of a recently out-of-work singer in Harlem to a study of societal views on homosexuality and abortion in 1930. I had no idea that was the direction the plot would take, but I was grateful for it, as the proceedings kept me on my mental toes, and continually interested in what was going to happen next.
While already working with a well-written script, director Fred Harris Jr. strengthens his production with dynamic pacing that ebbs and flows to match the moods of the characters. His cast, too, adds punch by way of performances that are individually remarkable and also fantastic as an ensemble. There's a true sense of the relationships between the characters, which adds believability to the story of four longtime Harlem residents - a singer, a doctor, a costume designer, and a social worker - who are later joined by a man who moved to New York from Alabama.
Before the metaphorical curtain rises, Playcrafters' production deserves praise for the set design. (Unfortunately, though, no set designer is listed in the program.) I admire and appreciate Playcrafters' penchant for the use of half walls - or in this case, quarter walls - to delineate space, allowing for distinct barriers that clearly define rooms without inhibiting the view of anyone in the audience. This set is also notable for its color scheme, with the walls and furniture in brick red, various shades of brown, and faded light blues that give a sepia-like tone to the space and a definite vintage look.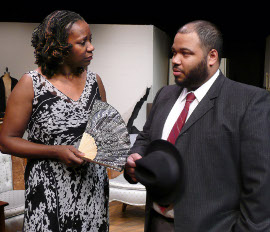 Rita Jett's Angel first enters the play too drunk to walk on her own, supported on either side by Vincent L. Briley's Guy and Matt Madison's Leland. They're "celebrating" her verbal dressing down of her former employer, an Italian mobster, in the middle of her singing performance. Jett's prowess is on full display as her depiction of Angel moves from loud, happy drunk to one feeling the downside of too much alcohol - and blubbering tears in the realization of what she's done and her lost job. Every moment of her drunken fit, though big and boisterous, is believable, as is the rest of Jett's time on stage, despite no other moment being as emotionally grand.
As Angel's roommate and an aspiring costume designer for famed Parisian Josephine Baker, Briley's mannerisms as Guy reveal his sexuality before he verbally confirms it. The poised femininity in his voice and his gesticulations are just enough to be obvious yet also convincing without being patronizing or stereotypical. (Of the four people credited for the play's costumes - Jacque Wamer, Gay Shannon-Burnett, Reshanda Johnson, and Donna Weeks - whomever is responsible for Guy's ensemble nailed the character's personality, with his parade of color-coordinated button-up dress shirts under vests, flowers in the lapels, and kerchiefs, with a tie or a seamstress' measuring tape around his neck.) And while Cleage does write Guy as the clichéd gay character who constantly spouts smart, funny quips, Briley manages to deliver them in a manner that's realistic and avoids caricature.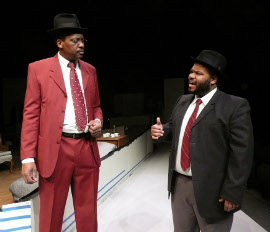 Renaud Haymon's easygoing nature makes his local doctor Sam nothing but likable for his geniality and nonjudgmental nature. According to Harris Jr.'s pre-play announcements, Shanna Nicole Cramer stepped into the role of Delia less than a week before opening night, but you wouldn't know it given her depiction of a social worker trying to open a family-planning clinic in Harlem. On Saturday, Cramer didn't noticeably miss a line and shaded her Delia with a reserved vocal delivery that spoke to her (literally and figuratively) virginal nature, while her sporadic outbursts of glee revealed her longing for a bit of freedom to be more herself than would be proper considering her church membership. (Cramer also made use of an endearing mannerism in which, when embarrassed or trying to hold back excitement, she buried her chin in her chest and did a shy little dance.) Matt Madison, meanwhile, successfully distances his Leland from the audience's sympathy as his character's disdain for "immorality" is revealed. Madison's deliveries suggest palpably unforgiving, intolerant hate, but they remain sincere for the character.
Leland, though, is representative of one of Blues for an Alabama Sky's weaknesses: though a work worthy of praise, Cleage's characters tend to fall into cliché, with the city-folk accepting and tolerant of such things as homosexuality, sex, and abortion, while the Alabama-bred Leland sees them as sinful and refuses to tolerate anyone "guilty" of these sins. Still, Playcrafters' treatment of the material is to be praised, mostly for its ensemble cast, but also for the way Harris Jr. avoids preachiness. While Cleage takes definite sides on what she deems as right and wrong, Harris Jr. does not attempt to drive her opinions home by overplaying the show's plot points, and instead allows the material to play out naturally, making it more enjoyable as entertainment seeking to make a point.
Blues for an Alabama Sky runs at the Playcrafters Barn Theatre (4950 35th Avenue, Moline) through March 17, and more information and tickets are available by calling (309)762-0330 or visit Playcrafters.com.