Faith, hope, and brotherly love wrapped up in comic genius and superb writing was what I witnessed this past Good Friday. I must admit, I had never heard of the Church Basement Ladies series until recently, and was not sure what to expect. But the theatre's current The Church Basement Ladies in Rise Up, O Men was one of the best shows I've ever seen at the Circa '21 Dinner Playhouse. Based on Janet Letnes Martin's and Suzann Nelson's bestselling book Growing Up Lutheran: What Does This Mean?, this musical comedy had me laughing until I cried, and if you enjoy sketch comedy of the classic Carol Burnett Show variety, then you will likely also love this production.
The story revolves around hardworking Norwegian-Lutheran farm gals who devote their lives to serving the church in the most genuine way. The time is 1964, the ladies are preparing for the Diamond Jubilee, and with simple Midwestern flair, these women pride themselves in the fine-tuned machine they have become. All goes well until the roosters, a.k.a. the men, enter the henhouse with their "I can fix it!" spirit, and the storyline consequently follows these characters as they let us into their world of a rural church basement. (Rise Up, O Men's set design had a country feel complete with old-fashioned stove, handmade curtains, and tea-kettle wall clock, and the pastel-green colors combined with the natural-wood cabinets and furniture really made for a warm, welcoming experience.)
I hand it to writers and lyricists Greta Grosch, Dennis Curley, and Graydon Royce for coming up with creative material that was truly hilarious, and as soon as the actors hit the stage, I knew I was in for a treat. From their smooth harmonies to the energetic and precise timing of their wisecracks, director Curt Wollan's cast was almost flawless in their deliveries; I honestly felt like I was attending an off-Broadway play.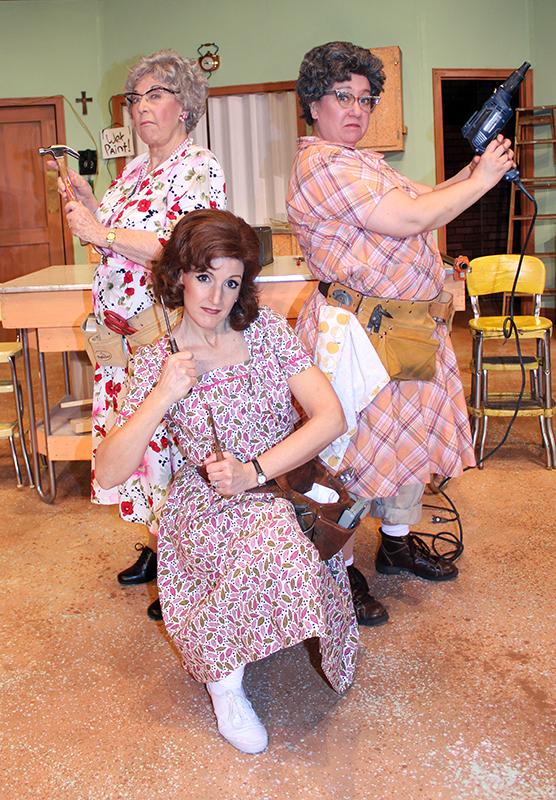 Tom Walljasper portrays the pastor and aspiring standup comedian who consistently messes up his punchlines, although he shines brightest in his second role as Arlo, a denture-chattering old man who shuffles around the stage with a cane. Walljasper had timing and execution reminiscent of Tim Conway's, as well as the spunk of The Simpsons' Grampa Abe Simpson, and when Arlo arrived on the scene, he was full of one-liners that left the audience in stitches.
Rachelle Walljasper, Tom's real-life wife, flutters about the stage as the menopausal Mavis whose regular hot flashes keep her in something of an emotional uproar, at one point wearing a mixing bowl on her head, with two flashlights mounted on it, as she busily works on fixing the leaky kitchen sink. She also harmonizes with her counterparts ("Tap it, jiggle it, grease it") on an instructional song designed to give the pastor the how-to's of maintenance, providing hip twists, booty pops, and dramatic exits. Mavis is a master of motion, and Rachelle keeps you forever interested in her.
The matriarch Vivian, played by Kay Francis, enters complete with crashing thunder and dazzling lightning while singing "It's diabolical!", referencing her disdain for the presence of men in her kitchen. (She also belts out "It's a calamity!" with demonstrative gestures and convincing resolve.) And Francis nailed her character's contempt for other denominations with tactful and witty deliveries that were in no way offensive, but instead spot-on and truly funny.
Brad Hauskins plays dual roles as Carl, a soft-spoken farmer who spends his time whittling a wooden foot for a friend and tinkering behind the refrigerator, and Roger, a smooth talking, all-American, Aqua-Velva-wearing salesman who sells everything from Spam to Mr. Bubbles. Hauskins' levels of acting and timing did indeed "rise up" to the heights of professionalism, and as the storytelling Elroy, Jeff March, with his country charm and radio-announcer voice, set the scenes and stole our hearts. He also transformed himself into Arlene Jesperson, a highly eccentric woman who lived for making sandwiches and accepting compliments. March's tall stature and manly build made for quite a comical character, and as he was wrapped in scarfs and a colorful dress (with credit to costume designer Greg Hiatt), one could not help but chuckle.
Deb Kennedy completed the well-rounded cast in her drama-queen entrances and exits as Karin, the empty-nester married to Elroy, and a woman desperate for attention and validation. With Karin a genuinely believable presence, Kennedy's singing was a pleasure to listen to and her demure ways a pleasure to watch. The Church Basement Ladies in Rise Up, O Men!, meanwhile, was musical-comedy mastery, and a shining example of good, clean fun.
The Church Basement Ladies in Rise Up, O Men! Runs at the Circa '21 Dinner Playhouse (1828 Third Avenue, Rock Island) through May 12, and more information and tickets are available by calling (309)786-7733 extension 2 or visiting Circa21.com.