At the very end of Anton Chekhov's 1897 tragicomedy Uncle Vanya, two of the play's principal characters – Vanya and his niece Sonya – sit quietly at a table at their Russian estate, each lamenting the departure of their recent house guests. They've endured all manner of emotional hardships over the stage hours prior, and as they prepare to face more in the lonely years ahead, Sonya delivers one of theatre's most famous closing monologues, climaxing her speech by telling Vanya not to fear – God will show pity on them. "We shall rest," she says, gently, just before the curtain falls. "We shall rest."
Hopefully, for Vanya and Sonya, 119 years constitutes a long-enough rest. Because thanks to a playwright's imagination and a rather inconvenient (and fictitious) wormhole, Chekhov's Uncle Vanya characters are continuing their sagas in author Lee Blessing's debuting comedy Uncle, a world-premiere production by Davenport's New Ground Theatre running at the Village Theatre from April 29 through May 8.
"Sometimes you just don't know where things come from," says Blessing, with a laugh, regarding his sci-fi-comedy continuation of Chekhov's masterpiece. "I'd seen a modern update of Vanya not that long ago in Los Angeles, and around the same time I said to myself, 'Wouldn't it be interesting to write a play about a guy who suddenly has a cosmic wormhole open up in his backyard, but doesn't want it? Doesn't want the things that come out of it?' And so, for some odd reason, I put those things together."
The guy with the wormhole, in Uncle, is the Chekhov scholar Paul, who's obsessively working on a book about Uncle Vanya when the space-time miracle appears. The things that come out of it, at first, are shrieking humanoid entities that the too-busy-for-this Paul and his astonished Uncle Waring promptly kick back into the void.
Yet before long, what pops out of the wormhole are beings far more recognizable to Paul, and, no doubt, to Chekhov-savvy theatre-goers: the Uncle Vanya characters Sonya, Yelena, Astrov, Serebryakov, and Vanya himself, who have no idea why they're no longer in 19th Century Russia, and can't fathom why they're now in 21st Century America. Paul's life, meanwhile, begins to turn into its own kind of Chekhov play upon the arrival of his deeply confused guests, one rife with intellectual debates, romantic entanglements, professional pitfalls, and serio-comic ennui. With a wormhole.
Blessing, whose arms-negotiation two-hander A Walk in the Woods was a 1988 Tony Award nominee for Best Play, is no stranger to resurrecting famed theatrical figures for new stage adventures, as his 1991 comedy Fortinbras concerned events in Elsinore following the demise of Shakespeare's Hamlet. But while Uncle (which I've had the great pleasure of reading) is every bit as hilarious as Fortinbras, and even quite moving, Blessing says the plays bear only a superficial resemblance to one another.
"In Fortinbras," says the Los Angeles-based playwright, "I bring back characters who were alive in Hamlet but are dead now, and are ghosts, and are haunting the castle. And when people interact with them, what they discover about the ghosts is that post-death, they've all seen the errors of their ways, and are now acting very much the opposite to the ways they acted in Hamlet.
"Whereas in this play," says Blessing of Uncle, "they didn't die. They were simply transitioned, transported, from one dimension to another. So there's no reason for them to have changed – they're still who they are, you know? They've gone through exactly the same experiences, and said the same things, and felt the same things, as Chekhov's characters.
"So it was very pleasurable writing these characters that I'd spent my whole career enjoying, and simply extending their experiences." He laughs. "For one's own crass and comic purposes, of course."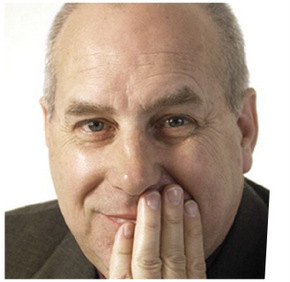 Ibsen with Comedy and Irony
Revered for his short fiction and such seminal stage works as The Seagull, Three Sisters, and The Cherry Orchard, Chekhov was a native Russian who lived from 1860 to 1904 and was, says the 66-year-old Blessing, "one of the first playwrights that I truly fell in love with.
"He's the first great modern playwright," Blessing continues. "In a sense, he took what [Henrik] Ibsen had achieved and was able to add the elements of both comedy and irony to plays in a way that was particularly his, and has basically been the template for most dramatists since his time. He took a completely new approach to looking at human behavior and how we understand it. And he's still, I think, of all the great dramatists, the one who affects everybody the most directly."
Arguably, Uncle Vanya – which concerns the visit of a doctor and his much younger wife to the title character's rural estate – is the title most frequently associated with Chekhov, and for Blessing, "Vanya was certainly the one I fell in love with most easily. That's partly because, in the 1960s, I happened to see a televised version of a production which had starred [Laurence] Olivier and Michael Redgrave. I can still vividly recall the scene between Vanya and Dr. Astrov in the play's fourth act."
Beyond Blessing's long fondness for Chekhov, though, he says the appeal of revisiting the author's Vanya characters in Uncle stemmed from a natural inclination to explore life through a literary prism.
"Writers, of course, have a right to write about the whole world they see around them," says Blessing, "and we sometimes forget that part of that world is literature. It's only natural that a writer would be, in a sense, most inspired by other literature. And what is literature but the world we see around us translated into a different dimension?
"So, in a way, just as this play [Uncle] is about multiverses or multiple dimensions, it's about examining a world of experience through literature. And while there are few playwrights whose works I would like to employ and emulate, Shakespeare and Chekhov are in a class by themselves that way." With a laugh, Blessing adds, "I don't think I'll be doing this with a lot of other writers."
Uncle's author, however, knew it wouldn't be enough to merely plant Chekhov's Vanya characters in a modern time period and scenario. Consequently, he devised the character of the fixated writer Paul, who, in the play's first pages, greets his wormhole's initially monstrous guests with a comedic disregard bordering on annoyance.
Yet while Paul's blasé dismissal of his backyard miracle is very funny and sometimes riotously mean (as in the early stage direction "Paul shoves the creature back into the wormhole"), Blessing doesn't see him as Uncle's anti-hero.
"I have nothing but sympathy and affection for Paul," he says. "I think that any writer, any scholar, any antiquarian, understands this phenomenon of being so wrapped up in your subject matter – so passionately involved with it – that you keep constantly missing the big picture in terms of human relations. I think that's Paul's biggest challenge.
"And I feel like I can forgive the poor guy for being good at some things and not so much at others," Blessing continues. "He does have to learn some lessons about relationships, and the mistakes he made along those lines," which Paul certainly does after realizing that he's gradually falling into the Vanya role of Waffles, the impoverished, cuckolded landowner who lives on Vanya's estate.
"Like people who love Shakespeare maybe a little too much, or who love Arthur Conan Doyle a little too much, Paul loves Chekhov and his literature so much that all you have to do is suggest the setting," says Blessing with a laugh, "and Paul falls right into it." And into a role that's similar to Waffles, whom Blessing calls "this sort of cheerleader, server, and fool." (Paul's emergence as the Waffles figure comes as happy news to Vanya and Astrov, who, Blessing says, "are delighted to finally find a position of superiority over Paul.")
For obvious reasons, what eventually transpires as Paul gets to know his literary idols, and as they get to know the rituals of 21st Century America, is best left a surprise. But beyond all of Uncle's terrifically enjoyable narrative turns, there's also an early metaphyiscal twist that makes Blessing's latest an even more delicious mind-bender than Fortinbras: Yelena, in a passing retort, actually makes reference to Chekhov himself.
"In our world," explains Blessing, "they're literary characters. But in their dimension, they're real people, and might easily have known him [Chekhov] as a short-story writer, which he was more consistently successful as. They might well have read his stories. Being stuck out there on the estate, they wouldn't have seen his plays," he says with a laugh, "but they might have read them."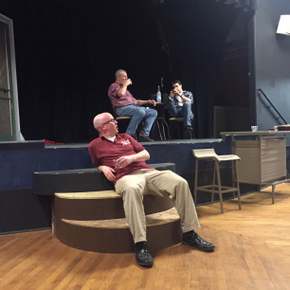 His Is the Language of Drama
Blessing says that Uncle took "maybe six months in terms of getting to a couple of drafts," and in May 2015 he hosted a Los Angeles reading of the comedy, following it later that month with another reading at the Playwrights' Center in Minneapolis. The play's first staged reading for audiences, however, took place at the Arkansas New Play Festival in Fayetteville last June, and Blessing says the experience was enormously beneficial, especially in regard to the conception of Paul.
"In a way, we automatically have interest in the Chekhovian characters," he says. "But the aspects of the play that aren't Chekhovian had to be invented. So I went on to work a lot on Paul. There were lots of changes for his character – working on different back stories for him, modifying the relationships he has with the other characters ... , that sort of thing. In a play like this, when you're bringing back some of the most famous and powerful characters in modern drama, you find that you have to punch up your purely invented lead character so we have equal interest in him."
Yet despite the fixes Blessing felt he still needed to make following the Arkansas readings, the playwright says, "I was very pleased that those audiences connected as well as they did to the play. Fayetteville is where the University of Arkansas is, and there are a lot of extremely well-read people there, as there were in the other places I've had the play read. But there's always some concern that although a person may know theatre, or be in theatre, they may not know Chekhov that well. Or if they do know Chekhov, they may not know Uncle Vanya that well.
"So I tried to write this play so that it would be enjoyable to someone who just sort of knew what Chekhov was about in general," Blessing says. "Of course, the better you know Chekhov, and the better you know Uncle Vanya, the more fun you'll have with it. But I think it's also fun for a person who doesn't know Chekhov well at all. The fundamental strokes with his dramaturgy are what everyone uses now – his is the language of drama – so I would think most people would at least relate to that."
Many more people will have the opportunity when Uncle enjoys its New Ground Theatre presentation at month's end, with company founder and Artistic Director Chris Jansen directing Jake Walker as Paul, Michael Carron as Vanya, Victoria House as Sonya, Maggie Woolley as Yelena, Jordan Smith as Astrov, and Bill Peiffer, double-cast as Serebryakov and Paul's Uncle Waring. (No word yet on who, or what, plays the wormhole monsters, but I'm dying to find out.)
Numerous other Blessing works have been produced locally over the years: Fortinbras at St. Ambrose University in 2007; Eleemosynary at the Green Room Theatre in 2008; Independence at the Harrison Hilltop Theatre in 2008 and Richmond Hill Barn Theatre in 2011. (Yours truly, as an Augustana College student in 1987, even appeared in the Blessing one-act Nice People Dancing to Good Country Music.)
But Uncle's New Ground staging will mark the very first full production that Blessing's latest will have received, and it's the author's fourth play produced by the company over the past 11 years, following 2006's The Winning Streak, 2008's A Body of Water, and 2013's A Walk in the Woods.
"Chris and I have known each other a long time," says Blessing, who first made Jansen's acquaintance when he was a graduate student, and she an undergrad, at the University of Iowa in 1975. "And when she said she was looking for a new play this season, I thought, 'Well, you know what? I write new plays.'"
He laughs. "So I thought, 'Why not debut it at New Ground?' And I'm very happy I've chosen to. I've been very pleased with the work she's done on other plays of mine, and I'm really looking forward to seeing this one, finally, in production. That should be a real pleasure. It's really unlike anything I've ever written before."
It's also arriving, coincidentally, during a rather fertile period for Chekhovian salutes. Not only will Christopher Durang's Tony-winning Vanya & Sonia & Masha & Spike enjoy an area production at Richmond Hill this June, but off-Broadway is currently hosting two separate takes on The Seagull (the Pan Pan theatre company's The Seagull & Other Birds and Aaron Posner's comedic Stupid _____ Bird), with a new Broadway mounting of The Cherry Orchard also recently announced.
"Sometimes there's just a vogue for something," says Blessing. "In the '70s and '80s, people were updating a lot of Shakespeare. But they've also updated Chekhov rather regularly, and it keeps happening, both nationally and in little clutches of theatre experience. And I think that happens with Shakespeare and Chekhov, more than anybody else, because they're sort of our grammar in theatre. And it delights us to keep going back to them."
New Ground Theatre will present Uncle at the Village Theatre (2113 East 11th Street, Davenport) from April 29 through May 8. Performances are Fridays and Saturdays at 7:30 p.m. and Sundays at 2 p.m., and more information and tickets are available by calling (563)326-7529 or visiting NewGroundTheatre.org.