Considering its title, and my unfamiliarity with the Britt Menzies books on which it's based, I was uncertain what to expect going into Thursday's Circa '21 Dinner Playhouse production of StinkyKids: The Musical. That title, for me, conjures up thoughts of the grotesque Garbage Pail Kids collector cards from the 1980s. Thankfully, though, the show's StinkyKids are nothing like those urchins, as was noted upon my first look at costume designer Gregory Hiatt's colorful, playful choices for the six characters, with each six- or seven-year old child wearing a predominant color with accents - such as flowers or shapes - in another hue.
The actors' bright smiles and childlike dispositions further eased my concerns, which were obliterated once the performers started singing. Composer Daniel S. Acquisto's melodies are mature for a children's musical, featuring unexpected but beautiful changes in pitch to end phrases. When the melodies are layered with his harmonies, Acquisto's music holds up to the songs in much higher-profile musicals. Meanwhile, the lyrics by Sammy Buck, who also wrote StinkyKids' book, are much more childish, with expected rhymes and odd uses of repeated or extra words to complete phrases - though this is appropriate, considering this is a children's musical.
Director Andrea Moore keeps the pace moving along with high energy, bringing the production in at about 50 minutes of fun, with strong life lessons about making mistakes and the importance of telling your parents about them. Those morals play out after the perennially sunny, ever-obedient Britt (Lauren VanSpeybroeck) goes to sleep with gum in her mouth, despite being told not to by her parents. As she and her friends prepare to go to Captain Happy's Jumpy-Fun-Super-Bouncy Indoor Place, they try to get the gum out of Britt's hair before her parents find out and she gets into trouble, even though their attempts wind up involving further acts of disobedience.
Moore also choreographs the piece with the same level of energy as her peppy pacing. My particular favorite dance steps are in "Spearnana," which is a song about choosing one gum over another - the title being a combination of two flavors - but which is actually about having to choose one best friend over another. (In Britt's case, it's Alexis Harter's Jen or Iliana Garcia's Hannah.) Moore's movements for the chorus in this number are a modified hand jive with an added dash of Beyonce's "Single Ladies" choreography thrown into the mix.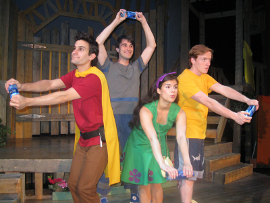 VanSpeybroeck's signature sprightliness suits Britt, with her effervescent smile and well-behaved manner bordering on goody-goody, but staying cute and likable. Harter and Garcia earn points for their delightful, powerful vocals, as well as for their good-natured tension as Jen and Hannah fight over being Britt's best friend. Adam T. Biner's Johnny stands out for his humorously spastic nature (as well as his superhero cape with a big "J" on it), while Mark Bacon's Billy amuses with his spoutings of scientific intelligence, and Mitch Donahue's Max balances athleticism with common sense; he's Britt's voice of reason in understanding true friendship.
I was pleased to have my partner's 10-year-old daughter Madison accompanying me to the performance, and even more pleased to note how riveted she was by the proceedings, even singing some StinkyKids: The Musical lyrics on the way to the car after the performance. While the show is about kids three or four years her junior, she still enjoyed it, perhaps because its lessons about behaving and asking for help when you get into sticky situations are universal - and because, here, they're so enjoyably shared.
StinkyKids: The Musical runs at the Circa '21 Dinner Playhouse (1828 Third Avenue, Rock Island) through July 12, and more information and tickets are available by calling (309)786-7733 extension 2 or visiting Circa21.com.