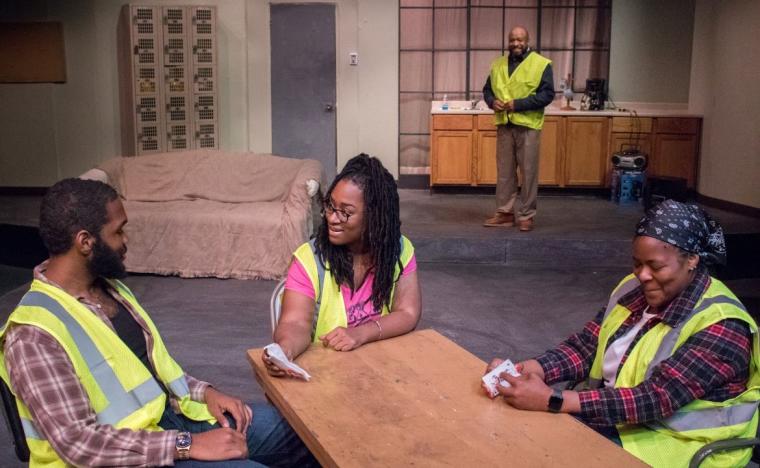 Friday, October 6, through Sunday, October 15
Playcrafters Barn Theatre, 4950 35th Avenue, Moline IL
A 2022 Tony Award winner that Variety magazine praised as "filled with depth and relatable characters," author Dominique Morisseau's drama Skeleton Crew enjoys its Quad Cities premiere at Moline's Playcrafters Barn Theatre from October 6 through 15, the lauded work also praised by the New Yor Times as "a swift, well-crafted look at factory workers trapped in an economic 'dumpster fire," and by the New Yorker as a work "bristling and jumping and speeding forward with skillful talk."
The third in Morisseau's cycle of plays called The Detroit Projects, an undertaking designed to examine the city's socio-political history, Skeleton Crew explores the effects that the Great Recession of 2008 had on the people of Detroit. Morisseau's Broadway hit focuses on three workers, Faye, Shanita, and Dez, and their fear of being laid off when there are rumors of their auto-plant closing. Faye, who is coming up on 30 years at the plant, has to decide where she will live and how, Shanita has a baby on the way and nobody to help her support the child. And Dez must figure out how to follow through with his ambitious dreams. Meanwhile, plant manager Reggie has to support himself and his family while simultaneously trying to soften the blow for his workers. As audiences witness how the factory's downfall affects the futures of these workers we get to know and love, they also see how such a crisis brings people closer or begins to tear them apart. What emerges in Skeleton Crew is a firsthand view of how the economy affects a hardworking, blue-collar community such as the auto-plant workers of Detroit, while the experiences of Morisseau's characters can be applied to many industry towns in America that struggled through the Great Recession of the 2000s.
Directing Skeleton Crew for the Moline venue is Marquita Reynolds, new stage managed last summer's production of A Raisin in the Sun and was part of the 2019 cast of For Colored Girls Who Have Considered Suicide / When the Rainbow Is Enuf, a Bridges Collective and TOH (Testimonies of Hope) Argow's House presentation that Playcrafters housed in the spring of 2019. Anthony Mitchell, who plays Dez, portrayed the title character is last summer's Othello for Genesius Guild, and his Raisin the the Sun co-star Kermit Thomas appears in Skeleton Crew as Reggie. Making her Playcrafters debut with Reynolds' presentation, Khalia Denise plays Shanita. And in the role of Faye that won stage and television legend Phylicia Rashad a Tony Award last year, Alisha Hanes has co-starred in area productions including Playcrafters' The Piano Lesson and the Mockingbird on Main's Their Town, Your Better Self, and An Enemy of the People.
Skeleton Crew enjoys in area debut at the Moline Barn Theatre from October 6 through 15, with performances Fridays and Saturdays at 7:30 p.m. and Sundays at 3 p.m. Admission is $13-15, and more information and tickets are available by calling (309)762-0330 and visiting Playcrafters.com.