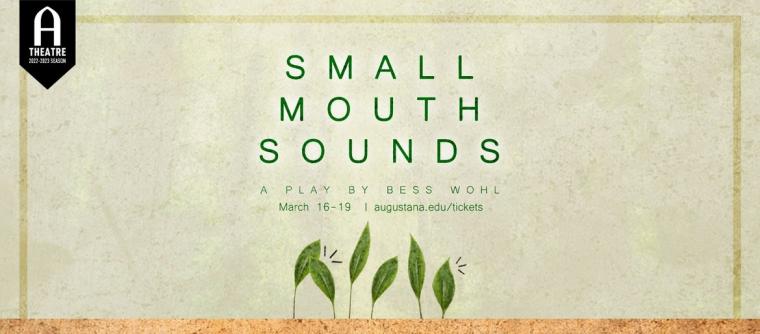 Thursday, March 16, through Sunday, March 19
Augustana College's Brunner Theatre Center, 3750 Seventh Avenue, Rock Island IL
With the New York Times calling it "an enchanting play" that is also "a model of ingenuity," playwright Bess Wohl's dramatic comedy Small Mouth Sounds enjoys a March 16 through 19 area debut at Augustana College, the show lauded by Variety as a "minimalist piece of experimental theatre that casts the audience as voyeurs in an entertaining adventure that gradually darkens into tragedy."
In the overwhelming quiet of the woods, six runaways from city life embark on a silent retreat in Small Mouth Sounds. As these strangers confront internal demons both profound and absurd, their vows of silence collide with the achingly human need to connect, and as Wohl says in her notes, everyone in the play is in some kind of agony, "not unlike the rest of us." Filled with awkward humor, this strange and compassionate new play asks how we address life's biggest questions when words fail us, and led Time Out New York to state, "Though it employs very little dialogue, there's nothing quiet about Small Mouth Sounds. Bess Wohl's luminous play uses silence to dig into the core of human pain, which, like everything unendurable, can also be very funny ... . The play asks -- and admirably never quite answers -- deep questions about how we connect with other people, a feat that the characters achieve through channels both profound and silly. Wohl isn't afraid to let the ridiculous rub up against the sublime, and it makes Small Mouth Sounds as entertaining as it is transcendent."
Directing his first production for Augustana is Quad City Arts' Ben Gougeon, a local actor, native of northern Michigan, and coast-to-coast talent whose film and television credits include roles in The Marvelous Mrs. Maisel, Law & Order: SVU, Bull, The Deuce, and Little America, as well as leading stage roles in John Steinbeck's Of Mice & Men, Sam Shepard's True West, and Shakespeare's Julius Caesar. Recently, Gougeon played the lead in the Mockingbird on Main's production of An Oak Tree, and appeared among the ensemble of the Black Box Theatre's All Is Calm: The Christmas Truce of 1914.
Seven student actors compose Gougeon's cast: Titus Jildera, Rose Klinger, Ella Miller, Marlee Oros, Soryn Richter, Alice Sylvie, and Emma Watts. And with Reader theatre reviewer Roger Pavey Jr. serving as assistant director, additional members of Small Mouth Sounds' creative team include production manager Synth Gonzalez; stage manager Grey White; assistant stage manager Stephanie Gutierrez-Reyes; scenic/lighting/sound designer and technical director Mike Turczynski; assistant technical director Riley Scranton; costume designer Becki Arnold; assistant costume designer Katie Sanders; props master Ben Adams; hair and makeup designer Bailey Hacker; light-board operator Brian Danielson; and sound-board operator Natalie Platt.
Small Mouth Sounds will be performed on the mainstage of Augustana College's Brunner Theatre Center from March 16 through 19, with performances Thursday through Saturday at 7:30 p.m. and Sunday at 1:30 p.m. Admission is $10-15, and more information and tickets are available by calling (309)794-7306 and visiting Augustana.edu/tickets.