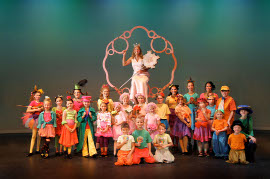 As enjoyable as Countryside Community Theatre's The Wizard of Oz is, the most thrilling part is this: The witches fly. While L. Frank Baum's familiar story of the Kansas girl who's blown to the land of Oz by a tornado has its fill of magic, Countryside adds some magic of its own by making its witches (and a flying monkey) airborne. It's a special touch to a show that, during Friday's opening-night performance, proved to be a gratifying evening's diversion - if a long one, running three hours from beginning to end.
Director William Myatt's production includes enough nods to the much-loved movie, but doesn't outright copy it. His effort has a distinct charm that relies mostly on its performances, but also mixes in a few stylized pieces of scenery created by set designer Chris Konrady, such as the brown-and-white Kansas farm and the industrial-influenced Emerald City. Konrady's sets are enhanced by his remarkable work as lighting designer, with effects including a beautiful pool of light washing over Dorothy during "Somewhere Over the Rainbow," and patterns of green light swirling on the walls of the Wizard's chamber. Costume designer Stacy Phipps' creations, meanwhile, most closely copy the film's, but with some exceptional exceptions, notably the Tin Man's getup, which is a mixture of knight's-armor and robot in a way that works quite well. (Although I'm still trying to figure out why two clothes-dryer vent tubes were sticking out of his back, distracting from the otherwise striking look.)
While Dorothy is The Wizard of Oz's central character, and played here with a sweet boldness by Emily Briggs, everyone knows that the piece really allows its supporting characters to shine. Shane Rumpza's doltish physical comedy as Scarecrow had me both laughing and wondering how many bruises he sustains each night. Nate Curlott creates a kind-hearted, sentimental Tin Man begging for a hug. And Ian Sodawasser's Cowardly Lion has just enough of Bert Lahr's signature vocalization to be familiar without his being a copycat of Lahr.
As for the witches, Mary Beth Riewerts' Glinda is understated and simple, with nothing but kindness emanating from her body language and inflections, and with her delightfully wicked cackles, Hannah Kurth effectively channels Margaret Hamilton in her performances as Miss Gulch and the Wicked Witch. (Which is somewhat surprising, considering this is the same actress who notably portrayed the bubbly airhead Lily St. Regis in last year's Countryside production of Annie.)
In addition to the flying (with the Wicked Witch's broomed jaunts especially exciting), there are several bewitching sequences in Countryside's production. I doubt there was a smile-less face in the house during the entirety of the Munchkin routines. Dressed with a hint of Dr. Seuss, the scene is filled with one little cutie after another, with the scowl-faced Lollipop Guild boys particular crowd-pleasers. The poppy scene is cleverly silly, in that actors play the poppies in amusingly ridiculous costumes; they're large, rectangular bags with people inside. And Christina Myatt's best effort as the show's choreographer is her "Jitterbug" sequence. Even the cast members who struggled with fairly simple choreography elsewhere really sell this infectiously fun number.
There are, however, a few missteps along this yellow brick road. Director Myatt's effort could use an uptick in the pacing to improve some passages that drag a bit, and also stages "Somewhere Over the Rainbow" so that Dorothy is holding Toto on the porch and not moving. At all. (Briggs sings the piece beautifully, but visually, the scene is a bit bland.) The twister scene, with its simple, repetitive choreography, is also a bit underwhelming, and thus, seems to stretch on for far too long. And the wizard's guise is little more than a quivering bedsheet (rather than the film's floating head), that seems to quiver for no apparent reason, as it doesn't even move in sync with actor John Wagner's lines.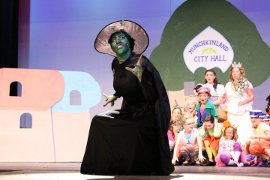 Really, though, these are minor quibbles that district only mildly from the overall enjoyment of the piece. The show's amplified audio, however, is a major problem. Friday night's show was marred by microphones that popped out time and time again, breaking the magic of the moments. On top of that, the volume was so high on all the actors' mics that many of the louder spoken lines, and the sounds of the twister, physically hurt my ears (and the ears of many an audience member, judging by the cupped hands on the sides of many heads).
Other than the deafening volume, there's so much to like about Countryside's The Wizard of Oz. The flying witches alone makes the familiar material all the more interesting, but this production would be enchanting even without actors soaring through the air.
For tickets and information, call (563)285-6228 or visit CCTOnStage.org.