One of the biggest stars of Quad City Music Guild's take on Andrew Lloyd Webber's Cats never appears on stage, though her mark is rarely invisible the entire time, as designer Sara Wegener is responsible for the costumes, makeup, and wigs worn by the musical's cast of felines. Obviously drawing inspiration from the original West End and Broadway productions, it's a bit of a shame that the intricacy in her makeup, in particular, isn't fully discernible from the audience, because the detail in her work is exceptional. Adding her spiked-fur wigs with plush fabric ears, and her bodysuits and loose shirts and pants colored to look like various cat coats, Wegener's contributions are award-worthy.
Props also go to set designer Matt Holmes for his junkyard creation. With elements of the original set apparent - such as the stack of cars, washing machine, and sewer tunnel - Holmes' design is still his own. His most ingenious contribution to this fantastic work of wonder is a set of steps painted in a way that (almost) hides them; the risers of each step are imprinted with portions of branded boxes of food, or other items that make this series of steps looks like one large box, and allow a great variety of movement in director Gregg Neuleib's staging. During Friday's performance, I was also fascinated by Holmes' placement of a chain-link fence close to the back of the stage, and in front of old boards, sheets, tarps, and other such garbage. Those layers of of items, in turn, are positioned in front of the rear of the performance space, on which lighting designer John Weigandt casts lit images of clouds and a moon of shifting colors.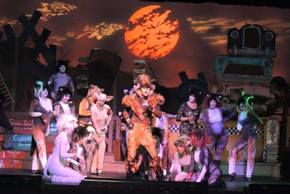 Another biggest surprise, at least for me, was Anthony Greer as Munkustrap, a sort of right-hand-cat to Joel Kolander's Old Deuteronomy, the leader of the Jellicle Cats, and the feline who decides which one will be reincarnated. In the past, I'd only watched Greer perform in the chorus of previous Music Guild productions, consistently and thoroughly annoyed by his penchant for pulling focus by mugging to the audience with his Cheshire grin. With that in mind, I was flabbergasted by how exceptional he is in this role. There's no lack of commitment on his part, as he never once drops character, retaining a beautiful fluidity in his movements. The extension in Greer's limbs while executing choreographer Jayne Ploehn's dance steps - which are remarkable for the way their design makes less-than-professional dancers look great - are unparalleled among the cast, and the performer maintains that consistency of movement even when not dancing. He is Munkustrap here, not just an actor portraying a character, and from beginning to end, including his final bow, I could tell that he was relishing the opportunity to play the part, a feeling that I think translates in his phenomenal performance.
Dolores Sierra also deserve accolades for her performance as Grizabella, the "Glamour Cat." Having watched numerous performances of Webber's musical, I've come to realize that the role constitutes little more than shuffling about the stage while appearing sad and performing one of the most iconic Broadway songs ever written. While highly hailed, Grizabella isn't even best role in Cats, so it's to Sierra's credit that she manages to be sympathetic in spite of the shallowness of the part. Her vocals on "Memory" are rich with emotion, and Grizabella's attempts to emulate the other cats' dance movements while she's alone on stage are heartbreaking. (It helps that Kolander offers obvious gestures of sympathy for this elderly, tattered feline.)
There's little about which I'd complain regarding Music Guild's Cats. From the fun-loving number featuring James Turilli's Mungojerrie and Hillary Pieper's Rumpleteazer to Andy Sederquist's too-cool-for-school sexpot of a Rum Tum Tugger, this is a notable production by the local community theatre - and the crew involved also deserve kudos for their exceptional "performances" in this staging of one of Broadway's greatest musicals.
Cats runs at the Prospect Park Auditorium (1584 34th Avenue, Moline) through July 19, and more information and tickets are available by calling (309)762-6610 or visiting QCMusicGuild.com.