"Tell your story!" "But who will listen?"
Those opening lines from A Woman Called Truth, now playing at the Playcrafters Barn Theatre, get the audience ready to hear a character's tale. What the audience does not yet get in those opening lines, however, is how very important that story is, and how beautifully it will be told by a diverse and talented cast.
A Woman Called Truth, written by Sandra Fenichel Asher, is the life story of Sojourner Truth – a very well-known and -respected woman in the 1800s who was an advocate for abolition and women's rights. Asher's play follows Truth from the time she was born into slavery to her time as an older, no longer enslaved woman giving speeches about freedom and women's rights across the country.
Director Fred Harris Jr. brings this story to life in ways that keeps the audience engaged and interested until the very last second, beginning with the opening scene that finds Truth, played by Shellie Moore Guy, in a spotlight with the rest of the cast silhouetted behind her. This tableau, with Truth standing before silhouettes, is a powerful visual that is employed a lot during the show, creating moments that are played out like the shadows of memories as Truth recalls them.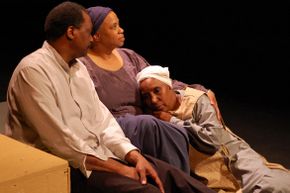 I was blown away by Shellie Moore Guy. In A Woman Called Truth, the actress portraying Truth bears a lot on her shoulders in having to play the character from a child to an old woman, and Guy performs with great range and depth throughout every stage in Truth's life. In one particularly painful scene, we see Truth being sold as a slave at a very young age, and then watch as she has to say goodbye to her family. Later, Truth challenges a slave owner to court in order to get ownership of her son, and wins. And still later, Truth's son Pete (played by an emotionally charged Kermit Thomas) is awarded his freedom because of Truth's persistence and challenging of the law.
In addition to Guy, the entire rest of the cast does a great job of building tension in sequences such as these. Don Faust, who portrays Truth's lawyer, had one particular moment during Sunday's production that made our audience respond in applause. And Ashley Dean, who gives a powerful performance as a fellow slave, also revealed a singing voice that's reason enough to see this show. Her voice made the hairs on my arms stand up more than once, and at the end of Act I, in the song "God's Going to Trouble the Water," Dean is able to really let her talent shine.
As that suggests, Asher's script, which features words from Truth's actual speeches, also boasts spirituals, slave songs, and folk songs of the period, all of which add great intensity to the show. (Guy, who performs many of the songs solo, also impresses with her singing abilities.) At times, they additionally act as transitions between scenes and as background music for particularly emotional moments, such as when Truth takes her first walk down the road as a free woman – a sequence that gave me chills.
As the entire cast stands and faces the audience when Guy delivers Truth's final speech, you can see the words' impact and importance not only on the characters' faces, but the actors' as well. "They say women need help into carriages and over ditches. Well, I can get into a carriage on my own. Am I not a woman? … I can work as hard as any man. Am I not still a woman?"
Every time Sojourner Truth changed slave owner's hands, her name changed with every new move, and Playcrafters' A Woman Called Truth is the story of how every name she received led her one step closer to claiming her own freedom, and giving herself her own name. If you see this production, you will witness a music-infused tale that will take you back to a more troubling time. But after you witness the leading character's perseverance, belief, faith, and integrity, you will feel better for it.
A Woman Called Truth runs at the Playcrafters Barn Theatre (4950 35th Avenue, Moline) through May 22, and more information and tickets are available by calling (309)762-0330 or visiting Playcrafters.com.