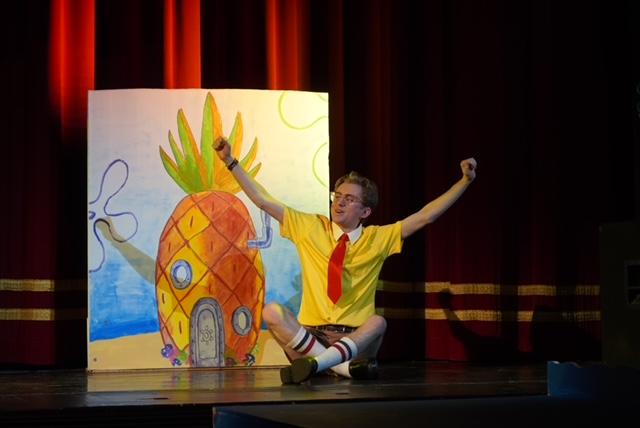 Friday, June 2, through Sunday, June 11
The Spotlight Theatre, 1800 Seventh Avenue, Moline IL
A boisterous, hilarious, critically acclaimed adaptation of Nickelodeon's long-running animated children's sitcom SpongeBob Squarepants, The SpongeBob Musical makes its eagerly awaited area debut at Moline's Spotlight Theatre, the show's June 2 through 11 run sure to demonstrate why this family treat earned 12 Tony Award nominations including Best Musical, and why the New York Times deemed it "a ginormous giggle of a show."
In The SpongeBob Musical, audiences will find themselves in the undersea city of Bikini Bottom, inhabited by the happy-go-lucky and ever-optimistic yellow sea sponge SpongeBob SquarePants and his equally quirky circle of friends and neighbors. SpongeBob's pleasant existence is abruptly interrupted, however, when it's discovered that Mt. Humongous, a nearby volcano, will erupt within the next 48 hours and completely obliterate Bikini Bottom. SpongeBob, trying to prove to himself and the world that he is not "just a simple sponge," resolves to save the day when everybody else has given up all hope, resulting in a fun, family-friendly, and timeless story of identity, crisis, and community. The show is also a witty allegory that examines and critiques the politics of the modern era, and does so in such a way where children will appreciate and understand the plot line, while adults can read between the lines and extract even more from the musical's message.
A Broadway and touring sensation, The SpongeBob Musical features a book by Kyle Jarrow, with original songs by Yolanda Adams, Steven Tyler and Joe Perry of Aerosmith, Sara Bareilles, Jonathan Coulton, Alexander Ebert of Edward Sharpe & The Magnetic Zeros, The Flaming Lips, Lady A, Cyndi Lauper, John Legend, Panic! At the Disco, Plain White T's, They Might Be Giants, and T.I. With additional songs by David Bowie, Tom Kenny, and Andy Paley. lyrics by Jonathan Coulton, with music by Tom Kitt, the musical demonstrates how the power of optimism really can save the world.
Directing The SpongeBob Musical's area premiere is Spotlight Theatre veteran, who most recently helmed The Lightning Thief: A Percy Jackson Musical for the venue, and has appeared in such musicals as All Shook Up, Tuck Everlasting, and The Producers. SpongeBonb is portrayed by Ryan J. Hurdle, a veteran of the Spotlight's Tuck Everlasting and the Black Box Theatre's Ride the Cyclone, while the titular character's memorable friends are played by talents including Adam Sanders (Patrick Star), Sydney Rosebrough (Sandy Cheeks), Brycen Witt (Squidward Tentacles), and Caleb Swinney (Sheldon J. Plankton). Additional members of Hill's gifted cast include: Gabby Andersen, Charles Thomas Budan, Ava Burmahl, Pam Cantrell, Rebecca Casad, Jack Cockayne, Christiana Crosby, Becca Johnson, Jacob Johnson, Ryenne Lacher, Jordyn Mitchell, Grace Moore, Valerie Moore, Brant Peitersen, Lexi Pelzer, Eli Swailes, Grace Wiborg, Makis Witt, and Breanna Young,
Spotlight Theatre co-owners and artistic director Brent and Sara Tubbs serve as The SpongeBob Musical's producers, with Brent also the shows scenic and lighting designer. And with the talented Katie Griswold acting as the show's music director, additional members of the creative team include assistant music director Christine Rogers, choreographer Bethany Sanders, stage manager Heather Lueder, costume designer Sara Wegener, and props master Sarah Greim.
The SpongeBob Musical runs in Moline from June 2 through 11, with performances at 7 p.m. On Fridays and Saturdays and 2 p.m. On Sundays. Admission is $20-25, and more information and tickets are available by calling (309)912-7647 and visiting TheSpotlightTheatreQC.com.