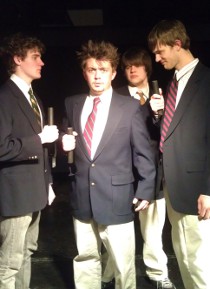 Dino Hayz is the creative director and co-owner of the Center for Living Arts, the Rock Island-based venue that, since 2006, has offered music and theatre (and musical theatre) classes for ages 18 and under, and has produced such stage presentations as Schoolhouse Rock Live! and Disney's High School Musical.
Consequently, Hayz says that he and his performers have a pretty fair idea of how patrons might react to the Center's latest theatrical offering.
"When we're in rehearsal," says Hayz, "at the end of Act I, we always say, 'A-a-and ... blackout. Actors off, lights up, a good third of the audience walks out the door ... ."
He's kidding. Or rather, he hopes he's kidding. Because while Hayz appears to have full confidence in the cast for his forthcoming production of Spring Awakening (running March 23 through April 7), and in the popular rock musical itself, he does know that audiences familiar with the Center's more traditional, family-friendly fare might find the show a bit off-putting.
Actually, audiences could easily find the show off-putting regardless of venue. After opening on Broadway in December of 2006, Spring Awakening was described as "exhilarating" by the New York Times, enjoyed a 25-month run of 888 performances, and was the winner of eight 2007 Tony Awards, including Best Musical. Yet this adaptation of a 1892 German play - which is making its area debut with the Center's production - is also controversial in the extreme, given the musical's frank depiction of teenagers exploring their sexuality, its brief nudity and frequent profanity, and subject matter that includes rape, abortion, suicide, and child abuse.
However, Hayz says that it's precisely because of the show's themes - plus the score that he calls "pure poetry" - that he and his wife Tina (the Center's co-owner and managing director) wanted to stage Spring Awakening in the first place. "This show," he says, "is about kids dealing with their sexuality, dealing with their parents, dealing with each other, dealing with growing up, and it's important to look at how all that affects them, and affects audiences."
Besides, as far as the potential loss of patrons at intermission is concerned, Hayz says with a smile, "We lost a few people when we did Godspell, too."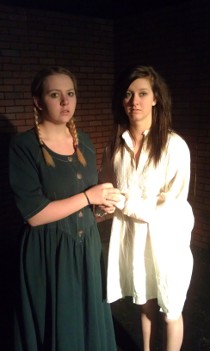 The decision to produce Spring Awakening, says Hayz, originated with the production of another rather controversial choice for the Center: the "school edition" of the hit musical Rent, which the Center first staged in the spring of 2011.
"The students here brought that idea to us," says Hayz. "My wife loves that show. She's a Rent-head. But we always just kind of assumed that we'd never do a show like that here, because we're a youth theatre, and people get offended so easily, and will pull [their kids from the Center's programs] so easily. When you're a business, you have to be smart and not offend people.
"But the students kept saying, 'Oh ... Rent! We could do Rent! We should do Rent!' And then the licensing rights to the school edition were released, before they released the rights to the full edition, so we took a look at it."
Barring the omission of the song "Contact," Hayz says that Rent: The School Edition is "almost exactly the same as Rent. The characters are the same. The lines are the same, minus the cuss words. And so we thought, 'Well, maybe we could do this toned-down version and it would keep offense to a minimum.'" (Smiling, Hayz adds, "I've since changed my tune, obviously, because now we're doing Spring Awakening.")
Agreeing to stage the production partly as a "graduation gift" to high-school seniors and longtime Center students Becca Meumann and Myka Walljasper, Rent: The School Edition did receive some parental complaints about the material, says Hayz, but "they were only from people who didn't come to the show. No one who saw the show ever complained."
In addition, he adds, "the show was such a big hit for us that we had to add performances, and we were sold out every night. And we were just so excited to be able to express ourselves in a way that wasn't Disney and High School Musical, you know? We were able to tackle some more heady issues that really cut to what it's like to be living on the planet."
Hayz says that after Rent: The School Edition closed, "my wife and I said, 'Okay ... now what?' We knew we wanted to keep doing theatre productions that didn't involve classes, and that dealt with real issues, and so we said, 'Well, some day, let's do Spring Awakening.' Which was funny, because we never really thought we'd ever do that show. We saw that number on the Tonys [a performance of the Spring Awakening song 'Totally Fucked'] and thought it just wasn't gonna happen for us.
"But about two weeks later," he says, "they released the rights. And the minute I got that e-mail ... I just submitted right away."
Despite the controversy generated by Spring Awakening - with its tale of straight and gay German teens contending with parents, teachers, peers, and their evolving sexuality in a restrictive, late-19th Century society - Hayz says that producing the show felt like the right decision at the right time.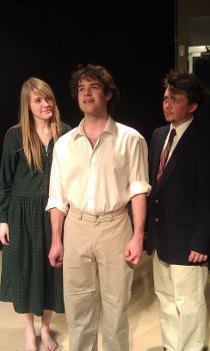 "I mean, after Rent," he says, "after we stepped through that portal, we felt ready to tackle it head on. And the students felt ready to tackle it head on. They want to do more stuff that makes them grow, and I really give them credit for a lot of the things that we do here. They're the ones who push us to do new things."
As with its performances of Rent, youth participation in the Center's Spring Awakening - a production that also features a number of adult actors - is restricted to students of a certain age, with those under 18 needing to bring in a signed letter of parental permission. (Spring Awakening's cast, says Hayz, features "two 16-year-olds, two 17-year-olds, and everybody else is 18 and older.") And while director Hayz says "I haven't cut anything" in terms of the show's plot or language, there will be one moderately significant change from the Broadway production.
"We're not doing the nude scene," he says, referring to the Act I closer that, on Broadway, showcased a pre-Glee Lea Michele. "We're doing the show in the round, and the audience is only a few feet away from the actors, and ... . I don't know. I don't know if it's just my perception of my audience, but I think they would get so stuck into the idea of 'Oh my God, I just saw her boob ... ' that they'd be pulled out of the story. And I really want them in the story.
"Our focus here has always been on the creative expression of theatre," says Hayz, "and about coming together to tell a story, and how that story might affect the students, and affect the audience. And that's what we tell parents when they ask us why we're doing this show. There are some stories that just need to be told."
Spring Awakening will be staged at The Center for Living Arts (2008 Fourth Avenue in Rock Island) March 23 through April 7, with performances on Fridays and Saturdays at 7 p.m., and 2 p.m. matinées on March 31 and April 7. For information and tickets, call (309)788-5433 or visit Center4Living.com.