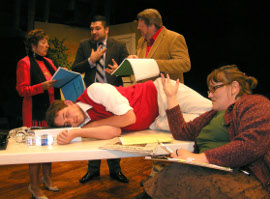 Adulterous lovers. Women and men in drag. Mistreated orphans. Nuns sniffing glue. Grandmas peddling racy underwear.
But enough about my upcoming birthday party.
These are just a few of the stage sights that audiences will be privy to over the next three months, as our area's theatre venues and companies open, at last count, an intimidating 62 productions between June 2 and August 26. As usual, the summer season will be filled with musicals, comedies, and blends of the two. But we theatre-going masses will also be treated to a number of classical and Shakespearean titles, challenging Tony Award- and Pulitzer Prize-winners, and even - gasp! - the occasional intense drama, for those who aren't afraid to spend a couple hours of their summer, you know, thinking.
One of the millennium's more thoughtful dramas, in fact, will be staged by Moline's Playcrafters Barn Theatre this summer, when Shellie Moore Guy directs the capital-punishment piece A Lesson Before Dying (July 15 through 24), based on Ernest J. Gaines' Pulitzer Prize-nominated book. Iowa City's Dreamwell Theatre gets dramatic with William Shakespeare's historical classic Henry V (June 3 through 11) and the anti-war vignettes of Soldier's Daughter (July 15). And in addition to presenting its annual tragedy in masks with Sophocles' Ajax (July 2 through 10), Rock Island's Genesius Guild will stage the mack daddy of all dramatic works with Shakespeare's King Lear (July 16 through 24), featuring the consistently marvelous Pat Flaherty in the title role.
Ah, but Lincoln Park won't be a completely downbeat place to visit this summer; in addition to hosting Ballet Quad Cities and the professional dance company's annual presentation of Ballet Under the Stars (June 10 through 12), the locale will find Genesius Guild staging Shakespearean laughs in The Taming of the Shrew (June 18 through 26), and Aristophanes-ian farce - by way of adapter Don Wooten - in The Wasps (July 30 through August 7). As for outdoor theatre on the other side of the Mississippi, there are two productions running in repertory as part of the annual Riverside Theatre Shakespeare Festival in Iowa City's Lower City Park: the early Bard comedy The Two Gentlemen of Verona (June 24 through July 9), and the whimsical Ah, Wilderness! (June 17 through 10), written by ... Eugene O'Neill. An unusual choice for a Shakespeare festival, perhaps, but hey, any excuse to stage O'Neill is a good one.
Like Genesius Guild and Riverside, the Clinton Area Showboat Theatre and Mt. Carroll's Timber Lake Playhouse are about to jump-start their annual seasons, and combined, the two venues will be responsible for a whopping 15 of this summer's theatrical titles. After his Clinton success last year, Jim Post will return to the Showboat with his one-man effort Mark Twain & the Laughing River (June 19 and July 17); the company's interns will command the stage with Artistic Director Patrick Stinson's original comedy High School Reunion (July 9 and 10); Broadway musicals will be represented with the adaptation of the movie High Fidelity (June 16 through 26) and Tony-winners The Drowsy Chaperone (July 14 through 24), Annie (July 28 through August 7), and Evita (August 11 through 21); and non-secular fun is in store with the repertory productions of Nunsense (June 2 through 12) and Altar Boyz (June 3 through 12).
Meanwhile, Timber Lake closes its 50th season of summertime entertainment with some non-secular (and audience-participatory) wackiness of its own in 'Til Death Do Us Part: Late Nite Catechism 3 (August 25 through September 4). Prior to that, the theatre will celebrate its golden anniversary with the farcical comedy of Red Herring (July 14 through 23), plus a quintet of musicals that embrace the comedic, the dramatic, and the downright eccentric: Andrew Lloyd Webber's film-noir adaptation Sunset Boulevard (June 2 through 12); the I-believe-I-can-fly charmer Flight of the Lawnchair Man (June 16 through 25); the Bob Fosse and Neil Simon collaboration Sweet Charity (June 30 through July 10); Stephen Schwartz's popular Biblical outing Children of Eden (July 28 through August 7); and the indie-film hit turned off-Broadway musical smash The Spitfire Grill (August 11 through 21).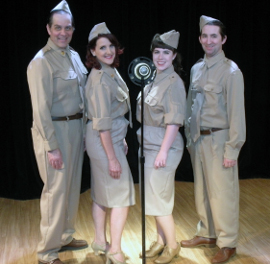 If, however, you're wanting to catch that last title but don't necessarily want to make the (actually quite breezy) trek to Mt. Carroll, the Richmond Hill Barn Theatre is giving you the opportunity, as The Spitfire Grill will also be presented in Geneseo's converted barn August 11 through 21. (Over the company's many decades, it's the first musical that Richmond Hill has produced since ... . Oh, wow ... . Has Richmond Hill produced a musical before?) The theatre will fill out its summer season with the Tom Dudzick comedy Don't Talk to the Actors (June 2 through 12) and the timeless Oscar Wilde farce The Importance of Being Earnest (July 7 through 17), while another 19th Century classic is brought to life in Iowa City's Englert Theatre staging of The Mikado (July 28 through 31), the Gilbert & Sullivan operetta being presented by the Martha-Ellen Tye Opera Theatre and the University of Iowa's performing-arts department.
The University of Iowa itself will host three shows in its annual summer-repertory season: the two-person musical romance I Do! I Do! (July 1 through 24) and a pair of Pulitzer Prize-winners in Paul Zindel's dysfunctional-family drama The Effect of Gamma Rays on Man-in-the-Moon Marigolds (June 21 through July 7) and Neil's Simon's dysfunctional-family comedy/drama Lost in Yonkers (July 14 through 23). Iowa City's neighboring Amana will find the Iowa Theatre Artists Company celebrating two American icons - Ann Landers and Woody Guthrie - in The Lady with All the Answers (June 17 through 26) and Woody Guthrie's American Song (August 12 through 28). And not to be outdone, Amana's Old Creamery Theatre has five shows on tap for the summer months: the 1940s war-tune revue G.I. Jukebox (June 2 through July 3); the return of the farcical The Queen of Bingo (July 7 through July 24); a musical soap opera fittingly titled Suds (August 4 through September 11); the two-character 9/11 drama The Guys (August 25 through September 11); and the children's book adaptation If You Give a Mouse a Cookie (June 18 through July 2).
Closer to home - and really close to my home - Rock Island's Circa '21 Dinner Playhouse will also treat young audiences to the theatrical sweetness of If You Give a Mouse a Cookie (July 5 through 30), while more grown-up fare can be found in the effervescent Broadway smash Hairspray (June 15 through August 13) and the "Grandma's doing what in her spare time?" farce of Nana's Naughty Knickers (August 17 through September 24). A couple of blocks away from Circa '21, Rock Island's Center for Living Arts will stage a high-spirited, student-actor musical in Disney's Camp Rock (July 16 and 17), while neighboring Moline finds the Quad City Music Guild delivering a trio of beloved titles featuring incredibly musical title characters: Rodgers & Hammerstein's Cinderella (June 10 through 19), the show-within-a-show The Drowsy Chaperone (July 8 through 17), and Meredith Willson's eternally jovial The Music Man (August 5 through 14).
Davenport's Harrison Hilltop Theatre goes both large- and small-scale this summer, the former represented in Andrew Lloyd Webber & Tim Rice's rock opera Jesus Christ Superstar (July 14 through August 6), and the latter in the two-character musical romance The Last Five Years (August 25 through September 10) and the two-character non-musical romance Same Time, Next Year (June 9 through 25). Anamosa's Starlighters Theatre has a two-person show of its own in the comedy None of the Above (July 17 through 26), while wa-a-ay more characters are on hand in Theatre Cedar Rapids' staging of Frank Loesser's magical Guys & Dolls (July 8 through 30), and in Eldridge's Countryside Community Theatre presentations of two much-loved musicals: the Tony-lauded show-biz classic Gypsy (June 17 through 26), and the L. Frank Baum wonderland of The Wizard of Oz (July 22 through 31).
Wrapping summer 2011 up with a seven-show bow, Princeton, Illinois' Festival 56 delivers an incredibly eclectic septet in its annual repertory season: comedy with Shakespeare's The Taming of the Shrew (July 3 through 31); dramas with the Pulitzer Prize-winning Proof (July 8 through 15) and the gender-inclusive jury room of Twelve Angry People (July 19 through 23); and musicals with Jason Robert Brown's Songs for a New World (June 24 through July 2), Irving Berlin's Annie Get Your Gun (July 5 through 12), Dan Goggin's Nunsense (July 22 through 29), and Cole Porter's Kiss Me Kate (July 28 through August 7). And for those thinking it's just not summer without the Elvis-meets-Shakespeare antics of All Shook Up, you're in luck: Productions of this joyous musical comedy will be staged at both Galesburg's Orpheum Theatre and Maquoketa's Ohnward Performing Arts Center ... and on the very same days (July 15 through 17), to boot! Guess there will be a whole lotta shakin' goin' on, huh?
For more information on the area's summer-theatre offerings, visit RCReader.com/calendars/reader-theatre-calendar.
---