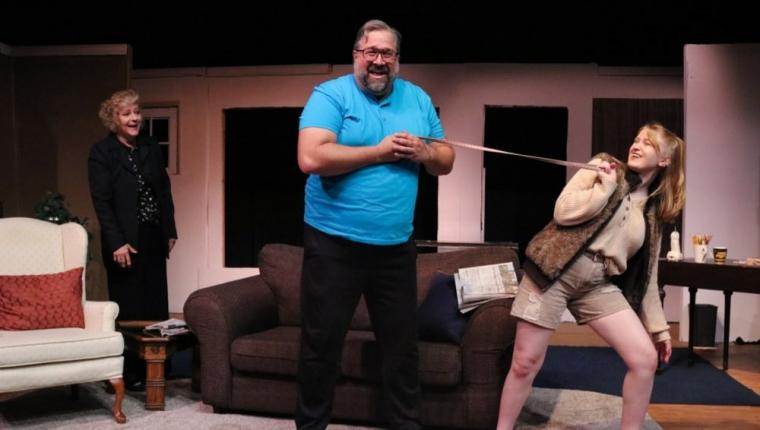 Friday, September 30, through Sunday, October 9
Playcrafters Barn Theatre, 2950 35th Avenue, Moline IL
With CurtainUp calling the award-winning play "a delightful fantasy, but also a psychologically persuasive look at one man's mid-life crisis," Sylvia enjoys a September 30 through October 9 run at Moline's Playcrafters Barn Theatre, this stage charmer inspiring the New York Times to state, "Dramatic literature is stuffed with memorable love scenes ... but none is as immediately delicious and dizzy as the one that begins the redeeming affair in A. R. Gurney's comedy."
Sylvia introduces us to Greg, a restless empty-nester tired of his job in finance, and a man looking for meaning in his life. The title character, meanwhile, is an exuberant and beautiful lab/poodle mix looking for a new home. When they meet, it is love at first sight. But Greg's wife Kate, a busy rising star in the public-school system, is looking forward to some independence now that the couple no longer has children to care for, and is less than thrilled by the clever and coquettish canine who jumps, slobbers, sits on her couch, and takes Greg's attention away from his marriage. Wandering the streets of Manhattan with Sylvia by his side, Greg feels like he has connected to a deeper, primal, more natural side of the world. Sylvia supports these poetic musings, but can rarely focus on them for long, being more interested in flipping off the neighborhood cat, or flirting with Bowser at the dog park. Sylvia ultimately exerts such a charismatic pull that Kate's friends are appalled, a marriage counselor advocates divorce and euthanasia, and even Greg's new dog-owner friend warns him of the splintering effect a dog can have on couples in this comedic and touching show about the relationships we humans have with our pets.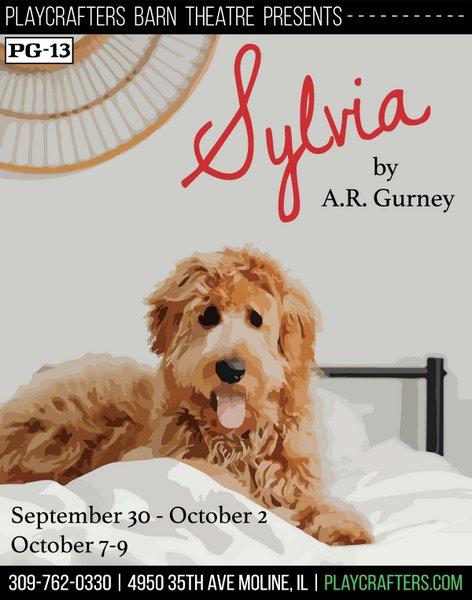 Directing Sylvia for Playcrafters is Kathy Graham, a familiar on-stage talent from productions such as A Murder Is Announced and You Can't Take It with You, with the show's title character played by fellow Playcrafters veteran Adrienne Evans, also seen in the theatre's Princeton's Rage, Stupid F---ing Bird, and, somewhat ironically, this past June's Dog Sees God. Greg is portrayed by area favorite Jeremy Marh, recently seen in presentations including Genesius Guild's Hippolytus and the Spotlight Theatre's The Complete Works of William Shakespeare (abridged)[revised], while Kate is played by Carla Stevens (You Can't Take It with You) and the character trio of Tom, Leslie, and Phyllis all enacted by Thayne Lamb in his Playcrafters debut.
Yvonne Siddique serves as Sylvia's producer, with Leah Manning as its stage manager and Alex Richardson as its lighting designer. And with Bailey Hager in charge of Sylvia's costuming, other members of Graham's creative team include props and poster designer Jaclyn Marta, set builder Zach Zelnio, sound designer Eric Teeter, sound operator Jim Strauss, light operator Sam Lindholm, promotions head Madison Duling, composer and crew member Milo Houdyshell, and additional crew members Atika "Obie" Amin, Madelyn Dorta, Kaloyan "Nick" Gerasimov, Mille Juliano, Joe Obleton, Lidia "Neo" Sotirliari,
Sylvia runs at the Playcrafters Barn Theatre September 30 through October 9, with performances Fridays and Saturdays at 7:30 p.m. and Sundays at 3 p.m. Admission is $13-15, and more information and tickets are available by calling (309)762-0330 and visiting Playcrafters.com.