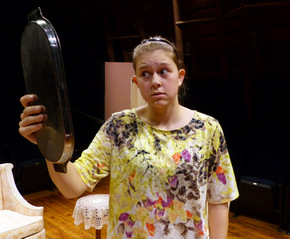 One of the great things about living in the Quad Cities area is that there is a variety of theatre to suit almost everyone's taste. At one end of the spectrum are theatre companies that mostly offer edgy, thought-provoking material, and at the other are venues that generally deliver more lighthearted, uncomplicated fare – plays such as the Richmond Hill Barn Theatre's romantic comedy Amy's Wish, whose opening-night performance on April 7 was a true crowd-pleaser.
Written by Tom Sharkey and directed by Dana Skiles, Amy's Wish takes place over a two-day period, and is set in a vacation condo in a senior village in Florida. Sam and Amy have found true love in their retirement years, have married, and are on their honeymoon. Their condo, however, is believed to have been built over the legendary Fountain of Youth sought by Ponce de León, and shortly after arriving Amy drinks some water from the faucet and is transformed, overnight, into her former, 19-year-old self. Following her magical transformation, Amy attracts the attention of a young man and the suspicions of a nosy neighbor who gets the local sheriff involved, events that add to her husband's confusion and bewilderment. And sometimes added to mine!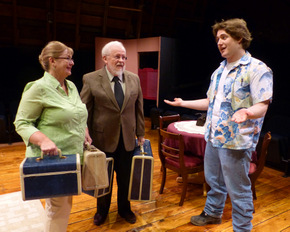 Being a stickler for details, there were certain elements of this play that didn't ring true or make sense. When Sam tells the neighbor that his wife's absence is due to her being in the hospital, his blend of improbable reasons is not believable, and neither is his being that bungling of a liar. And when the teenage Amy is posing as her husband's niece, she refers to him, twice, as "honey" in front of the young man who is smitten with her, yet he doesn't question it. (Maybe I was to assume that Amy told this guy about her situation, but if so that wasn't made clear.) Did playwright Sharkey assume the audience would overlook these and other problems? I guess once you buy into the Fountain of Youth bit, you're open to accepting irrational actions as wacky humor.
Stan Weimer, as Sam, had some of the funnier lines, which he delivered effectively with deadpan sarcasm. Yet whether it was intentional or not, the actor's hesitancy on his conversational dialogue sounded unnatural, and made him appear almost stilted. (Maybe it was opening-night nerves.) But despite that issue, Weimer's overall interpretation of the befuddled husband had audience members laughing out loud, and as the 19-year-old Amy, Taylor McKean, a senior at Geneseo High School, exuded a natural, likeable stage presence.
Playing a character the opposite of likable, Jackie Patterson, as Irma, was that meddlesome neighbor we all hope we'll never have. With her red mop-top hair, aqua-blue eye shadow, and false eyelashes giving her an almost clown-like appearance, she was like Lucy Ricardo on steroids. Ray Rogers, who played the sheriff, was another standout; he had a resonant voice not unlike the actor Sam Elliott's, and a similar ease in his deliveries. Josh Wielenga, as a friend to the newly young Amy, and Terri Nelson, as the older Amy, also gave solid performances in their supporting roles.
Theatre-in-the-round, the traditional setup for Richmond Hill productions, puts the audience close to the action, but the presentational style also has its limitations. Rubbernecking becomes almost de rigueur. If an actor's backside is to you, his or her facial expressions are not visible, so you have to rely on dialogue alon, and nuance can be lost. If a prop is revealed, it may be hidden from some audience members' view. At the very least, theatre-in-the-round presents significant challenges to the set designers, director, actors, and audience. Thankfully, though, the lighting and sound for Richmond Hill's latest were excellent, and the set and direction pleasingly simple, with credit going to director Skiles and her crew of Jennifer Kingry, Cory Holbrook, Mason Hultgren, and Mike Skiles. As for the actors in Amy's Wish, they did their best to provide the audience with an enjoyable theatre experience despite the script, and, judging from the standing ovation they received on opening night, I'd say they succeeded.
Amy's Wish runs at the Richmond Hill Barn Theatre (600 Robinson Drive, Geneseo) through April 17, and more information and tickets are available by calling (309)944-2244 or visiting RHPlayers.com.