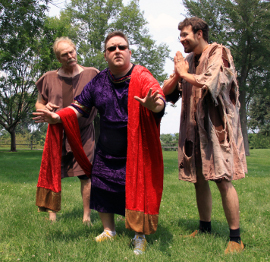 Every so often, Genesius Guild's end-of-summer comedy isn't the traditionally silly, over-the-top production that mostly forsakes a story-driven plot. Such is the case with this year's comedic romp Plutus. During Saturday's take on Aristophanes' original text, I found myself as interested in the outcomes of the characters as I did in director/adapter Don Wooten's mockery of local icons and current events. Sometimes more so.
Bryan Woods plays Plutus, the god of wealth blinded by Zeus - a curse that results in the distribution of wealth without aim. (He says he came to such a state by "using the Arsenal Bridge.") The Oracle at Delphi tells him to follow the first person he meets to find his fortune: Bob Hanske's Chremylus, who is "not poor enough to receive relief" and "not rich enough to warrant Congress' attention." He also meets Neil Friberg's Carlo, Chremylus' servant and the narrator of the play, who accompanies Plutus thinking he's merely a smelly bum, but who still trusts the prophecy. Once he and Chremylus discover Plutus' true identity, they seek to restore his eyesight with the help of Andy Curtiss' Dr. Hippocrates, so that the god will be able to bless honest, upstanding men ... instead of Donald Trump.
Before arriving for a doctor's appointment, Plutus is treated to a song from a chorus of women singing lines of flattery to the tune of "Mame." They're followed by a ridiculous bit featuring Melita Tunnicliff and Kathryn Wherry, dressed as chickens and dancing to a clucked version of "Baby Face" in costumer Ellen Dixon's most clever ensembles, with the performers' necks draped with yellow circles so that their bodies look like fried eggs. These chickens are backed by a group of farmers' daughters bemoaning the lack of female roles this summer, and how women in the Genesius Guild "have to wait 40 years for a chance at an ingénue." The best joke here, though, is that their demand for equal (stage) rights ends in a giggling fit as they rush off to flirt with Plutus, falling into the very stereotypes they barely finished rejecting.
Once we're past such amusing goofiness, the story picks up with Dustin Oliver's Blepsidimus, a politician who "delivered every vote [he] was paid for" and whose constant companion is Sue Staley's Poverty (the god of, well, poverty), who is summoned with the incantation "minimum wage." Chremylus tasks Blepsidimus with gathering ethical citizens to present to Plutus once his eyesight is restored. Poverty convinces Blepsidimus to trick Plutus into maintaining the wealth-imbalance status quo by gathering wicked people instead.
In my personal favorite bit of the evening, Michael Phillips entered as a Tragic Messenger, dressed in Greek-tragedy mask and garb. He tells of Plutus' eye appointment, over-dramatizing the event as a "scene of torture," and reminding the audience that such visually interesting events always take place off-stage in Greek tragedies. Phillips also delivers one of the funniest lines of the evening, describing that, in attempting to find Plutus, his Tragic Messenger "could smell him better than [he] could see him because these eye holes aren't that big."
Andrea Braddy's Polyhymnia and Tamra McConoughey's Euterpe, the respective muses of heavenly song and poetry, then appeal to the now-seeing Plutus - who wears a second pair of glasses he got for $9.99 - for funding for arts education, lamenting how children these days are no longer required to memorize classic poems. Michael Carron's "Intruder" then interrupts to point out that rap is a form of poetry, and calls forth Gary Adkins' Rapper to perform a bawdy number that cleverly speaks of the baser aspects of the rap genre. The Intruder further makes his case by presenting three kids - Anna Tunnicliff, Sarah Murphy, and Kate Phillips - to demonstrate today's "cable TV classrooms" with lessons interrupted by commercials, such as the one Doug Adkins' Fakery delivers, hocking siding which he recently sold "after talking to the owner for three days in a darkened room." (In my second favorite bit in Plutus, the classroom lesson is also interrupted by a weather report delivered by Joseph Curtiss' Weather Guy, who simply runs across the stage shouting "We're all gonna die!")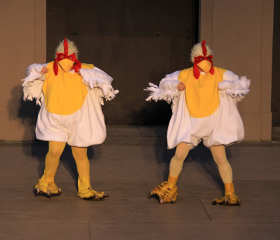 Tyler Henning's Sparks follows with an attempt to deny the young ladies' dreams of becoming industrial engineers and theologians, demonstrating their proper place in society by way of a Miss Anthropia beauty pageant featuring Brianna Gray's Miss Guided, Melanie Radkiewicz's Miss Quote, and Jo Vasquez's Miss Demeanor.
And before Plutus' final decision as to whom will receive his monetary blessings, there's an interruption by Alaina Pascarella's Reformer, a non-denominational evangelist working to stamp out theatre and its depravity. With the help of her Moral Chorale - Staley, Phillips, Joseph Curtiss, and the hilariously dry Earl Strupp on bass drum - she sings of Genesius Guild's "dirty plays." One of which might be Plutus, another in a long line of Genesius Guild's entertaining, end-of-summer comedies.
Plutus runs at Lincoln Park (11th Avenue and 38th Street, Rock Island) through August 3, donations to the free performances are encouraged, and more information is available by visiting Genesius.org.