Of course, the people who are most essential to the success of area theatre are the ones ponying up the dough to get it produced (and this includes you, my ticket-buying friends). But it's hard to imagine the theatre year being as enjoyable as it was without the contributions of the following 12 individuals, each of whom added considerable flair to several area productions - oftentimes at several area venues - in 2006.
Christine Barnes. In Augustana College's productions of The Miser, The Real Inspector Hound, and Black Comedy, Barnes stood out as a wonderfully clever comedienne; like a young Lisa Kudrow, she showed a knack for appearing hopelessly dizzy and really smart simultaneously. Yet with October's Nickel & Dimed, it was clear that the actress' gifts were only previously hinted at; Barnes was exhilaratingly warm, mature, moving, and laugh-out-loud funny. I hope that her professionalism, invention, and confidence are inspiring to Barnes' fellow student actors, because it certainly is to this former student actor.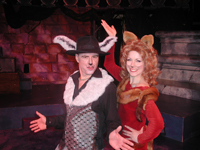 Erin Churchill and Andrea Moore. Combined, they were responsible for 11 of Circa '21's happiest musical-comedy performances. Churchill (nee Dickerson) was a delightful fox in Aesop's Dynamic Duo and a foxy delight in Stand by Your Man: The Tammy Wynette Story, and in The Bootleggers on Broadway, Moore's Spamalot duet with Brad Hauskins (see below) was high-comedy heaven. But audience pleasure was doubled when Churchill and Moore appeared together; they were spirited and funny in Grease, electrifying in Cats, and are currently sensational in Irving Berlin's White Christmas and The Elves & the Shoemaker. Circa '21 often employs the same actors repeatedly; performers such as Churchill and Moore are the reason.
Pat Flaherty. It would almost be easier to list the productions Flaherty didn't appear in, but here's what this tireless, marvelously spirited actor brought to the area theatre scene in 2006: Three performances for Genesius Guild, in The Comedian, The Birds, and - doing a superb Prospero - The Tempest. Three for the New Ground Theatre, in Boy Gets Girl, String Fever, and - probably his strongest work this year - The Winning Streak. He even showed up, and was spectacular, as Leonato in St. Ambrose University's Much Ado About Nothing. Here's hoping that Flaherty is just as generous with his talents in 2007.
Brad Hauskins. Yes, we were college roommates. Yes, he's a dear friend. Yes, he sang at my sister's wedding. But I'm listing Hauskins here because of his rather extraordinary 2006 at Circa '21; he's an energetic hoot in The Elves & the Shoemaker, delivered a witty, original script with Aesop's Dynamic Duo, gave an expectedly dynamic performance in The Bootleggers on Broadway (for which, alongside gifted director Mark Lingenfelter, he wrote a really stylish book), managed to provide one of The Ugly Duckling's two laughs, and, with less than a day's notice, briefly assumed the hospitalized Tom Walljasper's role in White Christmas, and did so flawlessly. So there.
Allison Hendrix. Despite considerable competition, the Clinton Showboat's MVP for 2006. Hendrix was effortlessly believable in The Mousetrap, a musical-comedy powerhouse in Anything Goes, touching and hilarious as two wildly different Incredible Sex characters, and stunningly vibrant in Cabaret, where she didn't even have a proper role; Hendrix exuded such charisma as the orchestra's pianist, and played so well, that it was difficult to tear your eyes away from her. She also served as The King & I's music director, which was the only Showboat production I was disappointed by, and the only one in which Hendrix didn't appear. Coincidence?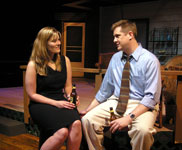 Jennifer Kingry. How indispensable was Kingry to the Playcrafters and Richmond Hill Barn Theatre seasons? Well, without her, you wouldn't have seen much; Kingry's continually inspired lighting effects graced Playcrafters' Over the River & Through the Woods, Rounding Third, Sweet & Hot: The Songs of Harold Arlen, Our Town, and Out of Sight, Out of Murder, as well as Richmond Hill's The Sunshine Boys, Cliffhanger, Perfect Wedding, Proof, and A Bad Year for Tomatoes. (She also designed the lighting for the Prenzie Players' King Richard the Second.) Oh, and in addition to lighting Proof, she designed the set. And directed the hell out of the show. So, yeah ... pretty indispensable.
Adam Lewis. Certainly, he was essential to My Verona Productions' year, serving as the passionate anchor of The Pillowman and a literal one-man-show in It's Just a Ride: A Tribute to Bill Hicks and The Santaland Diaries. But equally impressive was his vigor and imagination in supporting turns at Circa '21; he was thrillingly alive in Grease, hysterically put-upon in White Christmas, unexpectedly empathetic as On Golden Pond's dentist ... and please tell me you didn't miss his unforgettable Dirty Rotten Scoundrels number in The Bootleggers on Broadway. (For those in the know, it rivals his ventriloquist act in Chicago's "We Both Reached for the Gun.") Someone needs to produce Scoundrels with Lewis in the lead ASAP.
Jeremy Mahr and Chris White. The Prenzie Players, en masse, are essential to local theatre; Mahr earns particular mention here not only for his deeply affecting Lysander in A Midsummer Night's Dream and his stunningly focused Henry in King Richard the Second, but for being equally committed to (and equally human in) the slapstick buffoonery of Richmond Hill's Perfect Wedding. Meanwhile, White - Mahr's Wedding co-star - matched him laugh for laugh, was splendid in Richmond Hill's Cat on a Hot Tin Roof, and tore into his role as McMurphy in Playcrafters' One Flew Over the Cuckoo's Nest, which he enacted less than two weeks after a major traffic accident, hospitalization, and surgery; White performed with his arm in a sling, and within five minutes, made you forget all about it. Never mind essential; this year, White was damned near inspirational.
Claire Richards. When I witnessed Richards' expansive, saucy performance as the drunken Mrs. Peachum in St. Ambrose's The Threepenny Opera, it took me several scenes to recognize the performer. Surely this wasn't the same actress who was so hilariously meek and dim in the school's A Lie of the Mind, and proved so adept at Shakespeare in Much Ado About Nothing? Yet it was. And it might have taken me just as long to recognize her in New Ground's Jacob Marley's Christmas Carol - she portrayed Ebeneezer Scrooge (!) - if, by then, I wasn't already a huge fan of Richards' talent, energy, and seemingly boundless range.
Harold Truitt. This Quad City Music Guild veteran kicked off the organization's 2006 lineup by directing an adorable, visually inventive You're a Good Man, Charlie Brown. As Cohen's father in George M! - the lone bummer in Music Guild's terrifically fine year - Truitt provided scene-stealing pizazz and much-needed levity. And with his spry, irresistible portrayal of Clarence in the Guild's marvelous It's a Wonderful Life: The Musical, Truitt delivered the laughing-through-misty-eyes moment of the year, when he took an ecstatic curtain call ... sporting his angel's newly earned wings. This year, Truitt more than deserved them.