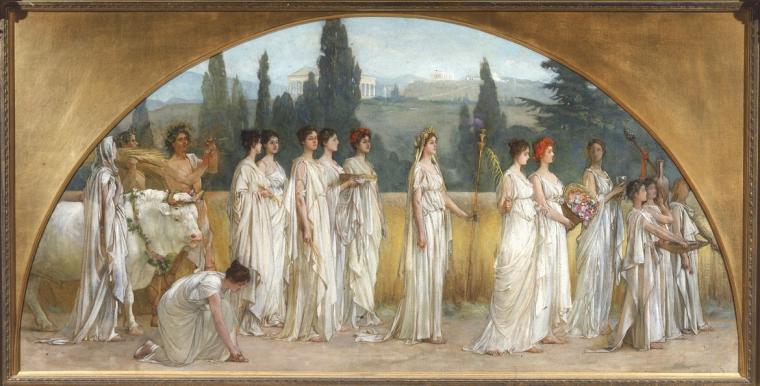 Saturday, July 28, through Sunday, August 5
Lincoln Park, 11th Avenue and 38th Street, Rock Island IL
Verbal comedy, physical slapstick, madcap chases, and a bunch of pop-culture and area-culture references will close 2018's theatrical season in Lincoln Park when Genesius Guild stages its revival of Thesmophoriazusae July 28 through August 5, Aristophanes' Greek-comedy classic getting a significant makeover with a new script, and new jokes, by Guild founder Don Wooten.
Its lengthy title meaning "women celebrating the festival of the Thesmophoria," and Thesmophoria being an annual, ancient-Greek celebration in which only adult women were permitted to attend, Aristophanes' play from 411 B.C. finds playwright Euripides' brother-in-law Mnesilochus infiltrating the festival in order to find out what exactly happens at this secret gathering. While dressed in women's clothes, Mnesilochus is soon discovered by the festival's attendees, and Aristophanes' comedy consequently explores the subversive role of women in a male-dominated society, the vanity of contemporary poets such as Wuripides and Agathon, and the shameless, enterprising vulgarity of ordinary Athenians of the day.
A veteran of dozens of Genesius Guild productions over the years, including the company's most recent production The Merchant of Venice, Bob Hanske serves as the director of Thesmophoriazusae, with Wooten no doubt peppering Aristophanes' tale with his trademark blend of silliness, intelligence, and sharp commentary. As the River Cities' Reader stated in its review of 2009's Thesmophoriazusae, "Wooten's slaphappy burlesques, with their self-deprecating wit and pointed jabs, are always a jovial blend of the ridiculous and the wise, sprinkled with tongue-in-cheek musical numbers and culminating in a Mack Sennett-inspired chase (which is more of a jog) around the Lincoln Park stage."
With Mnesilochus portrayed by George Cornelius, more than a dozen Guild veterans will join him for this season-ending slapstick choreographed by Suzie Schaechter, including: Doug Adkins, Andrea Braddy, Guy Cahell, Pat Flaherty, Brianna Gray, Pierce Howard, Jacob Lund, Michael B. Miller, Merlin Nelson, Katie Phillips, Anna Marie Schneider, Sue Staley, Philip Tunnicliff, Scott Tunnicliff, Chelsea Ward, Kate Wherry, and Adrick Woodruff.
Thesmophoriazusae will be performed in Lincoln Park on Saturdays at Sundays at 8 p.m., and admission to the July 28 through August 5 run is free, though donations are encouraged. For more information, visit Genesius.org.