Spoiler alert: Deathtrap, now running at the the Playcrafters Barn Theatre, is awesome. In fact, since I started reviewing a little less than a year ago, this was certainly the most enjoyable night of theatre I've yet had.
I sat on the edge of my seat from beginning to end at September 10's performance, as director Patti Flaherty has assembled a stellar cast for this thriller by Ira Levin, who was responsible for such other heart-stoppers as Rosemary's Baby and The Stepford Wives. He does not disappoint here, either. Aside from hearing its title many times in the past, I knew nothing about Levin's play when I entered the theatre on Saturday, and am very grateful for that. Deathtrap takes you on so many twists and turns, you can't possibly know what's coming next unless you've seen it before.
Playcrafters' latest opens with well-known playwright Sidney Bruhl (the impressive Jason Platt) searching for new script ideas and reading an outline from a former seminar student. The outline, one for the type of stage thriller Bruhl is known for, is very good, and while discussing it with wife Myra (Pamela Briggs), Sidney makes a remark about murdering this student and stealing his idea – and thus, Deathtrap's first rung of suspense is set. Platt does a masterful job of teetering on the edge of sanity to make the audience question, much like Myra does, if he is indeed capable of murder. Sidney's mannerisms, his charming yet diabolical laugh, and even his contemplative, far-off stares are so well played that Platt gives the distinct impression that much more is going on than meets the eye. Turns out there is.
Adam Cerny plays the wide-eyed student Clifford Anderson, and upon his arrival, the tension mounts even more. Cerny's range is beautifully displayed in this show. Without giving too much away, Clifford proves to be just as crazy as Sidney is about the idea of writing theatre's next great thriller, and Cerny's acting abilities shine through in his performance, most noticeably in his eyes. In the latter part of Deathtrap, you can truly see Clifford's intensity through the believability of Cerny's performance and especially his focus, which really drew me into the production. As for Briggs, she plays the quiet moments shared between Myra and Clifford quite commendably, her facial expressions communicating hurt and worry for Clifford, considering that he may (or may not) be murdered.
Despite being an intense thriller, Deathtrap also features some really funny moments. The comic relief of the play is the Bruhls' neighbor Helga ten Dorp, a very accurate psychic, whom the audience is treated to in the hilarious persona of Nancy Teerlinck. Arriving on-stage with a thick Russian accent and nylons that rise to just below her knees, Teerlinck displays a wonderful comfort with breaking the pre-existing tension. From her first entrance, going around the house touching numerous items saying the word "pain" over and over again, Teerlinck had Saturday's crowd in the palm of her hand, and Jason Dlouhy nicely completes the cast as Bruhl's jittery lawyer, bringing some important information to light later in the second act.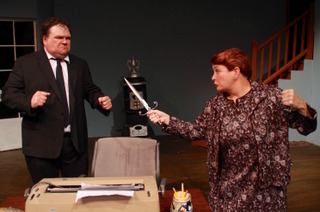 The design and construction team of Bob Hanske, Crista Ashcraft, Sara Nicole Wegener, Jacque Cohoon, and Craig Cohoon have put up an incredibly ominous set complete with deadly weapons lining the walls (many of which are used during the production), making you wonder if you're in a home office or a torture chamber. Fight choreographer Aaron Sullivan, meanwhile, did a great job of making the eventual physical confrontations look realistic.
This production offers so many twists that if you're a fan of thrillers, stage shocks, surprises, scares, laughs, talented actors, and entertainment, then Deathtrap is certainly for you; this was definitely one of the best productions I've seen at Playcrafters. Flaherty and her cast do such magnificent work in building the suspense and tension that at the performance my wife and I were at, during a particularly quiet moment, an audience member sitting behind us suddenly sneezed, and my wife instantly jumped and grabbed my arm. If that doesn't tell you that Deathtrap is doing something right, I don't know what will.
Deathtrap runs at the Playcrafters Barn Theatre (4950 35th Avenue, Moline) through September 18, and more information and tickets are available by calling (309)762-0330 or visiting Playcrafters.com.