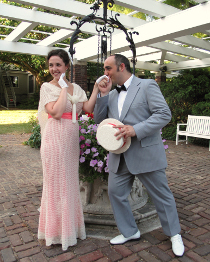 Quad City Music Guild's new production of The Music Man - the Meredith Willson classic running August 5 through 14 - stars husband and wife Christopher and Erika Thomas as romantic leads Harold Hill and Marian Paroo. And just to be clear: Yes, the couple knows how close to nauseatingly adorable it is for them to be playing these roles opposite one another.
"I'm kind of calling this my nursing-home story," says Erika with a laugh. "Like when our grandchildren come to visit, it'll be, 'You know, your grandfather and I were in Music Man once ... !'"
"And they'll be, 'Uh oh ... here comes that Music Man story again ... !'" counters Christopher, also laughing.
"But really," continues Erika, "when are you going to have the chance to sing 'Till There Was You' on a footbridge to someone you actually love in, like, a public way? It's a role that I've always wanted to see him play, and a role that I've always wanted to play, but I never thought we'd actually play them together."
Still, if you've experienced the Thomases' work in previous Music Guild productions, you'll probably agree that their Music Man pairing likely has less to do with cutesy casting than terrific vocal, acting, and comedic talent. The music director for Beehive and The King & I, Erika was riotous as the dim-witted Swedish bombshell Ulla in 2009's The Producers, and Christopher - who also directs theatre at Moline High School - nearly put memories of Bert Lahr to shame with his spectacularly sweet and hysterical Cowardly Lion in 2006's The Wizard of Oz, the show in which both Thomases made their Guild debuts.
Yet director Harold Truitt's The Music Man doesn't mark the first time the pair has been romantically linked on the Music Guild stage, as Erika and Christopher also appeared as the comically mismatched Miss Dorothy and Ching Ho in 2007's Thoroughly Modern Millie. In that production, however, the Thomases' characters (Spoiler Alert!) don't become an item until the show's final minutes; as their Music Man rehearsals have demonstrated, portraying the romantic lead opposite your spouse is another matter entirely.
"This is actually a little embarrassing," says Erika, "but I always thought playing a romantic role opposite my husband would be the easiest role I've ever done. And in fact, it is much harder for me. I don't really blush that often. But sometimes in rehearsals, my neck will just start getting red because Harold Hill is so aggressive and he likes chasing Marian so much, but it's my husband up there, and I just love him, and he's saying these wonderful things ... ! And so sometimes I'm like, 'Stop! I don't know what my next line is!'"
Laughing, Christopher adds, "And then it gets me! I'll have to stop and be like, 'Are you okay?'"
"There's just, like, this added pressure knowing that this is not just acting," says Erika. "I really do love him. He really does love me. And I think because there is that element of reality there, it's much harder. It's strange, but it's fun, too."
What has also been strange and fun, the Thomases agree, is the process of taking on - and, to some degree, re-imagining - characters as legendary as the smooth-talking con man Harold Hill and the steel-willed yet lonely Marian (the librarian), stage roles made even more famous with the beloved 1962 film.
"It's hard when you take something so iconic, like the Robert Preston/Shirley Jones version, and then try to put a different spin on it," says Christopher. "So there have been lots of discussions with each other and playing ideas off each other, and we did some character analysis based on the text. Figuring out little things like, 'Oh, so this is where he came from, and this is why he's here.' Once you figure out the 'why' - as long as you're playing the character honestly - you don't have to worry if it's Robert Preston."
For Erika, script readings and a longtime familiarity with the material led to an intriguing theory about the characters of Marian and her baby brother Winthrop - one that, as she and Christopher concede, might raise the eyebrows of many Music Man fans.
"I guess I've always thought that Winthrop was actually Marian's illegitimate son," says Erika. "She's 26 years old, in 1912, and she has a 10-year-old brother, and her family is Irish ... . It just doesn't make sense that there would only be two children with that far of a gap between them.
"And the songs that Marian sings," she continues. "'My White Knight.' 'Goodnight, My Someone.' She's singing about this fantasy she has, but she can't actually do anything about it. She had to get burned really bad at some point in her life, you know? There's a funny line in the script where the mother is like, 'Why won't you get with anybody?', and Marian says, 'Well, I'm not waiting for Luther Greiner to back me into the ancient-history shelf at the library ... .'
"I mean, why would he [author/composer Meredith Willson] put that in there?" asks Erika with a laugh. "He could've picked any shelf. But he picked 'ancient history.' Everything that's in a script is there for a reason, and I think he gives you just enough of these little tidbits, these clues, to make you think, 'There might be something to this. What's going on with this family?'"
Christopher, meanwhile, had never seen a production of The Music Man until he and Erika began dating. (Married in 2005, the pair met through their participation in the Augustana College choir; Christopher graduated in 2004, and Erika in 2006.) For him, then, careful script analysis has been key in shaping his character.
"If Harold Hill is a traveling salesman in this time period," he says, "there has to be a reason for it, and I think it's that he's most likely coming from a world of poverty. I mean, there's something that necessitates his needing to make this kind of money. And although he's very good at finding the good in people, I think that, early on his life, he must have figured out how to manipulate that for his own benefit.
"But that is a wonderful characteristic," continues Christopher, "to be able to find good in people and be able to pull it out of them. And somehow, Harold has attached himself to music, of all things. I mean, there's something about music specifically that people are drawn to as an art form. There are so many people you talk to that go, 'Oh, I wish I could play the piano. I wish I could play the guitar. I wish I could sing.' And here comes this guy who says, 'As long as you think you can do it - as long as you believe in yourself - you can do it.' It's kind of a nice affirmation of the arts. And humanity.
"Most people hear 'Music Man' and think, 'Seventy-Six Trombones,'" he says. "Which is great, but there's more to it than that."
"It actually won [the Tony Award for Best Musical] over West Side Story," adds Erika, "so The Music Man has some weight. Just because it doesn't have that intensity that West Side Story has doesn't mean it doesn't deal with real issues."
Quad City Music Guild's The Music Man runs at Moline's Prospect Park Auditorium August 5 through 14. For information and tickets, call (309)762-6610 or visit QCMusicGuild.com.