Thursday's preview performance of the District Theatre's High Fidelity was, during its first act, a painful experience ... because by intermission, my facial muscles actually hurt from smiling so much. While this musical - composed by Tom Kitt and Amanda Green, with a book by David Lindsay-Abaire - is, in itself, a lot of fun, director James Fairchild and his cast rocked the hell out of it, presenting its story of a record-store owner's most recent breakup (in a long line of them) with infectious energy.
While High Fidelity is among my favorite musicals, I do think Green's lyrics lack a certain poetry, which prevents them from being memorable. Three days after seeing the District Theatre's production, I'm still humming Kitt's melodies but struggling to remember the lyrics of songs from a piece with which I'm already familiar. But the words do fit well into the context of the musical, driving it forward as the central character Rob (a beautifully layered Tristan Tapscott) deals with his live-in girlfriend Laura (a brodding yet endearing Sara Tubbs) leaving him. Rob speaks (and sings) of his lack of interest in restoring their relationship, though it's clear he wants her back, especially when he composes a list of his top-five break-ups of all time dating back to a school-playground crush, and notably excludes Laura from it. That is, until she - or rather his Sandy-in-Grease-post-makeover mental image of her - forces her way on it in "Number Five with a Bullet," a song that I can't get out of my head, thanks in no small part to Tubbs' no-holds-barred, rock-and-roll delivery of the number.
If it isn't that song, it's "She Goes" that's proving difficult to get out of my brain. Antoinette Holman, as Rob's platonic pal Liz, brings the house down in her soulful scolding of Rob, pointing out his broken-record habit of going through girlfriend after girlfriend in much the same manner: "You meet someone, you move in together, she goes." It was almost all I could do to hold myself back from standing up and stopping the performance to demand that Holman perform the song again.
I also could've left the theatre after the first song, "The Last Real Record Store on Earth," and been satisfied with the evening's entertainment. In the number, Rob, his employees Barry (a comical music snob played by Joe Maubach) and Dick (the charmingly awkward Anthony Natarelli), and their regular customers who never buy anything (Tyler Henning, Brant Peitersen, and Ian Bishop) sing about Rob's business: "Yes, if you're into vinyl, we've got everything essential. I'm sitting on a business that has zero growth potential!" It's a big, loud, driving song that features almost the entire cast crammed into the District's intimate performance space (one that perfectly suits the record-store setting, especially given designer Tapscott's set covering almost every inch of the walls with vinyl records, band posters, and instruments) and sets the tone for a rockin' good time.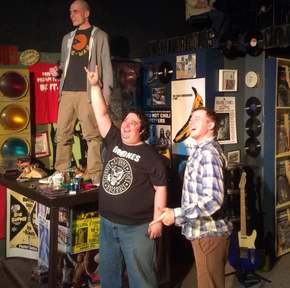 Music director Randin Letendre and her band of instrumentalists are also a large part of High Fidelity's fun. Set on a ledge on the "second floor" of Rob's record store, the musicians are visible throughout the show, and although their placement has the accompaniment sometimes overpowering the vocals, it also lets the audience see how much these players seem to enjoy playing. This adds a fitting, rock-concert vibe to a show celebrating that musical genre.
Beyond the sound imbalance, my only other complaint is that this production would have benefited, I think, from stronger choreography. (No specific choreographer is listed in the program.) What Fairchild included isn't bad, despite a few bits being too over-the-top silly, such as when Rob, his employees, and his customers play "ring around the rosie" with a set piece. But some numbers beg for more involved or complicated dance steps, with the actors seeming to sometimes visibly itch for more movement to correspond with the beat of the music.
Otherwise, I'd rank the District Theatre's High Fidelity among the top-five musicals ever staged by the company. I also find it rather amusing that, of all the productions in the theatre's current and oft-maligned (by me, too) space, this one fits its spacial limitations better than any other. The District Theatre has finally, fully embraced its intimate stage area in what is, thankfully, the last performance being presented in this building.
High Fidelity runs at the District Theatre (1623 Second Avenue, Rock Island) through May 3, and more information and tickets are available by calling (309)235-1654 or visiting DistrictTheatre.com.