Based on the reputation of the Tuna plays and remembering how heartily I laughed during a recent production of A Tuna Christmas, I expected the original piece in the series, Greater Tuna, to be, well, funnier. That's not to say that the Richmond Hill Barn Theatre's production of this comedy isn't without laughs - they're just not side-splitting ones. Still, thanks to the two actors who impressively handle 20 roles between them, director James Fairchild's staging of authors' Jaston Williams', Joe Sears', and Ed Howard's play is adequately diverting, and good for an evening's entertainment.
Basically a day in the life of the citizens of Tuna, Texas, the script requires two performers (Bruce Carmen and John VanDeWoestyne, here) to portray 10 characters apiece. There's not much of a central plot, as the piece is a blend of vignettes, of sorts, connected by a location, with the same characters interacting throughout the play. The scenes are loosely built around the death of a judge in town - found in his bed wearing a 1950 turquoise, one-piece, Dale Evans swimsuit - and provide some effective chuckles. But there are also some surprisingly tender moments along the way, as the play's humor relies less on pratfalls and punchlines than on observations about the stereotypical "small minds" of small-town folk (which is likely the reason it elicits more amused chuckles than laugh-out-loud gaffaws).
The show starts and ends with a local radio program on OKKK, featuring two hosts and a series of guests from the town, including the local gun-shop owner (VanDeWoestyne); humane-society employee Petey Fisk, who has a lisp and a sunny, though vague, disposition (Carmen); and a disgruntled, chain-smoking woman named Didi Snavely (also Carmen). It should go without saying, then, that one of the highlights of Greater Tuna's staging is seeing the two male actors portray female townsfolk, and here, neither Carmen nor VanDeWoestyne disappoints.
Carmen's teenage wannabe-cheerleader Charlene is a hoot; with her somewhat dimwitted air and pouty, complaining attitude, Carmen overplays her personality traits to fine comedic effect. (It helps, too, that costume designers VanDeWoestyne and Jean Melillo have Charlene sporting denim pedal-pushers, a pink shirt, and pigtails tied up with ringlets of metallic pink ribbons matching the embellishments on her pink Converse high tops.) Meanwhile, VanDeWoestyne's Bertha - Charlene's mother - reminded me of Mrs. Garrett from the sitcom The Facts of Life, mostly for her (wig's) hairstyle, but also for her attitude. VanDeWoestyne easily handles Bertha's sweeter nature, her only partially committed verbal discipline of her children, and her full-on anger, yelling at the family's dogs every time they sneak into the house.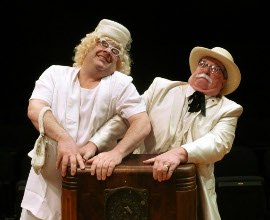 All throughout Greater Tuna, Carmen and VanDeWoestyne differentiate their various roles remarkably well. While Carmen's younger characters are a bit similar in the whininess of their voices, each of the actors' Tuna townsfolk are easily, individually recognizable for the way Carmen and VanDeWoestyne change their vocal inflections, timbres, and mannerisms. Carmen's Stanley - Charlene's twin brother - has a lisp similar to his sister's, but the actor differentiates him with an independent, defiant attitude and a strut to match. And VanDeWoestyne's Sheriff Givens has the swagger of a man who carries the power of his position in his walk, towering over others with a "don't mess with me" attitude while wearing a police uniform, a straw cowboy hat, aviator sunglasses, and a gun belt that's off-kilter and hanging lower than his pants belt. (VanDeWoestyne's town drunk Phinas Blye, meanwhile, staggers as though his lower body is following his upper body around the room, while his slurring speech leaves little doubt that Phinas has been drinking.)
On Thursday, the actors also showcased impressive talents for comic timing after a mistake. At one point, Carmen's Vera Carp - the town snob and vice president of the "Smut-Snatchers of the New Order" - fell asleep during VanDeWoestyne's Reverend Spikes' speech to the club. When VanDeWoestyne delivered a high-volume line in Carmen's direction, however,Vera jumped from her sleeping state, and whipped her head back so hard that Carmen's wig and hat flew off his head. Carmen, obviously stifling laughter, stayed in character, but broke the fourth wall, scanning the audience with a look of shocked embarrassment - combined with a tinge of self-awareness at how hysterical the situation was. And moments later, Spikes delivered a line directly to Vera, with VanDeWoestyne ad lib-ing "... and keep your hat on," eliciting the night's biggest laughs. This funniest moment of the play, however, was still an unintended one, handled with hilarious aplomb by actors who could obviously manage far more hysterical material than Greater Tuna, but who at least nicely maneuvered their way through the amusing, oftentimes touching material they're given.
Greater Tuna runs at the Richmond Hill Barn Theatre (600 Robinson Drive, Geneseo) through June 10, and tickets and information are available by calling (309)944-2244 or visiting RHPlayers.com.