On Saturday evening, I was reminded of the local treasure that is the District Theatre's A Christmas Carol. Written by Tristan Layne Tapscott with music by Danny White, this holiday musical is something special: a locally created piece so good that it could, and should, be staged by theatres throughout the country. And this year - the second the theatre has produced the show - brings some notable changes from last winter's staging of this theatrical gem.
Directed by Tapscott, the most noticeable change in this Christmas Carol is his and Tom Vaccaro's scenic design. This familiar tale of Scrooge and the ghostly visits that reverse his anti-Christmas countenance overnight is set, predominantly, in a town square that Tapscott and Vaccaro depict by flanking the back and sides of the stage with brick walls and storefronts, all painted in deep reds, blues, and greens. They've created a quaint downtown with a decidedly classic air truly befitting the story, and have also included a fold-out wall that opens up to reveal different backdrops for Scrooge's business, his home, and the home of Bob Cratchit. There's also an abundantly decorated sitting room on the balcony to the side of the theatre, from which Lonnie Behnke's Papa narrates this Christmas saga. Taken with costume designer Lora Adams' beautiful period gowns and suits, the production feels distinctly vintage.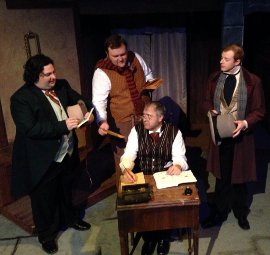 Also notable is Doug Kutzli's entrance as Scrooge. Without saying a word, Kutzli's character is immediately clear due to his hunched-over posture creating a bit of a hunchback effect, and the scowl that transforms his entire countenance. Somehow, he manages to look like the Scrooge that the stop-motion animators of Rankin/Bass Productions (which made Rudolph the Red-Nosed Reindeer) would have designed for the miser. Kutzli's characterization matches his initial look, with some variations to account for Scrooge gradually learning his lessons, up until he wakes on Christmas morning with a cheerier, almost drunkenly goofy demeanor that's a delight and leaves no doubt of the character's complete change of heart.
James Fairchild presents a tender Bob Cratchit, particularly on his touchingly loving delivery of "Tim's Lullaby," a song he sings to Lillian Cobert's charming Tiny Tim. (My only issue with Cobert's presence here is that her makeup - with its pale foundation, red eyeliner on her bottom lid, and bruise-like smudges on her cheeks and forehead - reads a little too "zombie" under the lights.) Dolores Sierra delivers one of my favorite White songs, "Keep Moving on," which she sings to encourage Bob after Tiny Tim passes away in the Ghost of Christmas Yet-To-Come sequence. It's White's "Joy of Christmastime," though, that I'm still singing the day after seeing the production. The song's interesting melody lines, rich, full choral harmonies, and musical round segments combine to form the composer's best work among A Christmas Carol's impressive compositions.
There are a few gaffes in the script, though. Unless I missed something, the District production's story starts on Christmas Eve, as Bob asks Scrooge for the next day - Christmas Day - off. That night, however, Marley (played with ethereal, commanding spookiness by Mark Ruebling) tells Scrooge that he will be visited by three ghosts - each arriving at 1 a.m. over the next three nights. After the Ghost of Christmas Past (portrayed with eye-rolling, impatient annoyance by Nancy Teerlinck) initially visits, the Ghost of Christmas Present (a jovial Joe Maubach) appears the next night at 1 a.m., followed by the Ghost of Christmas Yet-To-Come (a silent, completely black-clothed Linda Ruebling). But Scrooge then awakens on Christmas morning, not three days after Marley's warning. (He does say something about the spirits doing it all in one night and that they can do whatever they want regarding time, but it still seems like a bit of a plot hole that could be fixed.) And the Ghost of Christmas Past also tells Scrooge that they can't leave her flashback sequence until he learns his lesson. He doesn't, but they leave anyway (although it could be argued that he did learn a lesson, but refuses to acknowledge it).
Still, the District Theatre's A Christmas Carol is a triumph for its creators, and a piece to be cherished by those who see it this holiday season. Noting the theatre's lineup for next year, it looks like this musical will be an annual tradition for many Christmases yet to come, as it should be.
A Christmas Carol runs at the District Theatre (1611 Second Avenue, Rock Island) through December 15, and more information and tickets are available by calling (309)235-1654 or visiting DistrictTheatre.com.